WEEK 13 RECORD:
DAN K: 1-3
ESPO: 4-0
DICK: 3-1
OVERALL RECORD:
DAN K: 21-20-2
ESPO: 30-12
DICK: 21-18-1
ESPO
TAMPA BAY BUCCANEERS +5 AT SAN FRANCISCO 49ERS

Before I say anything, I publicly DEMAND the evil Pick-Off overlord Dan K award me bonus points for my Dexter McCluster punt return prop bet. I hope you, the unseemly, unwashed masses, cashed in on my Nostradamus-esque foresight. Now, onward! The Niners come off a hugely emotional victory against their arch-rivals, and take a road trip to sunny Tampa Bay. The Bucs are coming off a 27-6 dismantling of Buffalo, and are probably the most talented four-win team in the NFL. This game, much like the girl Colin Krasterdouche took home from the bar last night, has TRAP written all over it. "Gee whiz, only 5 points?" John Q. Public says, as he peruses the lines with his morning Bud Light. "The Niners just beat Seattle, who looked like the best team in football the week before! No brainer!" Not so fast, fatty! This isn't a cakewalk trip for SF. 10 am body clock start time, and Sunday projects to be in the high 70's and HUMID. Anyone who's been to Florida knows it's sweatier than Colin Krandlesack's grundle waiting for his results in the STD clinic. Tampa Bay is 3-1 (both straight up and against the spread) hosting the Niners since 1992. Tampa has also, you know, played pretty god damn well. Since that Week 9 game in Seattle, which was probably the turning point of their season, they're 4-1, their one loss coming in a really tough matchup at Carolina. That's a concern, as the Niner defense pretty closely resembles Carolina's, especially in the way they can get after the passer and penetrate the run game. But you can pick apart the on-paper matchups a hundred ways. I mean, you can also say that Vincent Jackson has a physical advantage on basically every Niner defensive back, so there's that. And despite Kap's rushing prowess, he's probably about equal overall with Mike The Ostrich. Anyway, Bucs cover.
THE PICK: BUCCANEERS +5

CHICAGO BEARS PK AT CLEVELAND BROWNS

The big news this week is that Marc Trestman is going to be starting the now-healthy Jay Cutler over Josh McCown, who has played very well in Cutler's absence. "BUT WHY WOULDN'T YOU PLAY THE HOT HAND??" people cry, but that's not the point. McCown is the backup. Cutler is the starter. The starter starts when healthy – do you hear me, Jim Harbaugh? It's not like McCown is some 20something hotshot who could be the Bears quarterback of the future… he's 34, a backup, a capable one, but a backup. He did his job, which is to play quarterback when the starting quarterback is injured. And Cutler has played well all year, with that 3-pick stinker against the Lions being his one truly bad game. He's up for a new contract this year, so if you're sitting him while he's healthy, you're basically saying, "thanks, but no thanks," which is just stupid. I mean, they can still win the NFC North! I don't think Trestman is naive enough to think they can actually go anywhere in the playoffs with their UNBELIEVABLY bad run defense, but still, you gotta do it. By the way, if you streamed the fantasy running backs that have been playing the Bears since um, WEEK 4, you're probably in the playoffs right now. They are dead last in: *ahem* rushing yards per game, first down runs, runs of 20+ yards, and yards per carry. That's BAD! I need that trend to continue for one more week, as I've been forced to start Chris Ogbonnaya this week. Now, the Browns have had one of the worst rushing attacks in football. I think it might actually be THE worst, I'm too lazy to look that stat up, but I can't think of a worse one. They simply don't run the ball. If you're wondering why the Browns have been stuck at 4 wins for, um, ever, they've been making their quarterback drop back and throw like, 40-50 times per week. You know, the Browns quarterback. Brandon Weeden, or Brian Hoyer (RIP), or Jason Campbell. 40+ times! That's like, Brady/Brees-coming-back-from-a-deficit territory. Luckily for Cleveland, Josh Gordon is currently looking like the most electric player in football. The first guy EVER (EVER!!!!!) to have back to back 200 yard games. What the actual fuck? The NFL? The league with Calvin Johnson, Jerry Rice, Randy Moss, Larry Fitzgerald. You know, a bunch of a super really fucking good wide receivers, from like, forever to now. Nope. Josh Gordon, first one. Holy shit. Who's going to stop this guy on the Bears? Who's going to stop Jordan Cameron? You could say the same thing about the unholy duo of Brandon Marshall and Alshon Jeffrey (oh my god speaking of wide receivers DID YOU SEE THAT CATCH), but I don't care what you're saying to me. The Browns are winning this game, and fucking me by ending with 5 wins on the season when I need them to get 6 god damnit!!!
THE PICK: BROWNS PK

NEW ENGLAND PATRIOTS PK AT MIAMI DOLPHINS

God fucking damnit. I know what's going to happen now. I'm going to be forced to pick against my own team again. AGAIN! How many times have I picked against the Pats now? I think only twice, but it feels like a hundred. Yeah, against the Saints (Pats won) and Panthers (Pats lost). Despite the fact that I of course want to root for my team against any and all odds (I just bought a god damn Pats snuggie for god's sake), I feel like I have a pretty good read on the way this team is trending. And I don't like this game. I don't like it AT ALL. And I'll tell you why. Right off the bat, they almost lost to the fucking Browns last week. They should have lost. That last PI to put them on the goal line was ridiculous. Stuff like that is why people roll their eyes when Pats fans complain about being jobbed by penalties like in the Carolina game, or the Jets game. Number two, no Gronk. More like GronkOUTski, amirite? That just blows. Nothing more to say about it. The Patriots were solidly below average on offense without Gronk earlier in the year. Of course, they were also missing Vereen and Amendola for much of that time too, so it's hard to truly gauge… but I don't think it's a great leap to assume that the Pats will struggle to move the chains without him. It doesn't help that Miami has a very good pass defense – they're 5th in sacks and sport a 15:16 TD to interception ratio. Brent Grimes has been playing phenomenally – he was all over the field last week in Pittsburgh. The Pats will likely have to take to the ground to get down the field. Third, the Pats defense. They're too banged up, and frankly just not good. The pass rush has been nonexistent. Last week, they had one sack, and five QB hits. And Campbell dropped back 44 times. Come on! That's abysmal. 3 tackles for a loss. The Dolphins biggest weakness this year has been pass protection – Tannehill's taken the most sacks in the league. It's been the key to beating them, and I don't think the Patriots will be able to muster up the pass rush necessary to do so. Plus, doing that leaves the middle of the field wide open for guys like Charles Clay and Brian Hartline, who've been performing admirably underneath. Tannehill may even be able to stay upright long enough to hit Mike Wallace, who's going to run down the sideline in an iso route like 40 times in this game. The Fins MIGHT even be able to run on the Patriots. Now, I know I seem down on my team here. This is still a Brady/Belichick team – they are never out of a game. Normally, I'd say all this stuff and end with an emphatic FUCK IT GO PATS. But I don't know. Miami always, always, always plays the Pats tough. This is a "circle the date" game for them, every year. They were actually up on NE 17-3 at the half when they played in Foxboro earlier this year, though they ended up losing 27-17, that was probably the worst they've played since. They're 4-2 since, their 2 losses were by 3 and 4 points,  And all three of the Patriots losses have come on the road. And I've barely mentioned the Dolphins – Joe Philbin deserves some serious credit for righting the ship after the whole Incognito debacle. They are squarely in the playoff hunt! In fact, they have more to play for – while the Patriots have sewn up the AFC East in all but mathematics, the Dolphins are still clawing for the final AFC Wild Card spot, and realistically could make it. They lost the head to head tiebreaker with Baltimore, but the Ravens are in Detroit this week, then are home for the Patriots and at the Bengals – no cakewalk. Meanwhile the Fins are at Buffalo and home for the Jets. This game just stinks to me. I think Miami takes it.
THE PICK: DOLPHINS PK
DICK

[Ed. Note: As you'll be able to tell from the below picks, our man Dick is in the final six of a Survivor pool and stands to win a substantial sum of money if he makes it to the end]

BUFFALO BILLS -1.5 AT JACKSONVILLE JAGUARS

A few weeks ago this looked like the toilet bowl. but now, because I have made it to week 15 in my survivor league, a game like this takes on the proportions of my own little Super Bowl. Sounds crazy, right? Of course it is. That's why we gamble. Having an interest in an otherwise worthless game is part of the reason we put a small financial stake into it. (Seriously small. I'm not betting the mortgage here, people, just my pinkies!) Roger Goodell may deny it, but the real reason the NFL is so big is because his ratings on Thursday night (and most other days) are fueled by gamblers, not people who are so addicted to the NFL that they have to watch the Jags and Texans duke it out for the top pick in the draft. Anyways, now that I have my low level investment hobby justified in the most half-assed way imaginable, let's get down to brass tacks. Remember when everyone was talking about how the Jags were historically bad? Well sure, the critics were sorta right since they were getting blown out every week and being on the business end of the largest spread in NFL history is a signal that you are approaching 1976 Tampa Bay Buccaneers territory terrible. They were at the bottom of almost every metric by which a team is measured and I looked forward to this game as a potential way to cruise through to week 16 in survivor because even the lowly Bills could wipe the floor with this filthy mop. A motley crew of misfits and castoffs and never were's wrapped around Maurice Jones-Drew Jr. who himself was coming off a string of injuries that shelved him for the better part of last year and put his status as a full-time starter in jeopardy this year. He's also got a tender hammy this week. Well, in the last month the Jags have kind of gotten their shit together, rallied around the bulletin board headlines, and have suddenly become competitive winning three of their last four and become outright capable of beating any of the other mediocre to shitty teams in the league. Like Lloyd Christmas riding up to potentially save my hopes in survivor, they have TOTALLY REDEEMED THEMSELVES. Casting my gaze on the Bills feels like watching granny porn. It's sort of interesting from an anthropological point of view: Oh look, old people can fuck when they are given Viagra. Glad that I might be able to get it up when I am 69, but vomit inducing after about 10 seconds. Has anyone else noticed that Bills have been simplifying their offense for EJ Manuel as the season has progressed? It should really be the other way around, don't you think? Did you see them lose to Cleveland when it was Teul Time after Manuel went down? Did you see them lose a shootout to Atlanta? Have you noticed that CJ Spiller is playing behind an offensive line that is categorically worse than the ones Walter Payton ran behind in Chicago in the 70s? Am I alone in thinking that the Bills are just a bunch of fumbling fucks who stay in games because they just make shit up and pretend that means they are "unpredictable" in their play calling schemes? I have to ponder this one hard because we are talking about Jacksonville. (Say that in Allen Iverson's "Practice" voice and you'll understand what I mean.) On a straight bet or even in a three-team parlay, I am rolling Jacksonville. In survivor? Even with my inner Iverson whispering in my ear? Uh, let's table this until Sunday morning when I am still drunk from the night before.

THE PICK: JAGUARS +1.5

KANSAS CITY CHIEFS -4.5 AT OAKLAND RAIDERS

Hey, you! Yes, you, motherfucker! The one cocksucker that STILL somehow has Kansas City left on his survivor board. FUCK YOU AND YOUR WHORE MOTHER! Alright, now that I've got that off my chest, this should be a laugher no matter where it's played except that it's being played in Oakland against a team that has a knack for somehow making games they should lose by 20 points much closer than they should. I think it has a little to do with dumb luck, the opposition foolishly overlooking another team full of paid professionals (remember my line about the Raiders losing to Philly a few years ago?), and the quirks and wrinkles of the pro game where punts can and will be blocked, running backs slip sure tackles, and a roughing the passer call can keep a drive alive and change the tenor of a game. Anyways, platitudes and bullshit aside, this is all wishful thinking on my part because Kansas City got to feast on the Smallpox Blankets last week inside an empty stadium and now get to dismantle one of the worst teams in football so they can clinch their first playoff spot in three years. Sure, they will get demolished in the divisional round, but the Chiefs clinching the Wild Card in Oakland is one of those "bottle your opponents' tears" moments that people in Kansas City live for. Also, the public is probably 92 percent on the Chiefs. (Hey, research department, did I get that right? I was just guessing.) [Ed. note: it is] That gives me pause because the Raiders are pesky (hello Giants and Cowboys, can we be football friends?) and have a knack for doing ingenious things at home like pantsing the Chargers who just pantsed the Broncos who pantsed the Chiefs twice. Anyways, with all this pantsing going around I figure it will either become a frat party or the AFC West is going to produce a maddeningly inconsistent contender that bases their offense around the concept of "just don't fuck up and we'll win the game." Yeah, that sort of thing is what got the Rams into the playoffs in the 80s and look how well that turned out. Anyways, before I render my pick, let's get something straight: Chiefs may be slightly insulting, but at least it's referencing the guys who were in charge of a group of dudes, not a word that originated from the actually skinning of red skinned people by dragging their bodies behind horses. You hear me, Dan Snyder, you slimy fucker? ANYWHO, brain says Chiefs in a blowout. Nervous pit of my stomach even says Chiefs in a blowout. So, I'll take the Chiefs and loudly curse the one guy in my survivor league who still has these bastards and the one piece of shit who still has the Saints in my best Terminator voice: FUCK YOU, ASSHOLES.

THE PICK: CHIEFS -4.5
PHILADELPHIA EAGLES -6 AT MINNESOTA VIKINGS
For survivor purposes this is probably the most popular game on the docket. If you do survivor, you have probably already used Denver (LOL if you used them Thursday), New England, New Orleans or any other combination of the publicly attractive teams people wish or hope they had available right around now. On paper the Eagles should more or less shut the Vikings down and stay on track for an 11-win season, a chance to advance to the divisional round, then get trounced by the Niners, Saints, or Seahawks in as the biggest runt in the litter. However, this game scares me for a couple of reasons, one being that the Vikings have been doing the usual late-season push to save the coach they love who will get fired after the season. Seriously, I am expecting the guys on the Vikings to start the usual, "this is on us, not [Leslie Frazier]. He's prepared us right, we have just not executed," line of horseshit. Anyways, Petersen is questionable with a bad foot, but Toby Gearhardt (with a tender hammy) is averaging over seven yards per carry. Cordarrelle Patterson is a human highlight film. Also, the defense is not terrible, just below average at the moment. What scares me the most is that their last five games have included two wins, a tie, and loss in which 36 points were scored in the last two minutes. I know, I know, that last one is a total fluke, but it's not like Minnesota is rolling over for teams. By any reasonable measure, the Vikings are pulling out all the stops to at least keep games competitive. The Eagles are poised to take a two-game lead in the NFC East, have clamped down on defense allowing only 18.1 points per game over their last nine, and Nick Foles is rounding into their new franchise quarterback. They are flying high, are confident, and appear ready to pounce. The only silly superstitious twinge I get is that my good friend Jaquay made it to week 15 last year and was flushed out of survivor when he took the Rams over his beloved Vikings and I had to console him after those same Vikings crushed the Rams and his hopes. I don't want to mess with that sort of karma, but I know there will be probably three people who take this game in survivor. So, if I go with my Lloyd Christmas pick as mentioned above and the Vikings pull this out, I am the beneficiary of an early Christmas miracle. Oh, decisions, decisions. Anyways, straight bet based on conventional logic instead of survivor jitters and irrational rationales? Eagles in a laugher.
THE PICK: EAGLES -6

DAN K
CINCINNATI BENGALS -3 AT PITTSBURGH STEELERS


I didn't watch my beloved Steelers lose in heartbreaking fashion last week, but even after watching replay after replay of what was almost one of the greatest game winning plays in NFL history while racking a shotgun, I can't bring myself to get too broken up about it. When it comes down to it, a team that needs a play with a 0.00000002 chance of success for victory probably had no business winning in the first place. The story of the Steelers 2013 season could pretty much be described as flashes of greatness amid total ineptitude. After a miserable 0-4 start to the season the Steelers kept a lot of games against a lot of good teams close, while losing in equally close games to mediocre to bad teams. Now that they've been eliminated barring some kind of crazy tiebreaker outcome, I can relax and concentrate on picking some games! *sobs inside* Anyway, all rules go out the window in an AFC North tilt. When they play the Bengals or the Ravens, there's a pride aspect and the motivational factor will be off the charts. Even as bad as they are this year, the players won't want to go 0-2 against one of their most hated rivals. Though I was lukewarm on the Bengals' long-term chances due to the inconsistency of Andy Dalton, he's proven me wrong, stringing together a 3 game win streak culminating in a blowout over the Colts. Even after losing Geno Atkins and Leon Hall, their defense has still been one of the toughest in football. The Steelers offense hasn't been bad either. Ben Roethlisberger has an 11-0 TD-Int ratio in the last four games, while Antonio Brown has looked like one of the best receivers in the league. This is a tough matchup for both offenses because for all the Steelers defensive woes at the beginning of the year, they're actually ranked 10th against the pass in terms of yards per attempt. Ike Taylor looks to have lost a step (OK, a fucking shit-ton of steps) but they held AJ Green in check the last time around. What they couldn't stop was the run – a trend that has continued, judging by how Daniel Thomas ran all over them last week. The problem the Steelers face is from their patchwork offensive line against a Bengals defense that has put up the third most sacks in the NFL. The only chance the Steelers have to win is for Big Ben to get rid of the ball quickly (haha yeah right) and to establish the running game so the Bengals can't crowd the box. This is a tough matchup to pick, but the Steelers have been playing up to the level of their opponents this year (except the Pats game, which was literally worse event than Benghazi to your average Pittsburgh-area sports talk caller). That trend, combined with the fact that these guys really don't want to be swept by a divisional rival, as well as Steelers being a home underdog (a situation that Roethlisberger is 4-1 ATS in), combined with 75% of the public money on the favorite makes me have to go with my home-state team. A solid win as a small consolation to this vomit abortion of a season. When's the fucking draft?
THE PICK: STEELERS +3
ATLANTA FALCONS -7 AT WASHINGTON R*DSK*NS
Now we come to the Super Bowl of Unmet Expectations. The Atlanta Falcons were viewed as a team that would contend for the championship, while everyone thought that the Redskins would build on RGIII's amazing rookie season and a surprising playoff appearance. As Marlo Stanfield said, "You want it to be one way, but it's the other way." The Falcons have been one of the worst teams in the league, looking completely inept in every facet of the game, and are in the running for the first overall draft pick. Once doctors quantify how long one NFL season takes off your life expectancy, Tony Gonzalez should sue 1970s porn mogul doppelganger Arthur Blank for persuading him to come back for one last go-round and not trading him to a contender once it was clear the season was over. Meanwhile, I won't lie that it makes me happy to see utterly shameless garbage person Dan Snyder fail after acting like a smug prick at every turn, to the point of trotting Navajo WWII vets out on the field to distract from the chorus of voices demanding that he change the name of his team from a racial slur. On the football field, Mike Shanahan committed football malpractice by forcing an obviously hobbled RGIII back on the field so soon after a major knee injury (sure, he could have refused to play, but the guy is a competitor and he would have been destroyed by fans and the media for daring to give his health and future precedence) for the simple fact that he knew his time was running out and he wanted to prove he could win without Elway. Shanny is likely gone after the season and RGIII is on the bench, so we have Kirk Cousins as a starting QB for this game. Sure, they probably should have started the season with Cousins, seeing as how he showed in limited action last year that he was a solid QB, but we've been over why they didn't. After losing 45-10 last week and averaging 12.3 points a game in the last three weeks, they can't do much worse with him under center. If Washington is finally going to get an offense, Atlanta is the team to get it against, because they rank close to the bottom in all statistical categories. The Slurs' defense isn't much better, and Matty Ice (Haha, maybe he should be called Natty Ice because he's bad, get it) should be able to carve up their secondary and DeAngelo Hall, the poster boy for Your Mouth Writing Checks Your Ass Can't Cash. Both of these teams are terrible, but I like the factor of a new starting QB giving a team a spark, even if it only lasts for one game. The Falcons don't have any business being favored by a touchdown over anyone. I'm taking the dog.
THE PICK: CRAPPY DC/MARYLAND/VIRGINIA AREA TEAM +7
NEW ORLEANS SAINTS -6 AT ST. LOUIS RAMS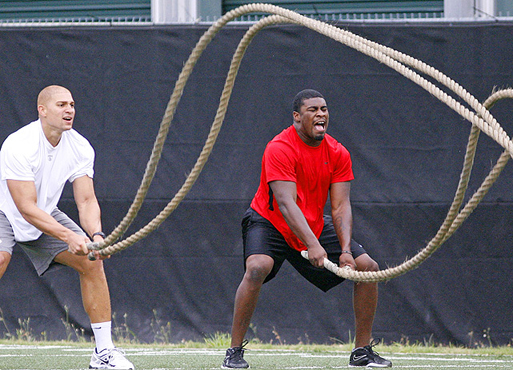 This is one of the toughest types of game to pick from a gambling perspective. At first glance, your average sports fan will look at this spread and say "SAINTS AND BREESUS BY ONLY SIX POINTS?? HOW CAN I LOSE!" (average sports fan always has a Boston accent in my head for some reason). There's many other factors in play that make picking a big road favorite ill-advised in many situations. For one, the Saints, and particularly Drew Brees, haven't been that good away from home this year. For example, of the 8 interceptions Brees has thrown this year, 5 have been on the road. Many of their other stats follow a similar trend. It won't be as bad in this game, because at least the Rams play in a dome, not in the elements where they got their asses handed to them in Seattle two weeks ago. Speaking of offenses, the Rams O has been absolute garbage. Zac Stacy looked promising at times, but was largely bottled up last week, while QB Kellen Clemens was sacked 4 times. The Saints defense has a strong pass rush and will likely give Clemens a long day, a challenge that they are definitely up to after just holding Cam Newton to 10 points. In addition to the aforementioned disparity between the Saints' play at home vs on the road, there's the possibility that they will be looking ahead of this shitty team to their divisional rematch with Carolina, but on the other hand, beating the Rams clinches them a playoff spot. As I said before, it's a tough game to pick, and you have to remember that a lot of the time team is a favorite on the road because the team they're playing IS really bad, and bad teams lose, sometimes by a lot. You can't win as much as you used to be able to blindly betting road favorites because the lines are tighter all the time. This may not be the Superdome the Saints are used to, but it's still indoors and their offense will be able to function at full speed while their pass rushers can tee off on the inept Clemens. I'm going to take the Saints to cover here and clinch a playoff berth.
THE PICK: SAINTS -6


GAME OF THE WEEK: DETROIT LIONS -5.5 AT BALTIMORE RAVENS
ESPO: The Ravens are currently in a playoff berth, but they're going to need to do some serious work to stay there. After pulling out a crazy win against Minnesota last week, they hit the road for the booming metropolis of Detroit. The Ravens have always been considered one of those "good at home, bad on the road" teams, and… yeah, they've done the exact same thing this year. Aside from a weird flip-flop in Weeks 5 and 6, where they beat Miami on the road and lost to Green Bay at home, they are undefeated at home and winless on the road. Hmm. Suspect? Yeah. And most of their wins and losses have been narrow all year. Most games have been decided by a field goal. And again, the Lions have done nothing to NOT be considered the most up and down team in football. Though to be fair, it's hard to truly rate them on the ridiculous Blizzard Bowl they found themselves in last week – you could play that game 10 times and each outcome would probably be wildly different. But they were forced to hold out Reggie Bush, for fear of injuring his ailing leg on a field slipperier than the seat Kim Kardashian was sitting on when they first met. Also, I think LeSean McCoy is a real life snow leopard. How the fuck do you run like that in 8 inches of snow?! Anyway, Reggie said he's ready to rock this week, and the Lions can again safely deploy the whack-a-mole combination of him and Megatron – they've proven all year that when you try to stop one, you can't stop the other. Also Matt Elam pulled out the ol' "trash talk the best receiver in football before the game" trick, which will make it really funny when Calvin burns him for circus catch after catch, because he's Calvin fucking Johnson. Anyway, I'm pretty set in my thinking that the Lions win this game – it's only the spread that's giving me pause. It's a god damn perfect spread for this game. As I mentioned, the Ravens have had penchants for winning or losing by small margins. They also get back Dennis Pitta, who will give the Ravens another set of hands they desperately need. But the Lions have been stout against the run (Baltimore's struggles in this aspect have been well documented) and should be able to get in Flacco's face, which has traditionally been his downfall. Part of me thinks Beemore can keep this close, but another, bigger part of me doesn't want to back a team who has been so inconsistent on offense on the road. Lions cover.
THE PICK: LIONS -5.5
DICK:  How low have we sunk if this is our game of the week? We are one Aaron Rodgers collarbone away from it being the Cowgirls and the Packers just because of the potential playoff implications, but this is what we are stuck with. Sorry, Cincy at Pittsburgh has some drama, but not the sturm und drang that's present here. Detroit should be running away with its division, but they have been hamstrung by their own ineptitude in the clutch, very suspect play calling, and a defensive line that is dirtier than four Conrad Doblers and Bernie Madoff coaching them. I'll repeat myself: Detroit has the talent and skill to be a 13-win team if anyone like Jon Harbaugh, Mike Tomlin, or even Marvin Lewis was coaching them. They collect penalties like grandmothers gobble up Wedgwood and routinely bungle games they should win handily. This is a game just like every other that they should have won, but instead lost. Baltimore is rebuilding. Let's just get that out of the way before we go any further. They got their Super Bowl last year, but screwed themselves by not somehow getting Flacco's signature on a contract extension before he had a four game winning streak that netted him a contract he doesn't deserve. Wanna know how fucked they are? Take a look at that abortion of a game they had against Minnesota last week. For 58 minutes they were able to put up a total of seven points before some football Moses opened up both defenses like the Navy letting horny basic training recruits loose in Tijuana. That being said, they have a nice little three-game winning streak going. They are winning games where Detroit has lost three of their last four against very beatable teams. Notice a trend? One team heading up and the other going down? I do and I like it. I'll take the Ravens on the road. The Lions are not worth trusting and I'll fade them until they prove otherwise.
THE PICK: RAVENS +5.5
DAN K:  I think I speak for most sports fans when I say that last week's snow bowl was FUCKING AWESOME. At first it was shaping up to be a 8-0 affair (seriously, they had to do two point conversions because they couldn't get footing to kick an extra point) but as the teams found their snow legs it turned into some kind of crazy winter wonderland shootout. Two return TDs, Shady McCoy juking people out of their feet in four inches of snow..everything you want in a football game. While the Lions ended up losing by two TDs, I think you can safely say that this game was…unique. To be honest, the slate of games this week wasn't that intriguing and me and my esteemed fellow pickers decided that this matchup between two teams in the playoff hunt was the best choice for game of the week. The Baltimore Carrion Birds had a crazy ending of their own last week, winning on a last minute TD against the mediocre Vikings, much to my dismay. It looks like there's a good chance of Reggie Bush playing for the Lions this week, which will give them a 1-2 punch with Joique Bell combined with Matt Stafford throwing to the best receiver in the game. Baltimore has Dennis Pitta back, which gives Joe Fuckface another weapon to go with Torrey Smith and Marlon Brown. Ray Rice could be held in check, as Detroit's defense is usually pretty good against the run if you throw out the weirdness of last week. The problem for flacco will be the Lions' fierce D-line going against an Ravens offensive line that ranks in the bottom of sacks allowed. I went back and forth on this game but I'm going to take the home team in this one. The spread gives me a bit of pause but I think ultimately Lions are the right side. Stafford and his offense get their mojo back in their nice warm dome while Ndamukong Suh his Joe Flacco so hard that his eyebrow separates. Lions roll.
THE PICK: LIONS -5.5