And again it begins. At least I held off this year until after November 20th. I'm usually exhausted before Dec. 15 and have completed my annual obsession with my beloved Christmas Movies. Last year Netflix gave us the highly enjoyable The Christmas Chronicles with the great Kurt Russell. This year? We are not so fortunate.
A 14th Century Knight is on a hunting expedition when he encountered an Old Crone. This Crone immediately charges him with a mysterious quest, and he time travels into present-day Ohio, right smack in the middle of Christmas Season. Totally nonplussed, he is more curious than freaked out by this modern society and proceeds to try to pursue his unknown quest.
After running over the teleported knight in her car during a raging snowstorm (NOTE: In Christmas Movies it snows constantly), a love-jilted science teacher Brooke (Vanessa Hudgens) takes Sir Cole (Josh Whitehouse) in like a lost puppy, assuming that he is suffering from amnesia due to the accident. Oh, boy, we all know where this is going, don't we?
Sir Cole is charming. Sir Cole is dashing. Sir Cole is clean-shaven, groomed meticulously, and speaks like an Oxford scholar. He is nothing like what would be the reality of a filthy, churlish ruffian from The Dark Ages. Hey! This is Netflix and Hallmark, so we must just believe! He even bakes his own bread after sampling with disdain supermarket baked goods. "Butcher, Baker, Candlestick Maker", he states with utmost confidence. I mean, what a guy!
Oh, and Sir Cole is a Knight In Shining Armor hero as well as he rescues two of the brat kids from certain death in a blinding snowstorm (what else?) While wandering through what looked like a winter wonderland WhoVille and drinking hot chocolate, he chased down a pickpocket and returned the stolen purse in an act of sickening valor. More bread is baked. It continues to snow constantly. Sir Cole still is in search of his true quest.
I really can't go on. It took me all day to watch this movie is small doses. Look, this is Hallmark. This is Christmas at its glittering and shining best. There is no concept or Christmas trope too candied-apple sweet for this movie. We have no profanity, no sex, no alcohol, no real violence, and nothing that is not totally safe. The Knight Before Christmas is as white-bread and syrupy sweet as you can possibly imagine.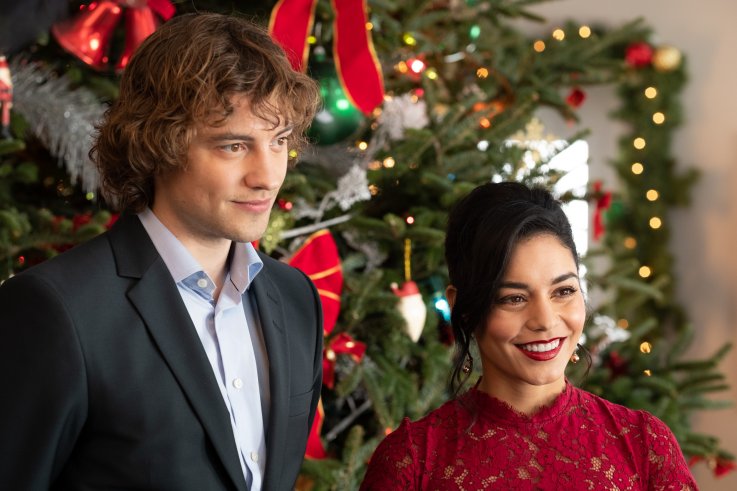 The color, cinematography and decorations in this Christmas Town are pretty good. This movie is all smiles and cute little fluffy bunny kisses. It is all kind, clean, sparkling. Santa brings the poor family a cornucopia of gifts and donations. All is well in Hallmark Land. All is well. Oh, and yes, it is still snowing.
Or is it? Will there be some sort of predictable twist at the end? You'll just have to watch it and see. Could it be? Could it be? (As the song plays in the background!) And, TTFC, the only fleeting reference to God and Baby Jesus was made in the closing credits as God Rest Ye Merry Gentleman played briefly. I guess they just had to do it.
Not Rated: Because of Christmas Magic and the Old Crone