Without the guiding myth of an extraterrestrial encounter, the town of Roswell, N.M., would rapidly dissolve into the desert. Tucked away in a particularly hellish corner of the state, it is a town clinging to the past, both in terms of the infamous "incident" from 1947, and in its approach to the tedium of daily living. As it is impossible to arrive in this groaning, lifeless burg unless through sheer idiotic intent, there isn't a person to be encountered who isn't obsessed with aliens, UFOs, science fiction, and space travel. The town itself fully understands this one-trick-pony appeal, and as such has decorated street lights, signs, restaurants, and other buildings with the expected little green men. Still, despite the utter devotion to its only claim to fame, Roswell surprises the first-timer by mixing a healthy dose of New Age flower power and evangelical Christianity into the mix, peppering the otherwise lonely streets with biblical passages, Jesus-themed restaurants, and loony gurus in flowing robes. Oddly enough, these three seemingly disparate elements often commingle with effortless glee, as when the occasional passerby sports both an alien mask and a massive crucifix necklace. Sure, such people could be bowing to the inevitable pressure of inhabiting an otherwise worthless shithole that lives or dies by the dollars of ridiculous tourists, but after a bagel sandwich lunch in the Not of This World Café, I began to wonder. Perhaps the Christian factions had already learned how to live with the aliens by re-imagining them as angels, who will continue to visit earthlings in whatever manner they choose. "Watch the skies," then, becomes a mantra that can be embraced by more than those who surrender their sanity in the face of abductions, autopsies, and military conspiracies.
It seems absurd on its face to visit Roswell while holding a deep skepticism about that mysterious event 60 summers ago, but how else to appreciate the lunacy of a true pop culture phenomenon? Regardless of the truth or fiction of the alleged crash and cover-up, the very name "Roswell" is known throughout the world, and is arguably one of the few about which nearly everyone holds an opinion. Even those who take great pains to distance themselves from the true believers might accept a conspiracy in this case, largely because it seems so reasonable. Of course the military would hide all evidence of an alien crash, and it is a narrative that appeals to those who love a good villain and have a deep need to believe we are not alone in the universe. Mention the town even briefly, and within seconds, the conversation is likely to turn in the direction of hangars, tight-lipped generals, bribed farmers, and deathbed confessions. Even a committed debunker like myself takes such flights of fancy, and as I neared the town's outskirts, I was overwhelmed with the standard imagery of the event. And yet, after a brief driving tour of Main Street and its arteries, the standard clichés were quickly replaced by a startling disillusionment. Yes, this is a tourist trap; it knows its place, after all. But the dusty, lonely poverty belies the image outsiders may hold, and through the window of my car, the expected kitsch seemed secondary to the shocking blight. Despite all of the money that has poured into the area because of "the crash" and its subsequent exploitation, none of it seems to have been spent on basic upkeep, repair, or overall improvement. A few modern conveniences aside, this could still be 1947; a wasteland forever locked in time and unwilling to move forward.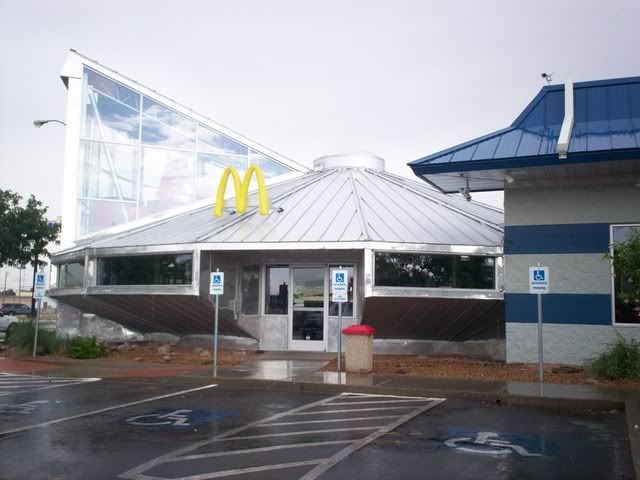 No greater evidence of this "entertainment on the cheap" approach is to be found than with the International UFO Museum and Research Center on Main Street. Acting as the central hub for the entire festival, it is a serious-minded, "academic" hotspot that just happens to resemble a sixth-grader's science fair project writ large. Along the side of the great hall, shabby displays chronicle the crash evidence and cover-up, apparently assuming that people drive hundreds of miles to stand slack-jawed in front of cheap particle board and crooked signs. Perhaps I was wrong to expect bright lights, interactive displays, and crisp photography, but who knew that the public face of the world's most famous close encounter would resort to crappy discs wrapped in foil and pushpin maps? There's also a "library" section with a few tattered tomes, as well as the skull of some Star Child, which was apparently a big deal, but failed to generate anything other than an indifferent shrug. If it's not important enough to feature in one of the main rooms, after all, how important can it really be? The tour of the facility might take 10 minutes if you're being kind and generous, but at a normal, brisk pace, a person could get the hell out of there in under three. The only place that takes any amount of time at all is the final stop, a "recreation" of the infamous alien autopsy. It's fake and silly and cheesy all at the same time, but there's something endearing about it, as there's no doubt that at least a few members of the chattering crowd pressing against the thick glass confused it for the real thing. Seems impossible, but later events would bear out my initial hunch.
The museum, in addition to housing a depleted and chaotic gift shop, featured the expected photo booth, whereby assorted rubes could plunk down 10 to 20 dollars to be Photoshopped into scenes of abduction and "witnessing" the crash. During the festival, however, its main purpose was to house numerous lectures and video programs, including such luminaries as Ann Robinson from the original War of the Worlds, who stood behind a makeshift booth selling autographed lobby cards and yammering away about the Bible. For the few minutes I observed the red-headed kook, she debated a bearded titan about the Gospel of Judas, while never being forced to pause for the non-existent admirers who failed to line up for her wares. If the woman has done anything since that classic film of over 50 years ago, no one seemed to care, least of all Ms. Robinson herself, who strolled through the hall in a flowing red dress as if in a trance. If I had to guess, I'd say this was her first public appearance in decades. Outside of this overpowering star power, the hall was packed to the gills with self-published authors and documentary filmmakers thrust from obscurity, thanks to the ever-present iMac. They had books on other crashes, harrowing tales of abduction, government plots, hybrids, planetary war, and the usual supermarket aisle fiction. Anything and everything was for sale, and the trade show atmosphere seemed altogether unseemly in a holy shrine devoted to scholarly research. Curiously, just about every author on the floor offered to sign their books, as if all any red-blooded American's autograph collection lacked was some obsessive shut-in's anonymous scrawl. Though I wasn't present throughout the days when these people manned the floor, I don't remember the massive piles of books getting any smaller. In defense of the crowds, though, I imagine they already blew their wads on t-shirts, bumper stickers, and fake driver's licenses from the planet Voltran.
The first lecture I attended, entitled "Mutual UFO Network," was presented by the gushing Mark Easter. Packed into the so-called "Video Room" (a large closet with AV hookups), it was a mess from the word go, as the PowerPoint presentation stopped, started, stopped again, and did everything but blow up. According to a quick briefing prior to the presentation, I learned that MUFON was a group founded in 1969, whereby patriotic American citizens could report sightings, document evidence, and chat about the aliens among us. Thinking, therefore, that the chat would feature testimony, photographs, and dramatic anecdotes of contact, I settled in for the excitement ahead. Instead, amid the error-prone computer, Mr. Easter, my personal selection as the worst public speaker I have ever heard, quickly adopted the persona of an army recruiter and instead of evidence or personal stories, harassed us repeatedly with pleas to join the MUFON team. Alternating between boyish and orgasmic, Easter hammered home the group's non-profit status, while failing to mention that the membership dues were likely the equivalent of the average yearly mortgage. In a truly silly turn, Easter acted as if the ability to access an evidence archive on the internet was as mind-blowing as interplanetary travel itself, and he used this occasion to once again remind listeners that the archive was accessible only through an exclusive password. About the time he got around to actual documentation (a terrible picture that could have been anything from sun glare to overexposure), I was drained. Nodding off, I was quickly grabbed by my wife and we ran from the video room as if our lives depended on a hasty exit.
What of the other lectures that first night? "Crop Circles and Fractal Alien Geometry" was featured in the library, "Alien Implants: The Fact, the Mistaken, & the Fiction" charmed audiences upstairs, and "The Alien Hauntings at Roswell" later packed 'em in the Video Room. That night, much to my dismay, I also missed the parking lot dance with the Route 66 Cruisers, who had the misfortune of playing in back of the museum, unlike War and The Alan Parsons Project, who tore down the house in Roswell's Wool Bowl Complex. In all fairness, though, I spent my Friday night with author Nick Redfern, who was peddling his book, "Body Snatchers in the Desert: The Horrible Truth of the Roswell Incident." Unlike the museum talks, this gathering cost $10 apiece, which seemed reasonable, given that I expected to hear about alien orgies and hybrids in our midst. Instead, and much to my surprise, I was treated to the one genuinely eye-opening experience of the festival, and am now armed with a theory that makes more sense than any previously offered. Redfern, a bald British lad with charisma to burn, spoke for about 90 minutes, not about "body snatchers" in the expected sense, but rather an explanation for Roswell that would shake the conspiracy community to its foundations if it had any desire to move beyond the standard "answers." In a nutshell, Redfern believes that a craft did in fact crash in the New Mexico desert, but rather than otherworldly, it had its origins on our very own planet, though with more insidious connotations.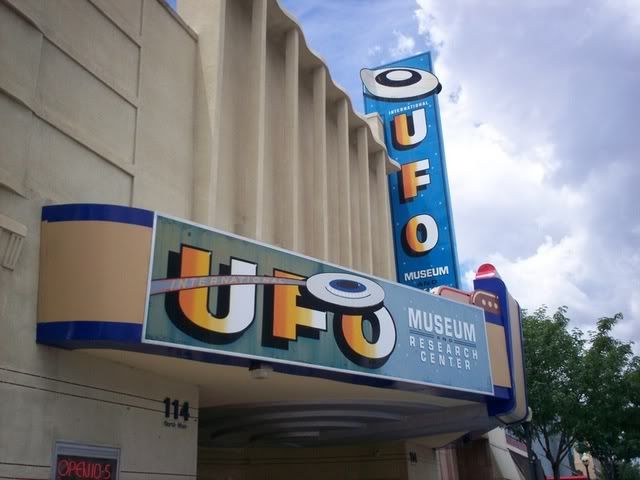 With a reasonable, well-mannered delivery, Redfern explained the history of the area, putting us directly in the context of 1947. Think about it, he said: Nearby, we not only had the Roswell Air Force base, but White Sands and Los Alamos, where numerous nuclear tests were conducted. As subsequent documentation has demonstrated, the United States military was heavily involved in radiation experiments and propulsion technology, and in a similar fashion to Operation Paperclip, where the U.S. secured the knowledge and participation of ex-Nazi scientists, our government also worked with scientists from Japan (who themselves participated in the infamous Unit 731, a group that helped torture Chinese prisoners). Based on documents and eyewitness testimony, Redfern describes using Japanese Progeria victims in high-altitude experiments, up to and including bizarre aircraft that would have looked much like the stereotypical flying saucers of old. The same type of research was taking place at an Oak Ridge, Tenn., facility, which also has the distinction of being a hotbed of UFO sightings. Based on the Japanese Fugo bombing balloons used during World War II, American scientists wanted to couple that technology with more radical designs that could be used against the Soviet Union. They key here, of course, is the use of the Progeria patients, as they not only would have looked like "little green men" to the untrained eye, but would not have been missed, and as such were the perfect guinea pigs. And let's also remember that nearby Fort Stanton was a Japanese internment camp, which also housed the mentally retarded and the diseased. Could not the unwitting "pilots" also have been plucked from this source?
Of course, the talk was teeming with paranoia, wild accusations, and criminal cover-ups, but given that it's all but a certainty that something crashed in the New Mexico desert, which is more likely: a benign weather balloon, a disc from another world, or an experimental craft that housed former prisoners of war? Surely the desire to distort the facts would be as great with the latter version, and it could be argued that of all the stories, it alone is the most damaging if revealed to be true. Sure, the discovery of aliens might cause a panic in some neighborhoods, but in light of Tuskegee and other abhorrent government projects, how might the public react to the deliberate killing of human beings for scientific research? Given the reaction to the Nazi's very own Dr. Mengele and his house of horrors, would Uncle Sam ever recover his credibility in light of such brutal abuses of power? Redfern also scored points by stating that he refuses to accuse anyone of lying, even the recently departed Walter Haut, who stated in a sworn affidavit that he saw "the bodies" from a distance. Redfern agrees that he saw bodies, but could they not have been the very sort he described in his own chat? Again, it's all about how one interprets the facts as they see them. Had this mysterious craft crashed in Ohio, the case might lean in the alien direction. But within shouting distance of the military industrial complex and the very warehouses of key nuclear age research? What is more likely? It's not the final story, of course, but to date, it's the most satisfying case to stand toe to toe with the conspiracy buffs who dominate so much of the conversation.
Feeling liberated from the oft-told tale that so defines Roswell as a whole, I did the next logical thing and went to the Alien Encounter Haunted House, located in a building that, from the front, appeared to be condemned. The back wasn't much better, but it was only $5 and a short line to boot, so why not? Besides, the bloodcurdling screams from up ahead and down below promised a bit of excitement with which to wrap up the day. Entering a shabby, Hefty-bag-laden warehouse, we were given hospital wristbands (this was sponsored by the Eastern New Mexico Medical Center, after all) and told to wait our turn in the "Star Wars-inspired cantina," which pushes the very definition of the word "inspired" to new levels. Let me explain "told," as well. We didn't really want to walk down a dark staircase to some nasty hole, but upon turning around, we were once again instructed to get down to the cantina with a tone that was unmistakably threatening. So down we went, and much to our horror, it was an actual basement with even more garbage bags lining the walls. The Empire Strikes Back was playing on the far wall, though the sound was drowned out by loud, unintelligible music. In each corner, behind some sagging beams, stood the "bartenders," who, rather then being dressed as actual Star Wars characters, wore generic costumes that included antennas. In addition to some liquid that might have passed for flat Cherry 7-Up, these people were selling glow wristbands to the faithful. After a few minutes, our turn came and we were escorted back up the stairs, thankful to have escaped the moldy smell and chirping teenagers.
The haunted house itself was the usual collection of strobe lights, rubber insects, and ominous howls. Many of the rooms were nothing more than severed arms and nitwits grabbing you from behind curtains, but it was all worth it to watch my normally tough-minded wife reduced to a screaming banshee. Disoriented and pushed along like a pinball, she was poked, prodded, tripped, and bullied, and I loved every minute if it. But I charged ahead, leading a small pack of three chicks, proud to be the only one present willing to confront alien autopsies and chainsaw-wielding kids being paid minimum wage, if at all. Water bottles squirted us from odd angles, raw meat slammed against glass panels, and random voices cried out for mercy from the din. In all, it was sorely lacking in alien encounters, even if the birth scene produced the most convincing performances by the resident talent. Giant cockroaches are good for the wee ones, but are they really in the spirit of the festival? And was that really a guy wearing a hockey mask? You gets what you pays for, of course, but after a time, these bargain-basement productions may prove to be Roswell's downfall, especially if the proposed amusement park takes longer than expected. In a time where video games can simulate sex and snuffing the life out of the homeless, surely the ante has been upped, even in the boredom killing business of a UFO festival.
The next morning, we dropped $25 apiece and boarded the bus from One Flew Over the Cuckoo's Nest for a 45-minute drive to the "official crash site." Located on a private farm outside of town, the trip was promoted by a group who had a professional-looking booth in the convention center. And hell, it was in the town's program, so why not? And with the extra boost that "all buses are air conditioned," well, how could we refuse? The packed bus made its way to the site and after an especially bumpy ride over a winding dirt road, we were dropped off by a small canopy. Just ahead, a long path led to a ridge, where the alien bodies were said to have been found 60 years ago. At the end of the trail, there was a rock with an inscription dedicated to the mysterious creatures who came for reasons unknown. The area is so remote as to be literally off the map, and despite the presence of other tourists, the air was eerily quiet, save the insects that plagued the area. Here's the holy grail, I thought, and though no one fell to their knees or pulled crystals from a leather pouch, it felt disturbingly reverent, like a trek to the eternal flame at Arlington. It meant nothing to me, but as I now felt certain that poor little Japanese freaks died here, it took on a solemnity I hadn't expected. Here's hoping the little fellas helped bring us the Concorde or something. Walking back to the area where a new bus would pick us up, I hunted for a water among the coolers that were present, only to discover two large snakes. I screamed like a girl, of course, and wondered if they were there to scare people like me away from stealing the merchandise. Only as our bus was ready to pull away did I learn the truth: The tattooed biker man who ran the little water stand was also loaning the snakes to tourists for pictures and the like. As if the whole UFO thing didn't have enough of a credibility problem.
Later that evening, at a panel discussion featuring Stanton Friedman, Donald Schmitt, Tom Carey, and Jesse Marcel Jr., the whole crushing truth came to bear, and I sat humiliated like a sucker having sold my cow for magic beans. With vehemence, rage, and flushed fury, the men told the crowd how the tour being conducted was a sham, and that the actual crash site was miles away. Turns out these sinister bastards were stealing money from gullible saps, driving them out to a random farm they knew was a fraud, and selling the story that this, in fact, was the place that started it all. Playing on the fact that isolated desert land all looks the same to, well, just about everyone, they were profiting from a lie, and I for one felt idiotic. Not that I should have felt like a brain surgeon for plunking down $50 for two tickets to a piece of dirt in the first place, but at least I had thought that I was standing on hallowed ground. Even if you buy the weather balloon explanation, the land is still important in that it became a cultural signpost, and helped create a cottage industry. And now, during the very weekend where people were reading Tarot cards for cash, instructing others how to find and interpret alien implants, and buying every stuffed green alien that wasn't nailed down, I was being told that I had spent most of the afternoon staring at bullshit. I was initially outraged, but within minutes, I realized that it was fitting to have been deceived in such a manner. What else would I expect from a town that is holding its collective breath and betting that no evidence from any angle is ever produced? It's the mystery that sells, and proof of any kind would reduce the whole thing to the dull matter-of-fact within a few hours.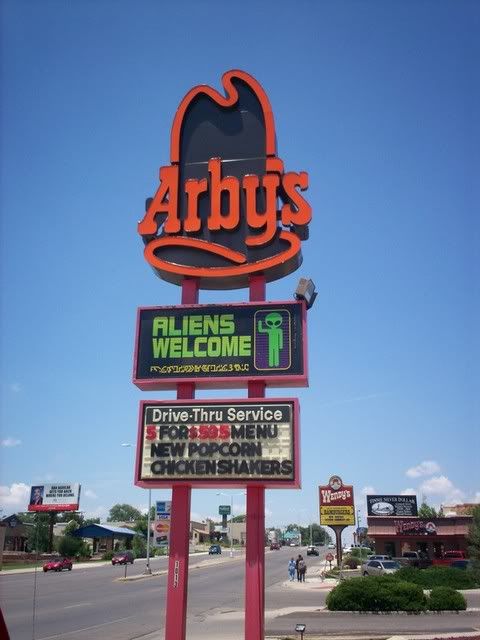 But the lecture, initially about the experts and their experience in the matter, soon became a bitch session, and numerous folks stood up and expressed disgust with the whole rotten enterprise. One man from Toronto relayed his rage with having driven all the way to Roswell to be treated like an idiot, when it's likely he needn't leave his front yard for such an honor. At one point, a museum representative grabbed a microphone and assured the patrons that they had nothing to do with the charlatans, and that they were a rogue business that was hurting the town's good name. She ended with a plea to complain personally to the town's paper and city officials. It was, at least in this room, the scandal of the festival, although it appeared that everyone of importance knew this had been going on for quite some time. But capitalism being what it is, there didn't seem to be anything anyone could do. And then again, how do we know it's the wrong site? If there's a "correct" site, why aren't there tours? Would anyone really turn down that kind of money? And if so much of this case is shrouded in mystery, is anything related to the alleged crash site even known? Isn't it all speculation and guesswork? Perish the thought, as the panel experts quickly revealed that having studied the case more than anyone else, they knew best, and so respected private-property rights that they weren't revealing a goddamn thing. The righteous indignation soon became applause, and all was well again in the House of Roswell.
Before that final lecture, however, I sat through 90 mind-boggling minutes of Yvonne Smith's "Chosen Revelations of UFO Abductions through Hypnosis," a cheap, shoddy presentation that proved if anyone could challenge Mr. Easter for World's Worst Speaker, it would be this dynamo in a white pantsuit. In another of the museum's unoccupied closets, complete with torture devices that passed as folding chairs, I sat in rapt attention as Ms. Smith, a 17-year veteran of hypnotherapy (specializing in post-traumatic stress disorders), detailed — or should I say, "vaguely described" — cases of abduction that were revealed through regression. Hell, she'd been schooled at the Hypnotherapy Institute, so who was I to argue? Apparently, after much study and hundreds of cases, she can state with absolute authority that abduction usually begins in childhood. They are typified by the "strange creature in the window" experience, as well as the "missing time" phenomenon. I had always defined these things as "Molester Uncle" and "Alcohol-fueled basement orgy," respectively, but clearly this woman knew best. These abductions produce blocked memories and "shields," which Ms. Smith graciously breaks through. But as she stated, "It takes time to bring these memories to the surface," which is almost always the philosophy of anyone who charges by the hour. At no time did she mention her yearly take, but as this is her full-time occupation, I'm imagining it beats her prior waitressing gig.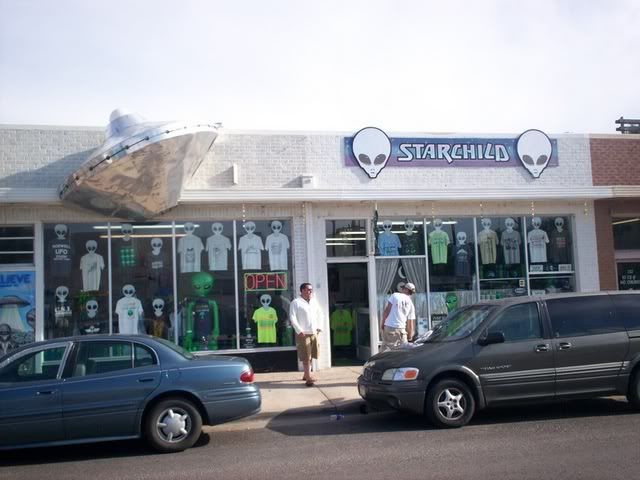 Citing "actual patient testimony," she also tells how head procedures are common, as are "praying mantis" figures. When patients are asked to draw what they have seen during these abductions, the usual wide-eyed, big-headed grays appear, though while on board ships, more senior aliens (wearing capes) take over. There are even examples of hybrids being responsible for experiments on the ship, and these beings most resemble Nordic supermen, only with tights and giant "V's" on their chests. Her most prized patient, a Tennessee man named John, has an implant behind his ear, only he refuses to have it taken out and examined because it feeds him the necessary knowledge to create new and improved sources of energy. According to Yvonne, he's filed several successful patents, while others remain pending. He even says that the government has spoken to him about his inventions. That he's an uneducated hillbilly leads not to the conclusion that he's delusional and insane, but rather a "special project" hand-selected by alien agents to save the world. Conveniently, Yvonne couldn't provide details of the inventions, because they were so sensitive, but rest assured, they will revolutionize science. She even admits that he's an idiot (in a more benign way, of course), so how else could he have acquired this gift? I thought I might inform Yvonne that commercials for the Invention Exchange, a program for frustrated inventors, always appear during 2 a.m. showings of "Jerry Springer," and that perhaps she wasn't the most qualified person to evaluate scribblings a mountain man claimed contained physics and advanced engineering, but I erred on the side of polite silence. This was her presentation, and what could I really say in the face of a man who claimed to have seen 9/11 before it happened?
As Occam's Razor tends to sweep away the alien component of the Roswell "crash," it also reduces all so-called "abductions" to the level of repressed sexual abuse. Only someone hopelessly immersed in bizarre cults and fiendish plots could ever escape the striking obviousness of these cases. Kids have been wooed, raped, molested, inappropriately touched, or whatever, and they've buried the memories in order to remain sane. Then, having been coached by a lunatic with a more desirable explanation, they dispense with the pain of having to confront friends and family with the stinging truth of abuse and can feel important at the same time. Rather than having to face the reality of a wasted life of pain, poverty, and poor decisions, these "abductees" can insert themselves into twisted plots and wild adventure stories that always have them at the center of the action. Now, daddy can stop being a brutal rapist who stole your innocence, and the drug abuse and promiscuity can be explained away as orchestrated components of a larger truth. No longer victims, they are active participants in their own sci-fi comic books, and the boxes of notes in the basement not proof of mental illness, but dangerous, highly coveted formulas the government will stop at nothing to secure. We've heard Jim's story a thousand times, and it always has the same tragic denouement, but in Roswell, it's allowed a happy ending; a more suitable final act that will leave the audience on the edge of their seats.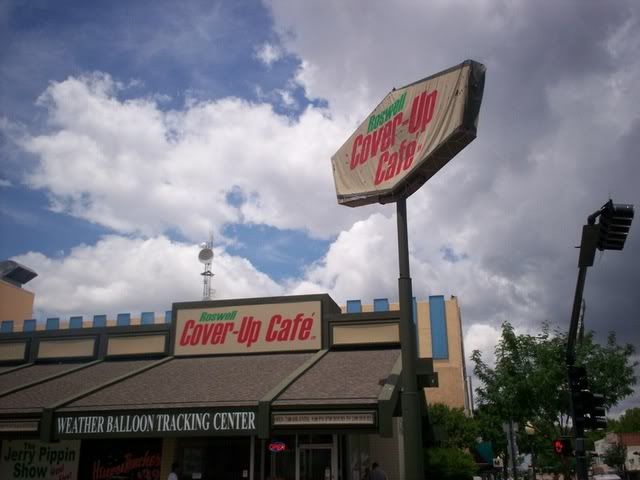 The aforementioned panel discussion, though heated, also provided the general tone of the experts in attendance. Dismissing all dissenting opinions as mere bile from the "noisy, nasty negativists," Dr. Friedman was especially arrogant, assuming that those who doubt the wisdom of the giant conspiracy are either part of the plot, or ignorant slobs who can't possibly be taken seriously. Here's a man who, despite the dismissive tone, could easily be pegged as someone who hated the circus Roswell had become, and would rather be left with his tape recorder, pen, and file cabinets full of documents. The whole panel, in fact, were reasonable men in suits, and it's a good bet you wouldn't find them clutching any alien dolls in their hotel rooms. And that's another fascinating thread to this town: Not only have Christians and outer-space enthusiasts managed to live in harmony, but the snake oil salesmen, those who would plaster an alien image on their ass cheek if it would make them money, have decided to declare a truce with the men and women who want Roswell to be associated with science and evidence, not shot glasses and t-shirts. Clearly, the town needs them all. For as serious as some want it to be (and the dreadfully humorless museum is a testament to this fact), if you lose the fun, you lose the crowds. And then the restaurants start boarding up and soon, the tumbleweeds clog up a once-vibrant Main Street.
And as if there were any other way, the weekend ended with a parade down that very Main Street, proving once again that in lieu of genuine commemoration, driving a few floats through town is enough to keep most people occupied and obedient. And so they came: motorcycle gangs with engines blaring, classic cars beeping their horns, kids dressed as aliens, and yes, even a long float with shabbily dressed Star Wars characters aboard. There were musicians, cops, kids throwing candy, and even an escaped alien who inspired a gang of Mexicans to scream, "Get the fucker!" The crowds went from lining the sidewalk to filling the street, and soon the mass was so thick that no one could pass at all. It was too dark, too loud, and painfully dull, but every poorly constructed costume received a healthy cheer, and no one seemed to care that C-3PO was wearing jeans. Even the Shriners made an appearance, reminding us all once again that as familiar as they are, no one seems to know what the fuck they do. But do we really care? They're as American as the parade itself, and just as delightfully nonsensical.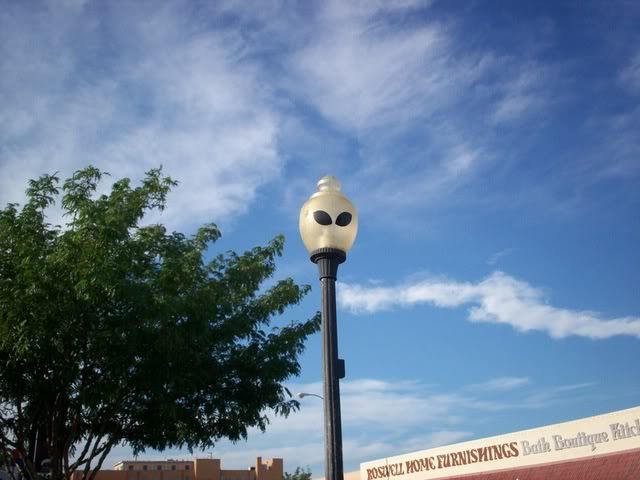 So what of it, this UFO Festival in the middle of an unforgiving desert? Strangely enough, despite the fraud, overpriced food, insipid convention exhibits (the New Mexico Lottery battled tooth and nail with some leathery whore from "Deep Space Nine"), arrogance, disinformation, and almost surreal physical unattractiveness on display, I couldn't help but think that it's America itself in microcosm, bursting with energy, a sense of play, and rampant idiocy disguised as scholarship. Maybe aliens did crash on a remote farm near Roswell, maybe not. Whether part of the Cold War or simply a minor affair blown out of proportion by local hucksters, it doesn't really matter in one important respect: The celebration of the event has replaced the event itself in our collective memory, and as such, has become the only history we'll ever hold dear. Roswell is no longer a location, but a way of life: a way to make a buck, a way to feel important, a way to be part of a group, or even a way to escape an otherwise dull reality for a day or two. In some way, I'd like to know what really happened that day in 1947, if only to satisfy my historical curiosity, but as that initial impulse passes, I reconsider, preferring instead that the ruse rule the day. And while the world keeps spinning, we'll debate long into the night, citing pet authors and indispensable videos, and by the end, hoarse from excitement and passion, we'll be no closer to the truth than before. Then we'll be back again next year, and the year after that, and we'll puff out our chests, peruse the latest breaking news, and wrap it all up with a parade. Because that's what we do. In America.