All that work for nothing. All of that studying, number crunching, and 1863 words about minor league football later and we wind up with the ole Chuck Woolery. Did you know that hes an asshole now? I didn't, until I had to find something to slap into the outbound link box. I'm not exactly surprised, mind you. Right-wing punditry and/or podcasting is something of a cottage industry for has-beens like Ted Nugent, James Woods, Brodus Monstrous BC Clay, Geraldo, Curt Schilling, and Dennis Miller. So its not exactly surprising that he occasionally pops up on shows sponsored by something called a Potato Express or Fred Thompson's Hunt for Red October-brand reverse mortgages. Generally, however, their resumes denote something more substantive than trading PG euphemisms with desperate golf equipment salesmen divorcees. Well, that and being a solid Beastie Boys punchline I suppose.
Regardless, since we ran in place, we are still above .500, and off the schneid that stretched back to our sweep in Week 9. Lets call it momentum and stack the picks this week since things are looking up. Yes, I am aware that from a technical standpoint that doesn't make a lot of sense. I was probably in the same math class as you at one point, where some poor underpaid joker said that the odds of a coin flip are the same every time, and that therefore just because it came up tails nine times in a row doesn't make heads any more likely on the tenth flip. But honestly, have you ever flipped ten tails in a row? Of course not! This and more will be covered in my new book Lawyers and Math: No Idea Really, Otherwise We'd Have Gone To Med School.
It is now time for everyone's favorite extremely rarely recurring feature: Reader Mail!
They don't care if people come out to Legion Field Dude. Its all broadcast rights.
Damn, hows about you get to the point while were young, chatterbox! And for that matter, pal you're 100% correct, actually.
The success or failure of the AAF, or the XFL, or really any other sports property in this day and age is directly tied to T.V. rights. Sports being among the last things people will watch live en masse, of course the money isn't in live ticket sales, but rather whatever gargantuan amount a TV (or, increasingly, streaming platform) executive is willing to pay for it. ESPN gave $1.5 billion to UFC after USA and FOX outbid them for WWE programming. Matchroom Boxing just literally got a billion dollars from DAZN, who also gave huge deals to MLB and Bellator. They have not yet disclosed any plans to broadcast a crossover event featuring Canelo beating the living daylights out of Bryce Harper, but I'm holding out hope.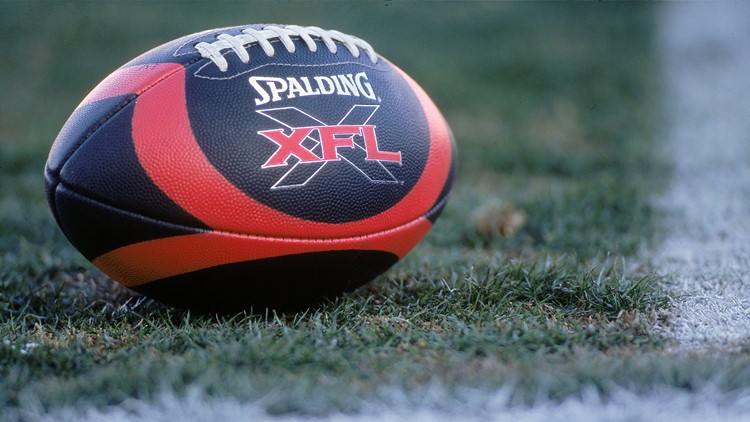 The AAF is already in bed with CBS. If you believe XFL news dot com, whose staff was probably thrilled to finally stop eating pretzels in the break room for eight hours every Goddamn day for 16 consecutive years, NBC is in the flirting stages of rekindling that torrid romance. Anything live is apparently hot now, so I'd imagine every minor league anything is at least sniffing around for an agent to shop their TV, and why the hell not. Turner Sports just sold two semi-retired buddies playing a meaningless game of golf as a pay-per-view. At this point, even if I was in the curling business, I'd start making some phone calls.
That said, these are television networks and startups with major backing, and I'm sure those contracts have out clauses. No white shoe law firm is going to let a startup league, no matter who owns it, shirk behind some nebulous best efforts clause. I'm old enough to remember watching XFL football 1.0, inclusive of the later season games broadcast on The Nashville / National Network (then Spike, now Paramount) on Sunday afternoons in late March of 2001. Hell, look at the crowd shot at 4:26 of this video, and that was the much-ballyhooed Million Dollar Game for the league championship, where MVP Tommy Maddox won the big prize: a chance to crawl back to the NFL.
NOTE: You younger folks will have to excuse the off-duty strippers trying to dance to Ricky Martins She Bangs. Pre-9/11 America was a strange place and, as we would later learn, Ricky Martin wasn't in the best of positions to sing songs about sexy things that ladies do.
If people don't show up in the stands, it means they don't care. If they don't care, no one is going to watch on TV (or especially online) except for degenerates like us, hopeful relatives of the players, and maybe Individual 1, who, being a faltering minor league individual, never met a faltering minor league he didn't like. If people don't care, they wont watch on TV, and if people aren't watching on TV, the networks and streaming services will cut bait and run. Bet on it. While you can.
HEY LOOK FOOTBALL!
CAROLINA v. CLEVELAND +1
Be patient with this one. It opened at even money, crawled up to +1, and now that's up to -110, en route to a hook at least. As we often talk about, the real money should have been made in August, with anyone who would have taken action on the 11-5 Panthers and the 0-16 Browns playing a pick em game in December.
This years Browns are incredibly mercurial, with an admittedly inconsistent pendulum swinging back and forth between wins and losses throughout the season. They're not going to take the division, not with the Steelers at 7-4-1 with four left to play, but they're certainly not going to lose out either, given winnable games against the Broncos, Bengals, and Ravens after this week.
I think this will be one of them. Its their penultimate game at home, where they have a winning record, and they get an injury-riddled Carolina team that, thanks in large part to Cam Newtons bad shoulder, have dropped four in a row. Baker Mayfield only makes mistakes when he tries to do too much, and with the Panthers giving up an average of 31.5 points over the course of that losing streak, hopefully there will be no need to try. Wait it out and take the points.
NEW ORLEANS -9.5 v. TAMPA BAY
Speaking of those Carolina losses, the last one came at the hands of the Bucs, who beat them by 7 in Tampa despite getting thrashed in Charlotte a month ago. When I called the Browns mercurial, I meant it as a compliment. I suppose I'm talking out of both sides of my mouth, because I'd consider the Bucs erratic, which is literally a synonym for mercurial but sounds far more negative.
There is plenty of detailed analysis out there if you want it. I suppose Winston isn't as bad as when he first came back and threw four picks to the Falcons secondary, as hes only thrown two per game over the last three games. I'll concede that the Bucs are currently ranked at the top in passing and total offense, but a large part of that is DeSean Jackson, who is doubtful due to a thumb injury, and O.J. Howard, who will now miss his third game with ankle and foot issues.
I think Dallas was an anomalous misstep for the Saints. Nobody thought they would win out from week two and now that their banana peel is out of the way, Im counting on a bounce-back. 9.5 points (down from 10) isn't a small lay, but a rebound game against a divisional rival with the 27th ranked defense in the league is too tempting.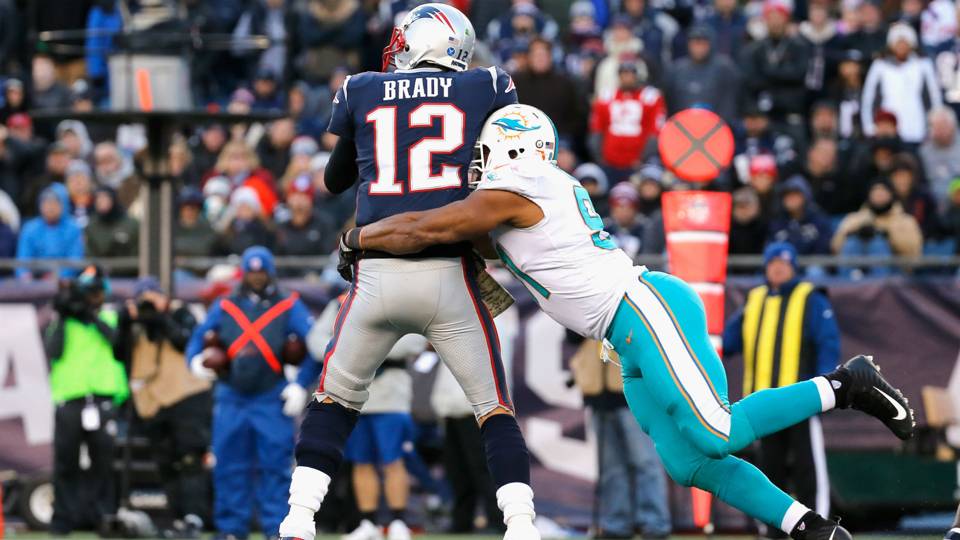 NEW ENGLAND -7.5 v. MIAMI
Yes, its trite and unoriginal. No, they're not fun to root for. I couldn't care less. They keep covering, Ill keep betting on them.
Rob Gronkowski is a bit hobbled with more back issues and now an ankle, but hes listed as probable as of press time. And yes, the Pats have a tendency to step on a rake on the back half of the season against lesser-than AFC East teams. Never mind the superstition.
Since the last time the Pats lost to the Dolphins, in Miami in January of 2016, they've won every game since by an average of 20 points, the last time being a 38-7 demolition in week four. Ryan Tannehill is the only thing Miko Grimes was ever right about and his 44.1 QBR doesn't scare me one bit. Watch the line but take the bad guys at the best number you can get.
DENVER (-180) v. SAN FRANCISCO
I'm not reneging on my usual Bronco bashing but whether or not they were costing us money at the time, they've been making a nice little surge recently. Three in a row! Against the Chargers and Steelers! And yeah, Roethlisberger gave the latter away with a stupid end zone pick and the other win was against Cincinnati, but still! Six and six and technically in the wild card hunt. Not bad for a team that was 3-6 on Election Day!
But this isn't about the Broncos. The bloom is off of Nick Scum Mullens and the 49ers have dropped three straight to the Giants, Bucs, and Seahawks since his coming-out party. Part of that is Pierre Garcons knee, but still. He cried! We empathized! I got to do my corny Napalm Death bit! Everyone was a winner.
Everyone won't be on Sunday. The 49ers are banged up, in a rut, and now down a long snapper due to a PED suspension. Come on, dude, you've only got to snap the ball like 15 feet at most!. Why would someone need steroids for that? Wouldn't you worry that you'll accidentally snap it over the punters head? But, like, comically? Like four stories over his head?
The bottom line is that I love the Broncos here, but hate the line. I don't see how San Francisco can pull this off, but I'm not comfortable giving 3.5, let alone the six that came out with the Tuesday lines. Don't bridge jump this or anything, but I think we could all rest easy placing a money-line bet and letting CaseKeenumania run wild. And yeah, fine, I wanted something for us to watch during the afternoon slate. Shhhhh!
L.A. RAMS -3 v. CHICAGO
Finally, we come to the Sunday night game, which flexes the NFL's most fun offense against its third-ranked defense and even features the return of Mitch Trubisky. Not a minute too soon, either, as the value of Chase Daniel depreciated faster than chocolate milk on a porch. Nice going, Chase. Then again, this means Trubisky has to get acquainted with Aaron Donald. Maybe he should have faked sweaty palms, like Chicagos favorite son before him.
The Bears are 8-4 and the Rams have only lost one, and this looks to be a fun, potentially close game, in Chicago no less. The Bears are 5-1 both straight up and ATS at Soldier Field AND YET!
L.A.s average margin of victory this season is 11 points. The Bears have amassed a nifty little record but are fattened up, at least to some degree, by strength of schedule. Between some potential QB rust and the Rams (here it comes again) momentum, I like the road favorite, and honestly think they might even run away with it over the course of the second half. They're that good.
That's all, gang. I'm putting my nuts on the concrete to tilt us back toward the win column, and I appreciate the faith. I hit deadline a little earlier than usual, so if you're home on Saturday night, crank up a few Buzzcocks numbers in honor of Pete Shelley. Anyone smart enough to read this is certainly sophisticated enough to hear the beauty in Ever Fallen In Love, but for the uninitiated, without the Buzzcocks there is no Spiral Scratch, commonly acknowledged as the first DIY (as the phrase is used today) single, and no Sex Pistols in Manchester, which birthed about a dozen legendary bands.
If I start a commotion, I run the risk of losing you, and that's worse.
Good luck!