America, we're back! Some aristocratic, some black. The whip ain't got no crack, but we got a hell of a bang! 2-0-1, up two more units, and our good fortunes continue. I've heard tell of some of you receiving change after making purchases. At the liquor store, no less! Well God bless us all I suppose. Maybe just maybe we are finally allowed to have nice things. A few more weeks of raking in cash like this, and we could all announce futile, profligate campaigns for the Democratic presidential nomination!
I ask this in all sincerity: what the fuck? How on Earth do these purportedly bright people read the metaphorical room in 2019 and decide that the electorate is just dying to hear from another cosseted rich dickhead? I was born in the disco age – though not, to my knowledge, conceived as a result of the music, thank God – so I have heard jokes about Democrats being ineffectual pussies my whole life. Hell, I was a toddler when Jimmy Carter made the speech notoriously referred to as Mush From the Wimp, back when a middling tee-ball diamond insult could make the front page of the Boston Globe, and decades before said wimp would openly mock both brain cancer and Reagan's humiliating legacy by building framing at the age of 94.
This may damn well be the zenith of that characterization, however, as we watch milquetoast jerk-offs spend their brief recesses between pointless mass shooting press conferences scrambling to find someone, anyone they deem even plausibly capable of dismantling a legitimate populist revolution.

If I stood in front of my house and spun in a circle while holding a garden hose spray nozzle on full blast, I might conceivably soak someone who cares about Mike Bloomberg before I froze to death. Outside of this very legitimate and important boundary established by highly-scientific methodology, Bloomberg is perceived as a plaintive-voiced Double Gulp War veteran best known for pretending to ride the subway to work. He made his money off of outdated tech and he named his fucking newspaper after himself, like a third-grader, possibly for the purpose of snitching on the kid who called him a wimp during tee-ball. Within hours of registering for the Tennessee ballot – an overt and obvious pander to the Volunteer State's teeming Jewish stockbroker demographic – he was already apologizing for telling Maria Bartoromo that he "has to hit them jaws before [he] hits them draws" or something to that effect. Feel free to dig up the exact quote yourself, I've got football to watch, dammit. Pretty sure I got the gist though.
Deval Patrick is, somehow, an even bigger asshole, primarily because he made his first real money in predatory lending. Specifically, he helped run Ameriquest, the largest of all lenders responsible for the 2008 crisis. After he was shamed into resigning from that board, he joined Mitt Romney at Bain Capital. I put the "awkward moment on the golf course where they thought he was the caddie" over/under at 4.5 at least. Patrick already dropped out of this race once, in November of last year, when all of this shit came up the last time. Well, that and the whole firing-people-for-putting-his-brother-in-law-on-a-sex-offender-registry thing.

Look, this column is ultimately about money, and while the footling platitudes and calls for unity are upsetting, the thoughtless waste of money involved in these so-called campaigns is enraging. The football analog is right in front of us, too. As you know, I screamed at the walls about the AAF, and the XFL may well cost me the skin of my knuckles when all of the punching is said and done. Trump sycophant Vince McMahon will play the role of cliff diver #9, landing on the spleen-drenched femur of cliff diver #8, despite having just watched the whole concept become stuff on a rock.

However, since this column is also about silliness, the least I can do is find some positive element enmeshed in to this whole thing. So let's state the obvious: if there were field odds on either of these media-orchestrated distractions, I'd tell you to sell your house for the capital to short them, because you know and I know that neither Patrick nor Bloomberg will ever, ever, ever be elected president of this country, ever.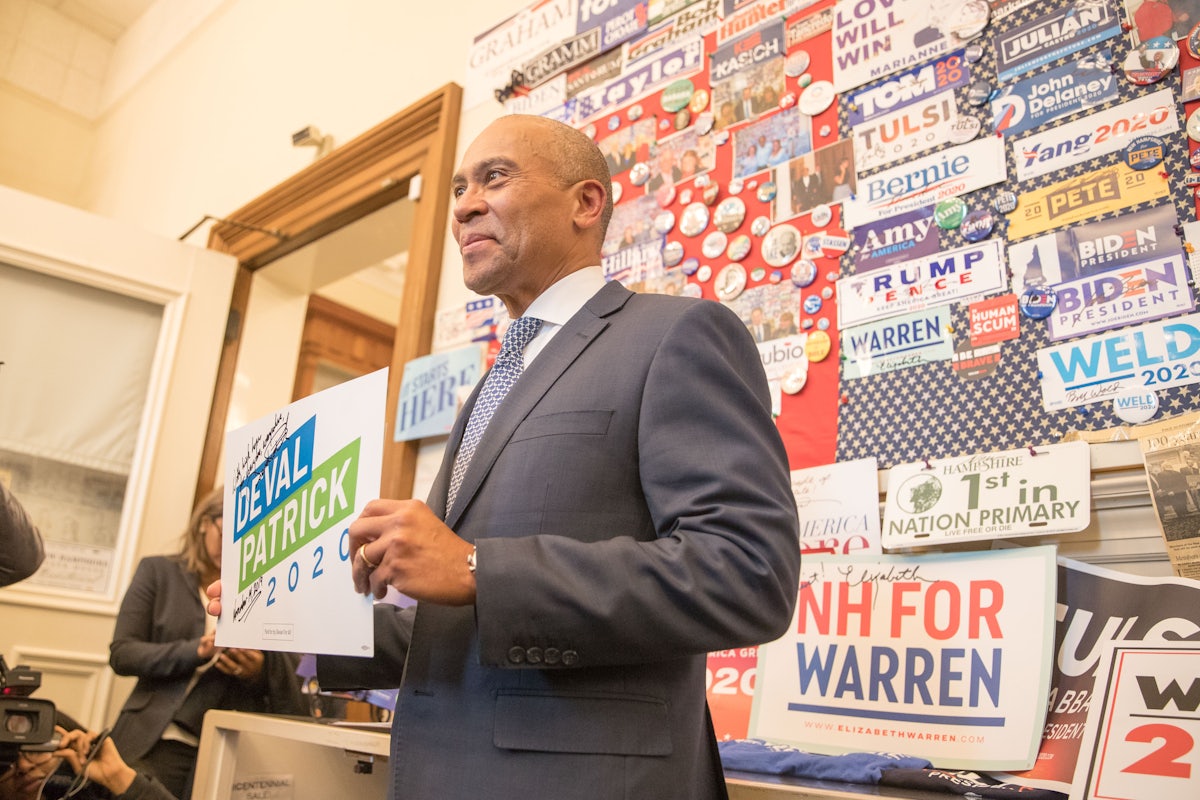 But wouldn't they know that? Aren't these ostensibly smart people, or at least people with the means to hire smart people? Given that, is it more likely that Bloomberg and Patrick are throwing their money out the window based purely on ego and a pathetic misunderstanding of the national consciousness as it currently exists? Or is this whole thing about creating a brokered convention for the sole purpose of screwing the currently leading candidates, both of whom are aiming to tax their extra car elevators for the apparently malevolent purpose of bootstrapping us out of the infant mortality rate cellar?
God I hope not, or I guess we can kiss that crap about having nice things goodbye. So I guess we just have to hope that Bloomberg, and Patrick, and Oprah, and Hillary, and Michelle Obama and George Clooney and the nine other morons that try to pull this shit next week are just as dumb as Vince McMahon and Charlie Ebersol. And if we get two wishes, here's to hoping they all wind up on the rock. HEY LOOK FOOTBALL!
NEW ORLEANS -5.5 v. TAMPA BAY

Youth Culture didn't Kill My Dog, thank goodness, but the Saints killed Mrs. Duquesne's rather respectable ten-week run in a 250+ suicide pool last Sunday. I somehow got the blame for steering her away from the Packers, but she landed on the Saints despite me singing Too Short's "Oakland" at the top of my lungs in the shower all week. Funny thing about sleeping on the living room couch in front of a TV you leave on all night; it was like a reward for good behavior when you were a little kid. Now it just gives you spondylolisthesis.

New Orleans is going to be in a hurry to get that egg off of their face, and I am here for it. The Bucs gave us a payday last Sunday despite a straight-up loss, but catching the 2-6-1 Cards with a slip jab while they're still trying to find their feet isn't going to dissuade me.

Brees clearly had some rust on him as made clear by the 87.9 QBR and the reports about Kamara's health were obviously true, as he only had four carries for 24 yards. You're not going to see another 0/0 split for Brees this year, let alone this Sunday, and Kamara practiced full-time all week. Let the marks fall for the recency bias and remember that the Bridgewater Saints beat Tampa by 7 last week. Might as well double up while we're at it.
BUFFALO -6.5 v. MIAMI

First we need to put last week's Bills push on a shelf. Nobody lost any money, so I think some leniency is permissible, especially when Buffalo was robbed on some very questionable calls, including the second shovel pass Baker Mayfied has managed to turn into an unmitigated disaster since Labor Day. Barely anyone even uses shovel passes anymore; how do they keep turning Browns games into scrambled eggs?

The Bills defense should maintain its props as well. There were multiple goal line stands extended due to dubious penalties, including one stretch where Nick Chubb somehow amassed five carries for -2 yards. And mind you, Buffalo's D is ranked third against the pass and third overall. Rushing is supposed to be their weak point!

Quick, name me the Dolphins' leading rusher? Sort of a trick question I suppose, since they've shuffled through three RBs, the best of whom is Mark Walton, who has managed to rack up 201 yards over the course of the season. Collectively, they've rushed for 488 over nine games, albeit with a respectable 3.2 yards per attempt. Nevertheless, back-to-back wins over the Jets and Brian Hoyer's Colts don't justify this line. Josh Allen isn't really even a factor if you can lay this defense against this opponent.
NEW ENGLAND -4 v. PHILADELPHIA

No question about it, Tom Brady is in a bit of a slump. I won't be the 100th guy to ask if this is finally the end of his unparalleled run, nor will I be the 200th guy who makes fun of people dumb enough to ask if this is the end of Tom Brady's unparalleled run. It's a slump. He's Tom Brady. You probably should have learned to deal with this whole thing by now.
A well-rested Belichick team coming off of a loss to the upstart Ravens would make me nervous, even if I wasn't Philly, who have been inconsistent all year. They've got rushing defense, but that won't snuff out an offense with 2536 sack-adjusted yards in the air on the season. And oh yeah, the top-ranked defense in the NFL. Two more units here.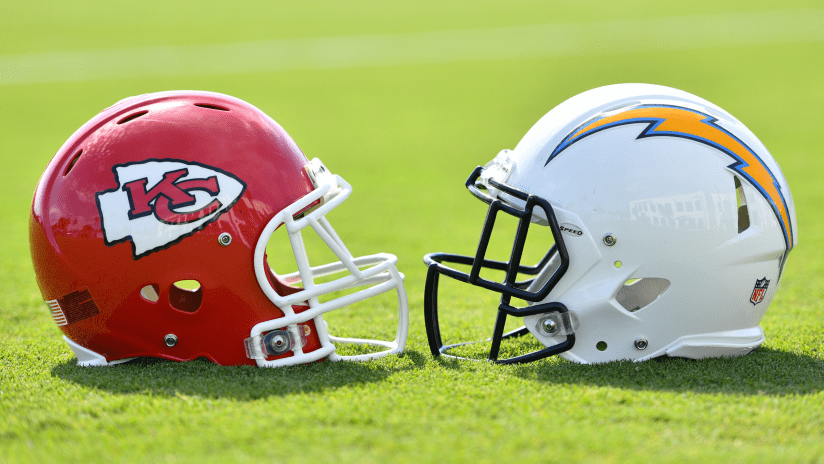 KANSAS CITY -4 v. L.A. CHARGERS

Jesus, it seems like I'm really running the revenge game thing into the ground, huh? But as is often the case with a fluke UFC knockout, we have to ask ourselves what would happen if the Chiefs played the Titans ten weeks in a row, and with last week out of the way, I'd look for a minimum eight-peat on the part of KC.

If the Chiefs loss was an anomaly, the Chargers' fall to the Raiders was par for the course. Rivers threw three picks against two TDs and took five sacks for -38 yards. From what I've read, the unexpectedly short line relates to the idea that because Travis Henry carved up the Chiefs for 108 last week that Melvin Gordon will do the same thing. But I've yet to read a compelling argument in favor of the defense that stopped Leonard Fournette and Lamar "Yes I know he's not a running back" Jackson somehow forgetting how to make adjustments to stuff rushing.
The Chargers may be spending the last of the goodwill they got from that improbable win against the Packers two weeks ago, but that and 15.50 pesos will get you on the bus in Mexico City. There is an argument to be made for the over as well, and it ought to be a fun way to spend a Monday night, but let's just stick with the playoff-bound team with the cannon-armed QB and see where that takes us.

Pay no mind to rich idiots begging for more undeserved power. Pay slightly more mind to the guy with the positive unit balance who is giving you good advice pro bono. I'll have to check the rule book, but if we're not officially "hot" we're at least still surging. No sense in jumping ship now.
Good luck!