WEEK 10 RECORD
DAN K: 2-1
ESPO: 2-1
DICK: 1-2
SEASON RECORD:
DAN K: 12-15-1
ESPO:Â  12-14-2
DICK:Â  13-14-1
DAN K
CINCINNATI BENGALS +7 AT NEW ORLEANS SAINTS
That Saints game last was week what we in the gambling business call "utter fuckshit." Nothing like a crazy backdoor cover on a Hail Mary ruined by some shitty ref who had laid a bet on SF. I mean seriously, who the hell calls OFFENSIVE pass interference on a Hail Mary? Especially when it involved a bigger flop then *consults topical news database* The Democrat Party In The Recent Federal Election. In any case, that's the way things go, it just always sucks when defeat is snatched from the jaws of victory like that, as any gambler knows. Of course, they pretty much threw the game away in overtime anyway when Brees fumbled in Niners territory so whatever. On to the game at hand – Cincinnati was walloped in their last game in what was probably one of the best games the Browns have played in their most recent incarnation's history. They held Andy Dalton to an all-time bad performance (seriously, worst stats-wise in like 20 years), shut down AJ Green, and ran on them at will, a good measure of how bad the defense you're facing is. It's not like the Browns O is a juggernaut or anything, and this week that crappy-looking Cincy D has to go up against one of the best quarterbacks in the game. New Orleans is only 4-5, though are 2-1 in their last three games and this provides a good chance to bounce back against a Bengals D that just got rolled AND is missing two starting linebackers. Mark Ingram has been running hard lately, and could definitely find lanes against a team that allowed rushing touchdowns to three different players last week. It seems unlikely  that Dalton and his offense will be as cold as they were last week, but preliminary reports make it look like he'll be missing his starting left tackle Andre Smith and running back Giovani Bernard again. The former is a big hit, but Jeremy Hill has played well in the latter's absence (well, not last week, but nobody did). The Saints hope to have their best corner back in Keenan Allen, which will help against AJ Green, but it won't really matter if Dalton forgets how to throw the ball to the right team again.
So as you may have been able to tell, the odds are stacked against the Bengals. And I'm gonna pick the Saints. Even with their record this season, they're 3-1 against the spread at home and Brees is still money in the Superdome. Seven points gives me a little pause with their habit of blowing late leads this season, but the Bengals looked so utterly bad on both sides of the ball, and are so racked by injuries to key players that I can't in good conscience pick them or advise anyone else to do the same. Not to mention, the Saints will be in revenge mode after a frustrating loss last week and out for blood. Kinda wish I'd had gotten this at the opening line of -6.5, but I still think they cover. Saints all the way.
THE PICK: SAINTS -7
PHILADELPHIA EAGLES +6 AT GREEN BAY PACKERS
The Sanchize is back, baby! The best "USC Quarterback who looks like a quarterback in a movie" since Matt Leinart is starting again after a year out due to injury and half a season on the bench. To be honest, he looked mediocre for a lot of the time he played in NY, and a lot of his playoff success is just due to riding a good defense, but the guy can play. A lot of people forget that he only started one full season in college and was immediately thrust into the starting job in the biggest media market in the country playing for a coach that constantly put his team in the news with his, uh, "larger than life" personality. It seemed like he just ran out of gas and didn't know how to deal with adversity, after seeming to run on autopilot during his time at USC and first two years in New York. Did a season and a half watching from the sidelines do him good? It looked like it after he came on in relief of an injured Nick Foles and led the Eagles to a win and the following week, when he was efficient, moved around in the pocket well, and threw the ball accurately en route to a demolishing of the Panthers. I guess we find out if his resurgence is for real this week when he faces Aaron Rodgers in full terminator mode at Lambeau Field. Like, when Rodgers is on, it's really hard to go against him. We all saw the bloodbath last week against a Bears team that looked like it gave up. Eddie Lacy was his usual wrecking ball self, Clay Matthews was racking up tackles and pressuring the QB from the inside and outside, about as complete a victory as you can have. Sanchez is still a wild card at this point, but the rest of the weapons he has around him are legit. Jeremy Maclin is playing at an All-Pro level, Riley Cooper, Jordan Mathews and Zach Ertz are good complements at the WR/TE positions, and Lesean McCoy, albeit not having the monster season that most predicted, has been playing well in recent weeks. It all hinges on Sanchez. If he plays like he does last week and the (excellent) Eagles O-line keeps Clay Matthews out of his face, they can definitely hang with Green Bay enough to cover. Will they?
God, every fucking time I ponder picking against Rodgers I wonder if gambling is a worthwhile endeavor. Surely, picking against Aaron Rodgers and his outstanding offensive weapons is a fool's errand, right? In favor of a QB who is basically known for winning playoff games with an excellent defense, on a team that has been erratic and benefited from a seemingly greater than average number of special teams plays? Green Bay is 3-0-1 ATS at home this year, but oddly enough, Philly is 3-1 ATS on the road. Stats-wise, their offenses and defenses are similar, but of course the biggest difference is the gulf at quarterback. Well, I'm gonna do it, I'm taking the Eagles to cover. The line did move from GB -4.5 to -6.0 due to people riding the favorite, but I just have a hunch Sanchez will play well and at least keep it close. Both offenses run wild but Green Bay only wins by 3 or so. IGGLES
THE PICK: EAGLES +6
ATLANTA FALCONS +1 AT CAROLINA PANTHERS
Apparently the woeful NFC South decided not to close up shop yet, so we're still picking their games. Atlanta put together a decent showing last week against a Tampa Bay team that looked completely lost and is hilariously still in the playoff hunt at 3-6. Carolina just got whomped by Philly and has basically fallen apart. Cam Newton has been dealing with injuries all year and his offensive line is in shambles, and they go up against a Falcons pass rush that played well against the Bucs last week. Aside from Kelvin Benjamin, they have no real playmakers on offense and things are looking fairly fucking dire. On the other side Atlanta are definitely no world beaters, but the weapons they have are more than enough (in theory) to light up Carolina. I say in theory because they have disappointed on multiple occasions, but I think that has more to do with Mike Smith being a bad coach. In any case, I think that even with their woes this season, it's fair that they're favored against this tire fire of a Carolina team.
Not much to say about this one. I'm gonna grit my teeth and take Atlanta on the road based on talent alone. It's a joke that they are still able to make the playoffs, but I think they get it done here. Falcons.
THE PICK: FALCONS +1
ESPO
SEATTLE SEAHAWKS +1 AT KANSAS CITY CHIEFS
As Russell Wilson ain't black enough, this line ain't big enough. This game opened as a pick'em, and moved to KC being a 1 point favorite, and still has 64% of the money on Seattle. Do we think Seattle is "back" all of a sudden? Why? Because they blew the game open in the 2nd half against the Giants? The same Giants who got rolled over by Indy and really aren't very good? And that's why KC isn't favored by like, 2.5? Wut? Did we forget that before the Giants game, Seattle made it REALLY scary against Oakland, at home? And looked abjectly terrible in the Carolina game? And lost outright to St. Louis on the road? What am I missing here? Are the Seahawks just that publicly valued of a team?
Now they're going to Arrowhead, the actual loudest building in the league. How do they always get passed over in that narrative, by the way? The Seahawks' CenturyLink stadium is designed to be a noise amplifier, and they were beaten out by an open-air stadium. C'mon! The Seahawks run defense has been very good this year, but now lacks a really key player on that defensive line with the injury to Brandon Mebane. Jamaal Charles will find the sailing a little smoother on Sunday without his presence. Travis Kelce has a good matchup against a Seahawks D yielding a ton of yards to tight ends – with Anthony Fasano's injury, he'll finally get a chance to really flex some of his playmaking muscle.Russell Wilson's been having a hard time finding targets since the departure of Percy Harvin, relying mostly on his legs to get the job done. The Chiefs will have to find a way to contain him and keep him from sustaining drives by himself. Oh yeah, and stop Marshawn Lynch.
Anyway, I just feel like KC takes this game. They've covered 8 straight. They've been the much more consistent team lately with some high quality wins. Seattle looking shaky in a hostile environment, I'll take the home team without laying points, thank ya very much.
THE PICK: CHIEFS -1
HOUSTON TEXANS +3.5 AT CLEVELAND BROWNS
Battle of the Brady backups! It's the Hoyer and Mallett show! Rather unceremoniously, Ryan FitzMagic has been benched for Ryan Mallett. I mean, I guess the coaching staff finally realized that Fitzpatrick is who he is, I guess? Mallett is at least a relatively unknown quantity, who's never truly been given a chance to do anything. The devil you don't know versus the devil you do, is that how that goes? I think so. Anyway, fuck Cleveland. Remember that Houston/Indy Thursday Night game a couple weeks ago where it was basically Andrew Luck versus JJ Watt? That's going to happen again here, except Brian Hoyer and a bunch of That Guy running backs are filling in for Luck and Ahmad Bradshaw. So I kinda don't expect it to go super well.
The Texans have quietly had a pretty efficient defense, even though one guy is doing like all the work. They're allowing 317 yards per game, good for 7th best in the league. The offense has been pretty inconsistent, with FitzMagic proving unable to get his two very good wide receivers in a rhythm, and Foster playing well, while being riddled with injuries.
The Browns… I'm not sure I'm buying what they're selling. They've made their bones on running the ball with volume and efficiency, and Hoyer making a small amount of quality throws. However, this team really still hasn't been the same without center Alex Mack. I'm ready to completely throw out that Bengals game last week. Dalton absolutely imploded, and the Browns dominated with impunity. Prior to that… hang on to your bonnets, the Browns were outgained by their previous three opponents, the Bucs, Raiders, and Jags. In those 3 games they ran the ball 83 times for 158 yards. That's 1.9 yards per carry. Oh yeah, and they lost outright to the Jags. So there's that. Hoyer's connected on some really pretty TDs in tight coverage, which isn't a good bet to repeat every week. The Browns defense is okay on paper, but they're still allowing 25.4 points per game, 10th worst in the league, and they've played a very tame schedule so far. Their nine opponents have won 37% of their games. Even if Foster doesn't play, I feel like Alfred Blue should be able to fill in admirably enough to move the ball on these guys.
Anyway, I just don't see any reason to back Cleveland here. They've won 3 in a row, and are due for a stinker of a game. Houston's off a bye and may have an injection of life with Mallett's start. I feel like Houston covers and probably wins outright. I'll probably have a little money on both the moneyline and the points. Texans.
THE PICK: TEXANS +3.5
MINNESOTA VIKINGS +3 AT CHICAGO BEARS
Man. How do you come out of a bye looking like that? I mean really. What were you practicing for two weeks? Just being terrible? You get pasted in Foxborough, get a bye to lick your wounds and prepare for your most hated arch-rival, and get absolutely BLOWN OFF THE FIELD? 42-0 at the half?! COME ON! This team is just… I can't even figure it out. The defense being bad is no real surprise. They never addressed many of the problems they had last year, and some more injuries made it even worse.
The offense is the real mystery. Marshall, Bennett, Jeffrey, Forte. And they just… can't… do anything. It's mystifying, and has to be the most frustrating thing in the world to Chicago fans. Now I'm supposed to like them as a favorite?! I don't think I can do it. They've just shown so little. I know, it's Minnesota, whose season has been mostly futile. But they're really not playing that poorly. They got pasted in Lambeau, suffocated by Detroit, and lost narrowly in Buffalo. Beat Tampa and beat Washington. Are Chicago better than Tampa and Washington? I don't think you can say that at this point. You want to say this team will dig deep and play with some semblance of pride, but Minnesota is no pushover. They're quietly playing very good pass defense. Teddy has been on a learning curve, but I think any quarterback gets a bit of a boost against Chicago. Maybe Patterson will finally find some room to roam, and they get back Rudolph so that should at least add another set a reliable hands for Teddy.
The Bears just look done. There are some down and out teams that you think, man, these guys are still battling, they're in it together, they're still playing balls out. Like the Jets, or even the Jags. The body language of the Bears is just sad. It just feels like they're sitting there going, "Man, we suck." The bears have only covered one of their last 13 home games. They're 2-12 ATS in NFC North games. And Cutler is 11-28 as a home favorite in his career. Vikings is the play for me.
THE PICK: VIKINGS +3
DICK
PHILADELPHIA EAGLES +6 AT GREEN BAY PACKERS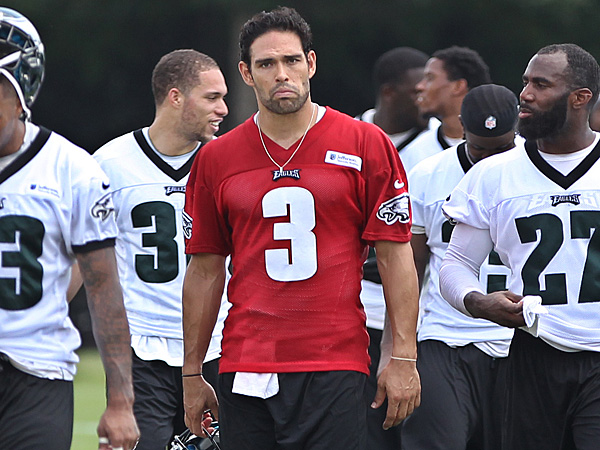 So, are you going to believe Chip Kelly is going to turn The Fucking Sanchize into a quarterback after teams have two weeks of film on him? I don't, but I do know his system works well for basically any guy off the street who can throw a 15-yard out on a dot and that counts for something. Problem is that the Eagles get to face Rodgers on his home turf as the Pack is hitting their stride. Look, no one is going to discount the impact of Sproles unless the Pack make sure to just kick the ball out of bounds whenever a drive stalls or when Sanchez is stuck and needs to dump the ball off because Shady is hurt, but can you see anyone with a brain in their head taking anyone but the Pack at home this week? Call me crazy, but fuck you, the Pack take this and then some because ask yourself who has the shittier defense to good quarterback ratio and then you can lay your cash.
THE PICK: PACKERS -6
SAN FRANCISCO 49ers -4 AT NEW YORK GIANTS
Jesus, I thought the Niners were a dumpster fire after the Rams game. Actually, I was giddy as fuck and was ready to celebrate like it was 1995 and eat a shitload of mushrooms and pick up a case of Whippits and Henry Weinhardt's and party on the garage roof. Then the Niners got gifted last week's win when the ref called the biggest bullshit offensive PI call ever on Jimmy Graham on a fucking HAIL MARY. Really, zebras? Are you guys fucking insane? Gambling interests aside, refs need to be able to tell the difference between a push off and a defender diving like mincing kickball player or that absolute bitch Manu Ginobili. Tighten up, guys. Anyways, those are the sort of breaks that can turn a season around and now the Niners get to travel to New York to play this week's blue plate special of absolute shitiness. The Gnats remind me of a hobo that thought he found a winning lottery ticket in the street on Monday then showed up at the liquor store only to find out that he still owes cash for the single-buy cigarettes he bummed on Friday and has 18 warrants out for his arrest. Look, we all know that the big dogs shit the bed right around the same time last week, so we can chalk up the chalk bets to random things happening, but right now the Bears and Giants look like the two teams in football that have tanked/given up/loaded up their golf clubs for an off-season in Arizona. It doesn't get much better for the Giants since they get a somewhat confident Niners club that is getting no love from the bettors. Shit, they get no love from me, but I am convinced hat the Niners are the right side because they have, uh, you know, a defense and a running game and something to play for besides Tom Coughlin living off of two miracle wins against the Patriots. Coughlin might survive another year because the Giants ownership always says "why the fuck not," when they should have shown him the door last year, but the Niners win by a touchdown because fuck New Jersey.
THE PICK: NINERS -4
NEW ENGLAND PATRIOTS +3 AT INDIANAPOLIS COLTS
This could be the easiest one ever. Whenever Brady and Bill are getting points take them. Sure, that rubric didn't hold up against Denver in the AFC Championship Game and everyone knows that Andrew Luck is the future of the NFL, but right now Brady is still Tom Fucking Brady and he is safer than any multi-national bank. I am sure you get the point. As long as Gronk is not in traction the Pats are always the fucking side when they give points. Like a cool breeze coming in off the Atlantic to take the heat off of my nut sack I always like taking Brady. I used to hate him and I especially hated him when the Patriots illegally filmed the Rams' goal line packages before that one Super Bowl a long time ago. I was also in the middle of a rough relationship, so that might have something to do with my frame of mind. Well, that and having to watch that Super Bowl in New York with a bunch of loud, obnoxious Patriots fans while my friend Jason and I had to painfully take it all fucking night long after that fucking midget hit the game winning field goal. Anyways, I digress. I am older and more mature and now fully appreciate Brady's ability to make scarves in summer fashionable and Bill's ability to fuck his friends' wives. That combination of fashion forward thinking and sexual ruthlessness is admirable and for me is the truest test of one's mettle on the gridiron. As for strategy and analysis? Pshaw. This is two big scoring offenses going toe to toe with less than good defenses. Pats and over 58 (which is easily the highest total on a NFL game I have ever seen). If you're not expecting a 38-35 game you've not been paying attention and should go back to watching team handball.
THE PICK: PATS +3