WEEK 15 RECORD:
DAN K: 2-2
ESPO: 1-3
DICK: 2-2
OVERALL RECORD:
DAN K: 23-22-2
ESPO: 31-15
DICK: 23-20-1
ESPO
CHICAGO BEARS +3 AT PHILADELPHIA EAGLES
If you're in the fantasy finals, like yours truly, you're wishing you had any and all Philly and Chicago players in your lineup this week. This is going to be a god damn shootout. Both of these teams are in the playoff hunt. Both of these teams have abhorrent defenses – the Bears are 32nd in run defense, the Eagles are 31st in pass defense. Both have explosive offenses. Let's see here. Shady McCoy and Matt Forte are the #1 and #3 rushers in the NFL, respectively. Brandon Marshall and Alshon Jeffrey have combined for 17 touchdowns. DeSean Jackson and Riley Cooper have combined for 16. Cutler and Foles are both slingin' the rock, and bein' all "whatever" about doin' it, like a coupla cool bros. Both coaches are offensive masterminds. THERE WILL BE POINTS. I've abandoned my defense. I am a sinner. I'VE ABANDONED MY DEFENSE. I'VE ABANDONED MY DEFENSIVE BOYS. Ah, anyway. I feel like I've said everything that needs to be said. BCEPOW (bosom chum ex-pickoff writer) Jaquay told me that if Philly wins or loses this game, they still have to play Dallas to win the division, which I decided to just take at his word instead of actually checking it myself. This year, figuring out who can make the playoffs in what scenario feels kind of like doing a really hard Sudoku. Seattle is your one box they fill in for you. Then you're all, "Okay, New Orleans, oh wait, no, if I put New Orleans here, then Carolina goes here…. but if Carolina wins, I'll have to slot in SF in this position FUCK" and then the Sudoku book lands on someone's head in first class, because we all know airplanes are the only acceptable location to do Sudoku. Anyway… I don't think that matters. They'll want to win anyway because winning. Also they're at home, and got flexed into the Sunday night game, under the lights big stage yadda yadda. This kind of feels like a "whoever has the ball last" game. Which is kind of a coinflip. But I'll take Philly, because I think the team that runs for more yards wins this game, and I think Shady is going to have just a stupidly productive day. I'm talking 250 yards and multiple touchdowns. Iggles by a field goal.
THE PICK: EAGLES -3

DENVER BRONCOS -10 AT HOUSTON TEXANS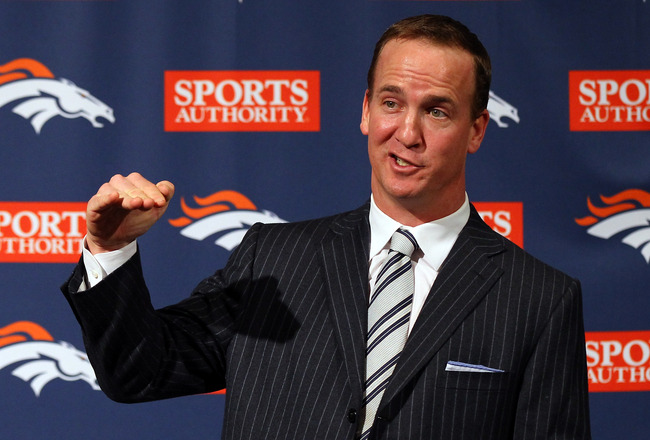 Everyone foretold the Chargers holding Denver to their lowest point total of the season, right? In Denver? What the hell? Last Thursday was the ONLY time the Broncos scored less than 27 points all year. Come on! You can't make this shit up. I really don't know what to make of this, so I'll just chalk it up to it being a Thursday night game, which apparently no NFL player in the league likes playing. So now the Broncos come off a nice long rest and travel to the NFL's worst team, the Houston Texans. Man, can you believe their preseason Vegas win total was 10.5? What a disaster of a season. But, on the bright side, they'll probably get to pick first and draft Teddy Bridgewater. Not that he's a guaranteed savior or anything (this is the time of year when guys like Blaine Gabbert get talked up as starting quarterbacks), but the team clearly needs to move on from Matt Schaub, and it seems like Case Keenum will not be the next Tony Romo, ahaha insert joke about how Tony Romo is terrible so that's probably a good thing! (he isn't and it's not). Plus Kubiak is gone, so they'll get a nice shiny new head coach and nice shiny new quarterback and they can hit the reset button for next year. Now, when a team is down and out in the last couple weeks like this, it makes for tricky capping. I mean, this is a legitimate worst-facing-best matchup. And it seems like these are always the games where the downtrodden doormat gets up and gives a team a legitimate scare, because even though they have two (TWO!!!) wins, everyone in that Houston locker room would love to slap each other on the ass and be like, "At least we fucking beat Denver and that bobbleheaded fuckface!" And I think that if Denver didn't lose last week, I might be on Houston's side here. But Peyton Manning, despite his milquetoast, hyuk-hyuk demeanor, FUCKING HATES losing. A lot. And, it's not like they're comfortably sitting in the 1 seed either – KC can still knock them out of first if they win out and Denver doesn't. So, essentially, I think Denver just pours it on and doesn't stop until Wade Philips is trundling out to midfield to halfheartedly shake John Fox's hand. Denver in a deep-dicking.
THE PICK: BRONCOS -10

INDIANAPOLIS COLTS +6.5 AT KANSAS CITY CHIEFS

Bar none, the two teams with the WEIRDEST seasons this year are the St. Louis Rams and the Indianapolis Colts. Can anyone truly figure these teams out? Indy's beaten the best teams in the league, gotten blown out by St. Louis, Arizona, Cincinnati, and are undefeated in their division, which admittedly is pretty bad. After lots and lots of pondering, I think I've figured it out. #1) Reggie Wayne. This was absolutely devastating. He was THE GUY you could rely on to move the chains. He made circus catches look routine. He doesn't drop balls. He's just a god damn baller. The Colts haven't had a consistent pass-catcher since. TY Hilton is boom or bust, Darrius Heyward-Bey *cue laugh track*, Coby Fleener is white, and then they had to dig down the depth chart into the weird name guys, like LaVon Brazill (with two L's so as not to be confused with the country) and DA'RICK Rogers. Listen, I don't want to come off as uh, racist or anything, but… Jesus. Is that a permutation of Derek? Or is it DA Rick, like, THE Rick? 'Cause I think that would be cooler. The Rick Rogers. If Da'Rick Rogers has a fantasy team, I hope it's called The Rick Rogers. Um, anyway, #2) The run game. We all know about the Richardson trade by now. You could call it a bust. Lots of people are calling it a bust. I don't think we'll really know that until next season, but at least we know Cleveland is probably happy having the first round pick. But I think there's been an unfair amount of criticism of Richardson, and not the interior of that offensive line, which has been straight-up not good. Although, Donald Brown is rocking a 5.33 yards per carry while T-Rich has 3.01, but they're vastly different types of runners. Anyway, they've been trying to run the ball to establish their offense and it simply hasn't been working. #3) The defense. They've been falling into big holes early, and it's been costing them. They're not particularly terrible at anything, but they haven't been doing anything else that great either. So, now they travel to KC, which on paper looks like a horrible matchup. Even on a computer screen, it doesn't look that good. The one stat that piqued my interest is that Kansas City has been giving up a lot of big plays lately. Oakland alone had 7 plays of 20 yards or more. The Chiefs also allowed 461 yards in that game – the 5th time in the past 6 games that they've allowed more than 425. Quite a bit for what's supposed to be an elite defense. And finally realizing their run game futility, the Colts spread it out last week against the Texans, putting Luck in the shotgun, running some *gasp* no-huddle, and basically going with the grain for a fucking change instead of against it. I mean, Luck is awesome, the offense needs to run through him. Anyway, I think the Chiefs win the game, but I think this line is a bit high due to their offensive explosion against Oakland. I think the Colts cover by the skin of their teeth.
THE PICK: COLTS +6.5

DAN K
MIAMI DOLPHINS -2.5 AT BUFFALO BILLS

I think after the whole supremely weird Richie Incognito/Jonathan Martin fiasco, we all left the Dolphins for dead. It was a given that the GM and coach would be shitcanned after the season, and the three-game losing streak that the Fins went on after the story broke seemed to reinforce the fact that the Dolphins were a broken team. I guess everyone was wrong because they've won 5 of their last 7 games after the skid, Cameron Wake has been a sack machine, Ryan Tannehill has been almost flawless, and Mike Wallace has looked more like a #1 receiver and less like a free agent bust that I'm glad the Steelers didn't overpay (I am glad though, that contract is ridiculous). Meanwhile, the Bills have looked great at times (usually at home) and rookie QB EJ Manuel has looked like the real deal, but the guy can't stay on the field and consequently the Bills are unable to get in a rhythm. He'll be out again for this game and Thad Lewis will be behind center. I would give the Bills a chance with Manuel starting, or if even their record were better and Lewis were starting – a team still in the hunt for a playoff berth can coalesce for a game or two behind a backup QB, but the Bills season is basically over anyway. I think their defense could still give Ryan Tannehill some trouble, as they're #2 in pass defense over the last month and #1 in sacks (and the Dolphins have a shaky o-line), but their poor play against the run leads me to believe that Daniel Thomas and Lamar Miller could have a repeat of their great performance last week against the Pats, which would take some pressure off Tannehill against a fierce Dolphins pass rush. The Fins control their own destiny in the playoffs and I think they'll want this game more than the already-eliminated Bills. Miami has the running game and Tannehill the strong arm to compete in the hellish Arctic conditions of Upstate New York in wintertime. Dolphins run it.
THE PICK: DOLPHINS -2.5

TAMPA BAY BUCCANEERS +5 AT SAINT LOUIS RAMS

I'll admit that while I picked the Saints last week, I was glad to see the Rams pull off the upset. My esteemed fellow picker Dick had selected the Eagles who had lost earlier in the day, as had every other survivor except one who had picked the Saints. Losing a few bucks would have been overshadowed by my prognosticating pal hurling himself into oncoming traffic. Anyway, I'm sure he'll elaborate on his eventful Sunday in his own picks. Regarding the Saints-Rams game, it really showed what the Rams are capable of, and how strange it is that they've been so inconsistent this year. Seriously, look at their record! They've lost 30-10 to Arizona, beat Chicago 42-21, beat the Colts by 30 points, lost to the fucking JAGS by two scores…it's so odd. One player that hasn't been inconsistent is Robert Quinn, with 15 sacks and a whopping 7 forced fumbles. The absolutely beastly Quinn is complemented by Chris Long on the opposite site, rookie Alec Ogletree at linebacker, Janoris Jenkins at CB….their defense actually has some good (and young) players and will only be improved with a couple of the 58 first round draft picks they have next year. Sam Bradford getting injured early in the season hurt because Kellen Clemens sucks, but he hasn't played bad at times and Zac Stacy is a nice surprise at running back. The Bucs rebounded from a disastrous start that made Coach Greg Schiano look like an idiot who had no clue how to run a team, but to their credit they've bounced back and played a bit better after their 0-8 start, winning 4 of their last 6. Mike Glennon looks like he could be a solid QB, even after playing poorly in a blowout last week (against one of the best teams in the NFL). The Rams have a league-best rushing D over the last month so Glennon will have to throw it here for any success. As far as the pick, I think that the Rams are a bit overvalued after blowing out a Saints team that plays poorly on the road. Aside from recent games against Carolina and San Francisco the Bucs have kept it close in their last few games, and a lot of public money is on the Rams. I'm going to take the underdog here.
THE PICK: BUCS +5

DALLAS COWBOYS -3 AT WASHINGTON "FOOTBALL TEAM"

Oh man, Tony Romo. I'd be lying if I said I didn't sometimes feel sorry for the guy. He plays for a team that could be described as an institution in the sense that it's ingrained in popular culture more than say, the Jacksonville Jaguars, and also because it provides something for the completely insane Jerry Jones to do that doesn't really hurt America as a whole, sort of like a mental institution. Better he's using his immense wealth and deranged brain to mismanage a football team than bankroll Mitt Romney or people who want us to bomb Iran or some shit. The mismanagement starts at the top, but it's clear that Jason Garrett is a totally inept coach who seems to forget that he has a running back who's running for 7 yards a carry and instead thinks it apt to put the game on the shoulders of his QB whose December woes have been so widely covered that he completely goes to pieces after Thanksgiving. Seriously, the guy's psyche is completely shot and he needs to be traded immediately or he'll only get worse. That said, Romo did audible out of a run play for some ungodly reason and threw a backbreaking pick last week that led to one of the most hilarious chokes in regular season history. I'm actually not surprised because the Cowboys are getting 3 points against the [Racial Slur Redacted] because there's tons of yahoos who will put down money against the Cowboys no matter what. The R*dsk*ns season is long over, but backup QB Kirk Cousins is still going to play hard, either to get some plays on film for his next gig or even consideration for a starting job if RG3 falters again next year. He'll be able to put up some points because the Dallas defense is fucking garbage. They got lit up by Matt Flynn for fuck's sake, a guy who can barely throw for a first down, the guy who got run out of town in Oakland in favor of Terrelle Pryor and an undrafted rookie. They've allowed 35.2 points a game in the last few weeks. While the Cowboys could theoretically win out and go to the playoffs, their defense is too bad to get them anywhere. Romo will be able to get some yardage against the Sk*ns D, but they're a bit more stout against the run than the Bears and Packers, so Demarco Murray won't be able to run wild. This game just screams backdoor cover. Kirk Cousins has something to show and betting on the Cowboys in December is not a good idea to me. Home dog all the way.
THE PICK: LANDOVER MARYLAND RACIALLY BASED INSULTS +3
DICK:
NEW ENGLAND PATRIOTS +2.5 AT BALTIMORE RAVENS

Survivor ending last week has calmed me. Myself and four other people took the Eagles (we make our picks blind without prior knowledge of each other's) and one incredibly lucky soul took the Saints. I could have taken the Bears, but in a vacuum the Eagles were the best pick of the day. Well, except for that Week 15 in Minnesota Curse I've mentioned, but betting that way is sort of like picking your bets based on your girlfriend's preference in uniform ensembles. "Sweety, the Bengals look so cute in their Tigger outfits! I just want to give them a big hug!!!" Oh, and one more thing, some poor soul had Kansas City available and chose the Eagles instead. THANK YOU, YAHWEH! Thanks to two weeks of gambling miracles that I will now be celebrating as personal holidays, and a 5-1 vote for a six way chop, yours truly has crawled back into profitability on the year with one swift stroke. Nervous breakdowns and night sweats have abated and my kneecaps no longer ask me why I always endanger them. Tom Brady is a better quarterback than Joe Flacco in every way imaginable, but it's hard even for him to overcome losing both of his starting tight ends and the gritty white guy who just found a way to get open and always got the job done while having to use a couple of pretty deficient running backs. I know, cry him a river while he just goes around making average receivers look good. He's so fucking good everyone on that team should be buying him an end of season gift or Secret Santa-ing him a portion of their paychecks. Last week's loss in Miami wasn't all that flukey because Miami is quietly good, but Baltimore's win in Detroit came about because the Lions are the best in the business at shitting the bed. Oh, you scored nothing but field goals and were almost totally inept in the red zone? I am absolutely sure that's going to be a catalyst for your march through the playoffs. This is the guy's version of going with the team with the prettier uniforms, but just look at Brady's face and try to tell me that he is not the object of desire of super models of all sexual persuasions. Now look at Flacco and his Bert brow. What is he? An Armenian refugee who has still not learned western grooming techniques? Tighten up! Someone get Modax back in here! No way can a man who possesses so little panache beat a chiseled godlike man such as Brady. Oh, but wait, in their last eight road games, the Pats are 1-7 ATS. FIDDLESTICKS, I like them bouncing back and Baltimore dipping. Also, that big win of theirs was against Detroit and they are going up against the guy who impregnated TWO super models.
THE PICK: PATS +2.5

NEW YORK GIANTS +9.5 AT DETROIT LIONS

If I hear one more line about how that blown PI call in the fourth quarter stole the game from Detroit I am just going to keep pointing out that Stafford threw three picks on the day. Well, now we have two mistake prone disappointments in the same building, so I think you can go ahead and forget about the Lions having any chance at covering a two score spread. The Lions have beaten three teams by 10 or more points: Minnesota, Cleveland, and Green Bay on Thanksgiving without Aaron Rodgers. Ask yourself if they can do that against a team with some actual talent. They have also lost four of their last five, the Giants are still full of guys who have actually won Super Bowls, and the Lions are not exactly trending up these days. This is more about not trusting Detroit than it is about the Giants suddenly turning on the Play Good Football machine. Both teams are truly terrible, but I am always drawn to the occasional play where one team can end the other's season in their home stadium. I've always had a soft spot for the Lions and Detroit because I like unions and Motown, but every time I look over the particulars, I just shake my head and wonder how many minutes after the end of the season it will take for Jim Schwartz to be fired. I get nine-and-a-half points taking the Giants in Detroit? Are you fucking kidding me? Do you want me to kiss you, you sweet bookmaker, you? Come here. MMMMMUUAAAA!
THE PICK: GIANTS +9.5

ARIZONA CARDINALS +11 AT SEATTLE SEAHAWKS

Honeybadger is on the shelf with a busted knee, Carson Palmer has been rendered even more ordinary by a sore elbow and an ankle sprain, Larry Fitzgerald is visiting with neurologists, and now the Cardinals have to travel to Seattle where they are going to lose by three touchdowns because that's the natural order of things, right? Hold it right there, Mr. Public Fuckface. Let's think this through before you go running off to lay the mortgage on the little quarterback who could and his merry band of Adderall addled freaks with pupils the size of pinholes. Sure, Seattle is pretty much unbeatable at home, but that doesn't change the fact that 10-11 points is an enormous amount when you have one team playing for home field advantage throughout the playoffs and the other one playing to get into the playoffs. Sure, the Cards are banged up and the Seahawks are only going to be missing right tackle J.R. Sweezy and Percy Harvin, but keep in mind that far worse teams have been able to go into Seattle and cover. Remember Tennessee and Tampa? The encouraging sign is that the public's sitting at about 55-60 percent on the Seahawks at even this inflated line. It's not even just a matter of being contrarian, it's about the fact that Arizona still has an excellent defense and Seattle primarily relies on their running game and prefers to grind games out. There's always the chance the Seahawks dominate, run up the score, and send Palmer to the IR in the third quarter, but I think desperation is a fine motivator. Also, 11 points. Think hard about that before you go hard in the paint for Seattle.
THE PICK: CARDINALS +11
GAME OF THE WEEK: NEW ORLEANS SAINTS -3 AT CAROLINA PANTHERS
ESPO:Â  It's only been 2 weeks since the Panteras got posterized in the Superdome, but it feels like half a season has happened in that time. Maybe it had something to do with the Rams slapping their big ram dick down on the field last week against the Saints. Robert Quinn certainly garnered some Defensive Player of the Year votes with his campaign of terror against the Saints offensive line, quarterback, backfield, and possibly even their homes last week. Pierre Thomas is all doo-dee-doo walking to his car and BAM Robert Quinn leaps from the bushes and spears him into a decorative fountain. He was simply all over the field, and the Saints had no answer for him. The Saints really aren't the same team outside of their precious dome. I don't know if it's the noise or just the comfort factor, but the plays that seem to materialize out of nothing for them at home just simply aren't there on the road. I expect more of the same this week in Carolina, a game in which there are reports of some inclement weather. Rainy with a chance of sacks. Hiyo! Supposedly the Panthers defense doesn't plan on changing anything from their last meeting except execution, which is for some reason, is a really encouraging sentiment. It's basically like, we're good, we know we're good, we fucked up last time and now let's take it right back to them tenfold. The pass rush was there two weeks ago, but Brees was simply still finding his guys. I don't think it'll be so easy for him against a Panthers team that will no doubt be keyed-the-fuck-up at home. This game and a date with lowly Atlanta are all that stands between them and the #2 seed. A sloppy, rainy game would favor Carolina as well, as they should be the superior team on the ground. As I predicted in my write-up for the first matchup of these teams, I think Carolina takes this one and jumps up the standings.
THE PICK: PANTHERS -3

DAN K: And now we come to our game of the week. A highly anticipated matchup against two of the top dogs in the NFC. The Saints are coming off of a surprising blowout at Saint Louis where they couldn't do much of anything on either side of the ball. The Panthers are coming off of annoying the shit out of me by doing just enough to cover against the team I bet on, the Jets. They looked beatable in that game and I think the Jets could have pulled out a win if "Genocide" Smith hadn't thrown a backbreaker pick-six late in the game. The Panthers got embarrassed by New Orleans the last time they played, allowing Cammy Cam to get sacked five times, but that was in the raucous atmosphere of the Superdome where where Drew Brees is nigh-unbeatable. I think both teams were looking ahead for this matchup because of the playoff implications and that teams naturally do more to prepare for divisional rivalry games. I don't need to go over how drastically different Brees' (and the Saints as a whole) stats are on the road vs. home. So this pick should be easy, right? Just pick the Panthers to split the series. I'm not convinced. While the Panthers are a great team and their defense is the real deal, betting on an elite QB after being embarrassed in a blowout is usually a good proposition. Keenan Lewis has been great in coverage (I still think the Steelers should have locked him up) and will be able to keep Steve Smith in check. The Panthers will be able to run against the Saints based on how Zac Stacy did against them last year but I don't think Newton is able to outduel Drew Brees just yet. Even though they burned me last week, I'm going to take the Saints. Drew Brees as an underdog with 65% of the public money against him? I like those odds. Saints pull it out.
THE PICK: SAINTS +3
DICK: Two weeks ago this looked a potential preview of the NFC Championship Game. After New Orleans got exposed by the Rams, this is where the Saints meet the crossroads of their season. I always figured this was going to be the game the Saints would lose to Carolina, but after getting fucked the fuck up by the most unpredictable team in football last week, the Saints look vulnerable and not in the good way your girlfriend or wife needs you to be so you can have a good relationship. More like the skinny guy who just got dumped into a cell block full of Crips. If you watched the Saints game closely (oh brother, did I) you would have seen Sean Payton asking Rob Ryan what is going on and Rob looking very confused. You will also notice that the Saints did a little lineup shuffling and released Garrett Hartley. Well, every so often after a bad performance, good coaches do stuff like that. Since Payton's a good coach I'm attributing his shake up to, well, a shake up and think they will respond well. All kidding aside, I attribute last week's loss to it being a sandwich game and the Rams being incredibly fortunate. Also, it helps when you have an elite front four that can get after the quarterback and cause mistakes. Anyways, that's what the kitties have. That being said, I still think this game plays out as a tight one. That line is pretty much on the mark because the Panthers at home are a helluva strong play even against a team as good as New Orleans. Dick, you're taking three road teams and one home team, what's wrong with you? I'm using The Force.
THE PICK: PANTHERS -3