When it was announced that Bill and Stella Pence would no longer be managing the daily operations of the Telluride Film Festival, hope sprang eternal, as it always does whenever new blood is injected into tired, sagging veins. The festival, while good in recent years, seemed to have been coasting on its reputation, rather than proving it with a stellar lineup and inspiring special guests. It was clear that the competition — both Venice and Toronto hold festivals around the same time — had a lock on the more high-profile releases, but even amid the denial, it appeared that a big name or two still preferred the mountain locale. Now, with a new director aboard, our worst fears have been realized. Whatever pull and muscle exhibited by the prior landlords has been replaced by a death knell, and with it the realization that Telluride faces a crisis, both of confidence and in its ability to convince filmgoers to contribute a great deal of money to its cause. The long weekend was defined by many things, but none more than the bitter, frustrated mood that simmered throughout excessively long waits and often punishingly uncomfortable screenings.
To put it bluntly, Telluride failed its loyal customers in the most important respect: of all the most highly anticipated fall/winter releases, only Sean Penn's Into the Wild could bother to make an appearance. And even that opens later this month. The list of the uninvited is long: The Assassination of Jesse James by the Coward Robert Ford, No Country for Old Men, Charlie Wilson's War, Lions for Lambs, Eastern Promises, In the Valley of Elah, Lust, Caution, Elizabeth: The Golden Age, Reservation Road, Sleuth, Atonement, Funny Games, The Kite Runner, Sweeney Todd, Leatherheads, Cassandra's Dream and Michael Clayton. Yes, Daniel Day-Lewis did come out of hiding for a tribute (with Paul Thomas Anderson presenting the award), but even then, There Will Be Blood was only allowed a short clip. Sure, the film is apparently not yet complete, but somehow, the tease was fitting. We'll hint at what could have been and rub your noses in the unfulfilled longing. The announcement of the abbreviated clip was so infuriating, in fact, that I skipped the tribute altogether. I've never been a fan of blue balls.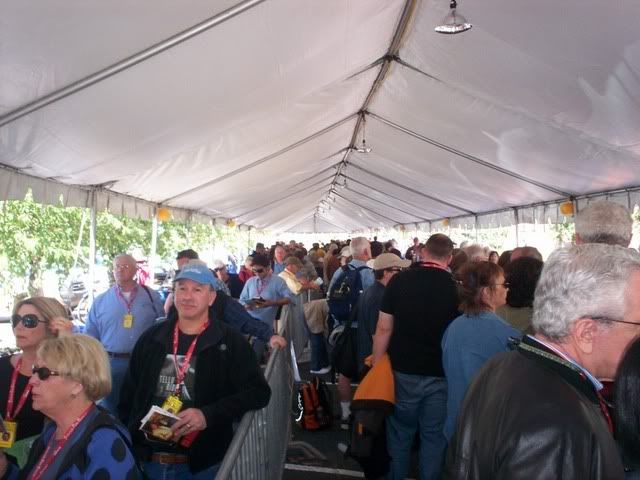 So, appallingly, the program was full of compromises and pulled punches, and it became a chore to find a way to fill the time. Telluride has always been about ingesting too much, not waiting it out and hoping for a surprise. To compound the rage at watching a once proud festival take a back seat to the big boys, rumors circulated that festival passholders, almost always guaranteed a seat, were being shut out of screening after screening by an abnormal influx of patrons, so-called because they donate more money and, as such, don't have to wait in line. They were showing up by the boatload, shoving the inferior ones aside, and leaving nary a seat for anyone else. This seemed odd for many reasons, but mostly because these patrons usually care only for the prestige and ass kissing, and rarely about the movies on display. Most often, Telluride is the one time they venture from their sealed tombs and mix with the rabble of the filmgoing community. But here they were, faces stretched to their limit and fox pieces whipping in the mountain breeze, using their clout to punish those having waited for hours. Threats were leveled, rage was expressed, and embarrassed staff promised reform for 2008. No one's holding their breath.
While Day-Lewis was of sufficient star quality to calm the masses, the other tributes flattered insiders, and little else. A new theater, The Backlot, made its debut in the town's library, asking only that passholders skip the other venues to spend a few hours with obscure Koreans, ancient Broadway has-beens and South American extras. In their defense, though, they did show a documentary about film criticism that I regret missing. The tribute films, however, brought by some arrogant sourpuss, weren't to anyone's liking, and I failed to encounter a single person who saw any of them. The shorts, as usual, drove me to distraction, though an imaginative take on film noir, entitled Yours Truly, managed to give me a smile. But could anything wash away the stink of Madame Tutli-Putli? Not likely, as it was followed by Jellyfish, a feature that proved why Israel has been off the cinematic map for so long. One of the better offerings was L'Amerique Lunaire, a French view of the American Southwest, but it was made in 1962 and was dripping with the condescending belief that our roads are useless because they take us to work every day and not on navel-gazing journeys of acid-soaked utopianism.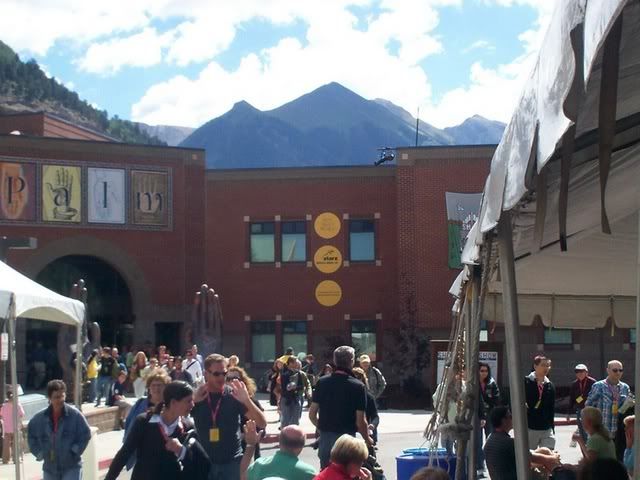 What else did I learn? Few things are as enchanting as an evening under the stars surrounded by tree-lined mountains. While cookies and stale hot dogs can get you through the next screening, it is best to pause for a nice meal now and again, as we did for the first time in seven years of attendance. The gyros are as good as ever, and alone make the trip worthwhile, and despite everyone knowing what's up, it's still best to pretend that the cup of hot chocolate for which you are charged $5 is more than a pack of powder and lukewarm water. To ensure this, don't actually hand the packet to the customer; disappear, make some noise, and return as if from deep, heavy labor. And Leonard Maltin, yet another recipent of some fool's award? The wife still isn't convincing, and even though you're aging, it's not a good idea to pull your pants up to your neck. We know you revere Mickey Mouse, but please, a little dignity in this movie Mecca.
And now, the movies — in order from worst to best: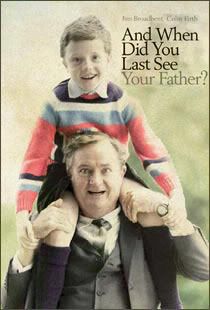 11. When Did You Last See Your Father?
The clashes of fathers and sons have defined literature dating back to antiquity, but in this, one of the worst films ever to appear at Telluride, the long, tired history seems to have been forgotten altogether, replaced by an arrogance that assumes we need to see yet another dying patriarch and his resentful boy come to terms in the final hours of the old man's life. Not even Jim Broadbent, a man who could extract entertainment value from reading a phone book, is enough to rescue this hapless parade of clichés; a film so seemingly unaware of cinema's teeming vaults of melodrama that it sees nothing at all wrong with the standard "ache before the fall," which is not, thankfully, a foreboding cough, but rather a grunt that signals inoperable cancer. Colin Firth is on hand as Blake, Broadbent's insufferable monster of a son, for how else to classify a character who, at mid-life, has yet to let go of a father's affair at least four decades prior? The screenplay is so clueless, in fact, that it asks that we see things from the spoiled brat's point of view, rather than the father, a man who is, in fact, a pretty decent chap. Sure, he's loud, and boisterous, and prone to practical jokes and schemes, but he's unfailingly decent, never so much as lays a finger on the boy, and if truth be told, has a pretty good sense of humor. He's an obnoxious life force, but as far as dads go, one could do far, far worse. And yet, Blake mopes about for years on end as if he's been saddled with fucking Claudius.
So dad's extreme extroversion leads to his infidelity, which only seems to bother the lad at this point, as mom obviously came to terms with it years ago. Sonny boy could learn a thing or two from the woman. You live in paradise, are the child of two successful doctors, and even manage to shag some hot Scottish maid when you're barely out of puberty, for fuck's sake. Get over your precious self already and move the fuck on. The film begins in the present, but uses pointless flashbacks to establish the alleged pain and regret, even if there's no visual evidence on display. Sure, Blake catches his dad kissing another woman during some outing, but based on the reaction, one would think he'd uncovered a storage facility packed to the gills with blood, bile, and neatly stacked body parts. Again, the actors try their best to stay awake throughout this long, dreary mess, but no one but the most forgiving filmgoer could ever be fooled. And based on the applause and festival buzz that followed, the weekend appears to have been populated by fool and fool alike. What were they cheering? The deathbed tears? The painful first loves and youthful temptations that have been played out hundreds of times before? And if this, a meaningless slog through predictable family dynamics, could generate goodwill and even hearty recommendations, what on earth would raise an objection?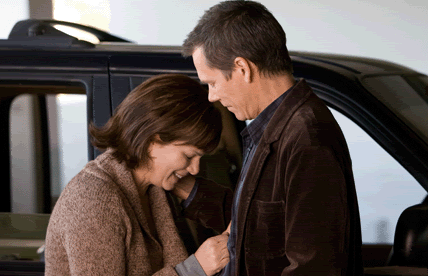 10. Rails and Ties
Bloody hell, yet another movie about cancer and pain and redemption? I'd have stormed the fuck out, but co-star Marcia Gay Harden was blocking the stairs with her fat, Oscar-winning ass, so I angrily remained seated. That bitch owes me, as instead of breathing in some much-needed mountain air, I was forced to endure a predictable, unholy mess about a childless couple, bone cancer, and yes, even a shaggy-haired kid who just happens to come at the right time and change their lives forever. All this from Clint Eastwood's daughter, making her directorial debut? How many verbal threats did Clint lodge with Warner Brothers in order for this sewage to see the light of day? I like Harden, and hell, even Kevin Bacon from time to time, but were they so desperate for paychecks that they didn't give this screenplay a second reading? Bacon is Tom Stark, a train engineer who is — big surprise — depressed and remote, and Harden is Megan, his dying, weepy wife. One day, while working the rails, Tom's train hits the car of a suicidal woman and her young son. The kid manages to escape, but the junkie whore mother is killed, a "twist of fate" that leads to the inevitable inquest and, most unrealistically, the boy's journey to the Stark family's front door. The kid is pissed at Tom for killing his mother, but within seconds, he is soothed by Harden's instinctual nurturing. Sure, it breaks all the rules and will likely lead to firings, investigations, and possibly a few more wrecked lives, but hell, why not let the boy stay for a spell? This story wasn't going anywhere anyway, so let's allow a little turn at the end of the first act. Right?
Christ, if you need to know that the kid warms to both Tom and Megan, and that Tom himself comes to love the kid, or that Megan takes a turn for the worse and dies having been afflicted with the one cancer that fails to take off any weight, then by all means see the damn thing. The film itself is directed with a cautious boredom, almost as if poor Alison thought any sudden moves would break the camera lens or something. She does rely heavily on fade-ins and outs which, given their frequency, actually add 10 or so minutes to the already oppressive running time, but who am I to quibble? According to festival gossip, this stain on the moviemaking craft actually provoked a standing ovation at the sacred Sheridan Opera House, a fitting locale given the obscenely heavy-handed melodrama on display. Did they hear "Eastwood" and assume the old man was the director? Or did they believe that whenever cancer makes a cinematic entrance, attention must be paid, regardless of how it is framed? If everyone took their life cues from the movies, they'd believe that whenever the "Big C" invades the body, people do nothing but re-evaluate, tend to old wounds, reconcile and take in orphaned children. In reality, the disease is nothing more than pain, costly hospitalization, drugs and a little more pain for good measure. I'll go so far as to say that while wasting away in bed, there isn't a single human being who has ever brought around their nearest and dearest to do anything but stare at utter misery and perhaps watch a convulsion or two. Or maybe we'll get lucky like Megan and go through what amounts to little more than a headache.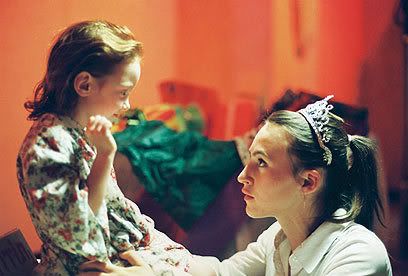 9. Jellyfish
Seriously, this screening started a little after midnight, so cut me a break. In its defense, the film is set in Israel and manages to stay clear of politics, the PLO and terrorism. This isn't about land, or faith, or heritage, or bloody struggles of any kind. At least I didn't notice any while my eyes were open. While I fought off the siren song of sleep and, for the most part, lost, I did catch a glimpse of a few semi-hot Israeli chicks, some mute ginger who came out of the sea, a married couple having one hell of a time in a hotel, and some Filipino nanny who really, really wanted a toy ship. Who knows? More importantly, who cares? Perhaps Jews should stick to cinematic victimhood after all.
8. Juno
Actress Ellen Page won my heart in Hard Candy with her cruelty and unforgiving sadism, but here, in Jason Reitman's latest attempt to mine the forced quirkiness that threatens to tear Hollywood apart, she's gone soft in the middle, even if she'll insist on ironic detachment throughout. Page is Juno, the sort of improbably articulate 16-year-old you won't find in any corner of reality but can't help but trip over every time you suck it up and give the dying "independent" scene another chance. She's dry, sarcastic and full of well-timed quips and putdowns, but there isn't an adolescent ounce of her that feels or sounds unscripted. As written by Diablo Cody, a grating personality I later encountered during an especially intolerable Q&A session (we walked out after her 33rd "like"), Juno is bitter, rebellious and a little untamed, but not so much that she won't skip out of a scheduled abortion and look through the want ads for a suitable set of adoptive parents (does anyone kill the fucking things anymore?). She finds them in Mark (Jason Bateman) and Vanessa (Jennifer Garner, whose face is mutating into Skeletor before our very eyes), a barren couple who live in a wealthy suburb, if for no other reason than to provide the young Reitman with a satiric opportunity that conveniently ignores his own alarmingly privileged upbringing. Strangely enough, though, husband and wife are relatively normal (one could easily imagine New Age hippies or humorless Stepford parents-to-be), though it stands to reason that the kid is seen as a Band-Aid for their dying marriage. It seems that he wants to rock out, man, and play in a band, while she's the typical shrew who demands accountability and maturity from a man approaching his 40th birthday. Guess who we're supposed to root for?
Juno's father and stepmother are also unsurprisingly inhabiting a fantasy world, as they are clever, quick and forgiving to a fault. They exist to whip out one-liners by the bushel (and not care that their high school junior is having a baby), as in a scene in the doctor's office, where the stepmom (Allison Janney) rips apart an ultrasound tech with all the forced, populist rage that seems to be in fashion among those who don't live the life. Not only was the tech quite right to applaud Juno's decision to give the kid up for adoption, but if the procedure is as trivial as stepmom seems to suggest, perhaps the bitch would like to bring the fetus to term without the advances of modern science. Plug along, take your chances and stay the fuck away when things go wrong. But that's only a symptom of the movie's major-league issues. Page, channeling Christina Ricci's turn in The Opposite of Sex as if her future depended on it, is a one-note smartass, and she has nowhere to go once she's established her "type." The dialogue is both artificial and flip, and is compounded by one of cinema's most appalling soundtracks since Wes Anderson last bloodied our eardrums. Dig those lyrics, dude, so crazy and zany and, like, non-conformist! As the shit fills every other scene not nailed down with a hammer of hipness squared, it's impossible to ignore, and we can't help but think that everyone involved, including the suits that signed the checks, weren't smiling with smug superiority every step of the way as they imagined releasing the year's most raucous comedy. Try again.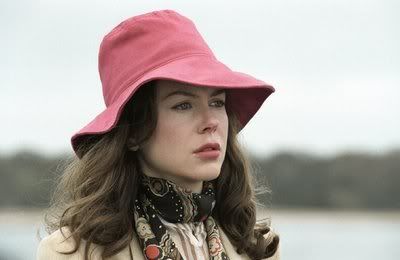 7. Margot at the Wedding
After the surprisingly good The Squid and the Whale, I expected great things from Noah Baumbach, especially considering his ability to secure the talents of Nicole Kidman and Jennifer Jason Leigh for his latest venture. And while they are good, as are many individual scenes throughout the movie, the whole didn't add up to much, leaving us with the usual "might have beens" that seem to dominate these festivals more and more. Typically, the story is packed with neuroses, tics, accusations and petty jealousies, but rather than pile up like a roadside accident, they develop much as they would over the course of a long weekend. Kidman is Margot, and though she appears to be the most together of the sisters (one of whom remains unseen), she is one step from a complete collapse, as she hates her husband, disapproves of her sister's husband-to-be and, by all appearances, maintains a veiled contempt for her own son. She's a plausible creation and never artificial, and while we can't stand the bitch by the end of the road, she doesn't act outside of the parameters set by the screenplay. Thankfully, Leigh, as Pauline, is also well-drawn; she's filled with envy, pity, and a bit of reckless abandon, and she's just intolerable enough to justify Margot's judgment. In fact, the two are more alike than they'd like to admit, though only Margot has gone to the trouble to create a more respectable persona. Sure, the "together" woman as raging nutcase is hardly new, but it never felt forced.
Hell, even Jack Black (playing Pauline's fiancé) comes off better than expected, as he's finally found a role that channels his obnoxious gestures and boorish mannerisms into a multidimensional character. He even manages the biggest laugh of the piece, delivering a nasty retort to his fiancé that works above all because it is precisely how couples talk. Black is a buffoon, of course, and naturally betrays Pauline with a much younger woman, but I never resented his presence, despite the obvious pitfalls we'd expect. And yet, despite all of this, I failed to detect the larger truth I sought, and that the film seemed to believe it contained. Yes, I usually ignore the program blurbs — especially here, as it outrageously suggested comparisons with Bergman — but I couldn't help but ask the film questions it didn't seem willing (or able) to answer. Siblings are extremely close and as such, often remain bitter rivals, but what's really at stake here? I rarely expect contemporary cinema to reinvent the wheel, but I'm increasingly frustrated by the tragically unfinished. I sat approvingly, chuckled now and again, and was never really bored, so why did I feel unfulfilled? "Just enough" won't cut it, and festival offerings had better be willing to take more chances than simply using a well-known actor in an atypical setting. By and large, I'm more apt to support the portrait over the story, but here's that rare bird that cries out for additional flesh.
6. The Savages
One of several sneak previews not officially listed in the program, The Savages is, above all, a showcase for Philip Seymour Hoffman, a man who proves again and again that he's one of cinema's most colossal talents. Few are as instinctively aware of an actor's need to remain loose and low to the ground, and here, his scruffy demeanor never betrays an ounce of falsehood. He mumbles, scratches, spits, and, when called upon, tears off just enough of the scenery to give himself additional heft. Not only has he never overacted, he's never appeared to act at all, inhabiting characters so fully as to be our generation's Brando. You can damn the film or ever the lines he's called upon to deliver, but he's never failed to speak them with clarity and conviction. Here, as Jon, Hoffman is as good as ever, and his expected brilliance is enough — though barely, I'm afraid — to bring the movie above the passable. As a brother, a lover, and, most importantly, a son, he does more than roll off the clichés of a loveable loser; he's an island of truth even if he's not willing to live according to his judgments. He's matched by Laura Linney as his sister Wendy, a rudderless mess of a thing who sleeps with a married neighbor, uses questionable grant money to keep alive a flagging career as a writer, and can't face the reality of putting her father in a nursing home. And while the prospect of watching yet another movie about kids and their aging parents didn't seem to be the order of the day, the film was rescued by its refusal to provide pat answers to life's unavoidable dilemmas.
While similar in theme to the more dramatic I Never Sang for My Father, it lacks that film's unrelenting grimness, if only because it insists that there are in fact laughs to be found at the end of days. Sure, I'm as likely to snicker at advanced dementia as the next person (especially when I hear on the news that one of them has wandered off half naked), but I simply couldn't relate to the crisis of conscience this film portrayed. That's not a flaw in the movie, of course, but just once I'd like to see two siblings greedily rub their hands together, drop dad in a den of madness and count the days until the bag of bones expired, thereby releasing his remaining fortune. But a film is about what it is about, not what we wish it to be, and overall, there's little to criticize, even if my reaction is somewhat tepid. Well-played, well-executed and delightfully free of clutter, The Savages is one of the better films of this type, even if it could have tempered the proceedings with the darker hues it seemed to deserve. Perhaps it was simply a coincidence, but maybe that black road was reached after all, as dear old dad breathed his last in Buffalo, N.Y., one of the few places on earth actually worse than a urine-soaked death house. Maybe here, maybe now, both Jon and Wendy will finally realize that only upon the death of one's parents does true adulthood actually begin. Here, we can believe the springboard, even if they'll fight it with everything they've got.
5. Encounters at the End of the World
After the execrable Rescue Dawn, Werner Herzog has come back with hat in hand, forgiven and fully redeemed. While not the masterpiece of Grizzly Man, the psychotic Kraut's latest documentary is a thrilling ride nonetheless, as he visits the no man's land of Antarctica with his usual obsessions and pet theories. As always, Herzog narrates the proceedings with his wry tone and heady revelations, and while he can often come across as a bit nutty, he's surprisingly matter-of-fact most of the time, letting the scientists and adventurers of the region speak for themselves. And yes, quite a bit of data and research appear onscreen, though not to the point of alienating the layman. After all, it's less about "the facts" anyway, as Herzog is not using this film to promote a political agenda or environmental conversion (as much as the evidence of global warming was on display), but rather to signal the death knell of exploration as a testing ground for man's self-worth. Once the frozen continent was discovered and "conquered" (always a relative concept, given its vastness), the final frontier was lost forever, a line of demarcation as vital and unsettling as the closing of the American West. Now, as Herzog laments again and again, mankind is reduced to pushing boundaries only in terms of their effect on the record books or media coverage. That's not to say that ego and greed didn't drive the explorers of old, but even then, it still seemed as if man had something left to prove.
As expected, the photography is stunning and appropriately humbling, as vast stretches of both ice and ocean lay before us with eerie silence. And yet, a small community has been established; a veritable university of loners, eccentrics, and vagabonds looking for something just shy of normal. Important work is being conducted here, but from mechanics and cooks alike, we also sense a need to escape the pressure and responsibilities of modern life, even if these people work as hard as they ever have in the "other world." This is no idle vacation; everyone must pull their own weight and act as a small, though essential piece in a very odd puzzle. Because we follow these people around as they conduct business, there's a comforting routine in all we see, as if we half expect a place like Antarctica to be anarchic and wild. These are the daily realities, this is what the rest of us can learn from such a place, and here is where it all occurs. And even though Herzog promised he would not be making a film about those ubiquitous penguins, even he could not resist their presence. Still, leave it to Herzog to be the one man who would focus not on the cutesy communities of penguin life but rather the solitary bird who appears to have been struck by a suicidal impulse and the subsequent journey it takes to the continent's interior, never to be seen again. Perhaps Herzog half admires the confused penguin, as if, instead of playing it safe, it decided to carve out its own unique path amid the indifference of ice and snow.
4. Into the Wild
Sean Penn's latest from the director's chair is long and occasionally bumpy but in the end stands as one of the most striking portraits of self-delusion in years. It's not a perfect film, nor is it necessarily the one I envision, for it is quite clear that Penn admires Chris McCandless (Emile Hirsch), the self-righteous young man who deserted his privileged background in order to live a more "authentic" dream among raw, unspoiled nature. Penn's sympathies are understandable, of course, given his own rambunctious public life, but despite Chris' obnoxious manner, he does not saddle the film with a naïve romanticism. Clearly, this kid — who later refashioned himself as "Alexander Supertramp" — is taking a hissy fit against his hypocritical parents to the next level (I never once believed he was that fond of the outdoors) and in the final analysis, he was willing to die rather than admit that his life was hardly the hopeless tragedy he had imagined (or sold as a bill of goods to himself and anyone who cared to listen). Penn recreates some of Chris' past, but are official lies and evasions enough to push a young man over the edge? Like so many, Chris failed to recognize any truth in his surroundings until it was too late (he quotes the poets again and again on this front), and when word and deed failed to meet in the middle, he became disillusioned. It's a common affliction, this fall from that lofty perch of youthful idealism, but only possible for one untainted by the leveling effect of cynicism. Keep your parents in perspective, grant them the right to fail, and perhaps you won't despise them so much when they inevitably let you down.
Penn's film is, in many ways, a prototypical road movie, though it's not hampered by the genre's familiarity, largely because the result is so relentlessly grim. Chris meets all kinds of people along the way, including well-meaning hippies, fellow travelers and, yes, even the Wise Old Man (Hal Holbrook, who deserves, and will likely get, an Oscar nomination). Chris even has the expected romance, though it's more a one-sided crush, as he exhibits restraint when he learns the girl's age. Throughout, Chris is largely unknowable, as those he encounters project their own longings onto the boy and his quest. Most people seem to have this unquenchable thirst that would lead them to uncharted waters, but once you've "escaped," what's left to prove? It's all in the desire — the wishing, the hoping, the longing — and the realization is at best an anticlimax. There's a bit of that with Chris' adventure, especially when he arrives in Alaska, the destination to which everything else has been leading. Once he reaches that abandoned bus, starts gathering plants and firewood, and is forced to fend for himself at last, we see the romance ebb from the young man's eyes, even if he won't fully come to terms with the bitter truth. If he was, in fact, living as he proclaimed, he would do more than reveal fear in his diary; he would empty his heart at last and admit his point has been made. Rebellion, even if undertaken with nobility and a fighting spirit, can never remain a permanent state of affairs. When attempted, it's rarely inspiring and, as this film's conclusion proves, always sad.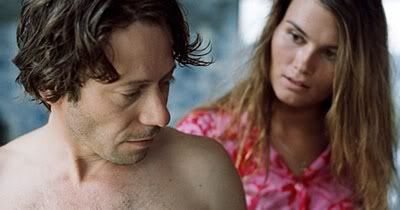 3. The Diving Bell and the Butterfly
Jean-Dominique Bauby (Mathieu Amalric), editor of Elle France — handsome, successful, and full of life — was suddenly and inexplicably stricken with a massive stroke of such force that, with the exception of a lone left eye, he was left paralyzed from head to toe. Left with an intact mind and the ability to communicate by a series of winks, Bauby told his unbelievable story in a best-selling book that shares its title with this film. On its face, and even in the telling, the story sounds almost ridiculously lame; a sentimental, inspirational hodgepodge that might pass muster on Lifetime or some throwaway episode of Oprah. Here's a man left utterly hopeless and alone, though in possession of such grit and will that he leaves the world his larger-than-life tale. Hell, the conclusion practically writes itself, with the prayer books and self-help tomes to follow. At least that's what you'd expect. Thank fuck, then, that this is a French film, and not something the Hollywood studios got their greedy little mitts on, as every possible thing that could have gone wrong is avoided in turn. So instead of the hokey, predictable waste of time it could have been, we are treated to a powerful dose of humanity at its most dire. Bauby isn't a saint, or a hero, or even a noble man, but simply an afflicted human being doing the one and only thing available to him. It's not even amazing, really, simply a "choice" that had no real alternative.
It's this methodical, almost clinical approach to Bauby's condition that makes the first section of the film so revolutionary. We see the world from his lone eye, which is both blurry and scattered in turn, and through snippets of inner dialogue and the words of those nursing his shattered body, we get a picture of his existence that would be far less revealing if seen from the outside. Here's how a man paralyzed from head to toe would spend his achingly lonely hours, and left unvarnished, it's almost unbearable. And as we watch Bauby learn how to communicate using blinks (he is fed a list of the most commonly used letters in order, and he signals the nurse when she's reached the right one), it isn't sappy or tedious, but compelling and educational all at the same time. Telephone conversations are also part of his day, and while the one with his father (played by the immortal Max Von Sydow) flirts with manipulation, it speaks more to the frustration that will now exist until this man's dying day. It is a testament to the film's stated ambitions — a man's life, now deal with it — that it remains so compelling in spite of its limitations. There's no God, or salvation, or even forced reassessment, either, and thankfully, even a burst of humor that enhances, rather than compromises, the inherent sadness. And let's face it: It's no great sacrifice to watch that hot French nurse (Marie Josee Croze), a woman with a face made for the camera, stare straight at the audience (and into Bauby's eye) and speak in the world's loveliest tongue. It's at that point I half wished I could take the man's place.
2. I'm Not There
The latest film from the director of Safe and Far From Heaven is a pretentious, ridiculous, incoherent, babbling mess. Impossible to categorize and almost as difficult to endure, its very existence is damn near an act of war; a hostile gesture against each and every audience member who dares slip into a screening. Despite all this — hell, because of it — I loved it; every pompous, appalling, maddening moment of it. After all, the title tells the tale. This is a 135-minute regurgitation of the only real truth it seeks to tell: Bob Dylan does not exist. Not as a man or even an icon. Whatever that name implies, the reality is the very opposite. As such, the film is everything and nothing. A negation and a furtive stab at established fact. An empty shell and the most revealing portrait of celebrity ever released. If I think too much about the matter, it might not even be about Dylan at all. Because the movie is packed with wall-to-wall music, it helps to be a fan, though I'm increasingly less sure that it's essential. Sure, the unaware will miss allusions, symbols, career points and even the occasional dropped line, but this could just as easily be the story of Elvis, John Lennon or Frank Sinatra. The details would change, of course, but not the ultimate desire. After decades of dull, conventional narratives and highlight reels passing for biographies, what a fucking hard-on it is to be surrounded by an ethereal soup that dares you to bolt for the exits. It's a mixed-up grab bag of sight, sound, myth and falsehood, and yet by the end, it's one of the most honest slabs of cinema I've seen all year.
Everything you hear about it is true: "Dylan" is played by many different actors, including Heath Ledger, Richard Gere, Christian Bale, Ben Whishaw and, yes, even Cate Blanchett. At one point, he's even portrayed by a black kid who calls himself Woody Guthrie. Yes, it's a self-conscious gimmick, but it never tries to be anything else. The actors are meant to be Dylan at various stages of his life and career, but even that explanation seems too pat. Quite simply, the presence, absence, and recurrence of these actors speaks mainly to the pointlessness of trying to find a real man underneath the façade. And what is the point, then? Was Dylan a poet, a preacher or a genuine voice for the working man? Did he define a decade and betray it in turn? Are the reinventions conscious or simply the projections of a fickle audience? There may or may not be an answer, and you're just as likely a fool for trying. And whenever Bruce Greenwood appears — attacking, slashing, filled with accusations — the film confirms what we've long suspected: This Robert Zimmerman kid is a colossal fraud. And he's always known it. Or maybe he merely suspects that a privileged Jewish boy from the Midwest has no business speaking any form of truth to power, and that when the ride comes to an end, he'll be left bereft; a man without a message. All that and more, Haynes' film dares us to consider what becomes of the self-proclaimed genius who outlives his time, only to redefine the times and reinvent the past. Whatever the case, no review could do it justice. Check it out, let it wash over you, and don't come calling when it's over. Your guess is as good as mine.
1. Persepolis
When I embarked on this adventure we call the Telluride Film Festival, who knew that when the bags were packed and the banners torn down, the best and most rewarding experience would come from France in the form of an animated film about the Islamic revolution in Iran? And that it would be based on a graphic novel by Marjane Satrapi? Or that I'd be so absorbed, charmed, entertained and delighted that I'd all but declare it the best movie of the year so far? As it stands, it will be tough to beat, for little else on the calendar has rendered its subject so effortlessly and without error. The animation itself, a bold, striking lot of deep blacks, sharp lines and cold, noirlike landscapes, also features blasts of color whenever the mood strikes. This is no Pixar world of candy canes and silly distraction, even though it would be foolish to believe this is a dull lecture about the perils of religious fanaticism. In fact, the humor all but defines the piece, and there is a sequence involving Survivor's "Eye of the Tiger" that just might be the best scene I've encountered all year. It's certainly the most inventive. So yes, there is humor, drama, pathos, adventure and suspense, and thankfully, nothing feels compelled to dominate. It's the kind of movie you'll be so busy enjoying that you'll forget you should also be admiring the hell out of the thing.
Above all, this is Marjane's tale, a journey that takes her from the end days of the Shah's reign, to the Islamic takeover, back through the executions, suspicions and martial law, and then again for her escape to a boarding school in Vienna. And then the homecoming, years later. It is the brilliance of the movie that, while telling a coming-of-age story, it never succumbs to predictability or sentimentality. This is a bawdy, highly sexualized saga, filled with profanity, lewdness, rebellion and all the chaotic emotions of youth. The screenplay is knowing and wise, as it both embraces and satirizes its characters in equal turn. From anarchists to trendy homosexuality, the film covers it all, never resorting to the expected snooty tone. And yet, despite the wicked wit, nothing is ever trivialized, especially the brutality of the Iranian state. But this is far from a young woman's lamentation for the past; the murderous reality of the Shah's secret police is never hidden and at bottom, the film is more concerned with how schizophrenic recent Iranian history has been, and how a girl might interpret the shifting and contradictory loyalties. In the midst of it all, we get an authentic account of life under tyranny; the whispers, the lies and, most importantly, the open secret that whatever might be passed down from above, the people are rarely buying. It's an important fact to remember whenever we engage in saber-rattling with the likes of Iran. The decency and independence of the Persian people should never be engulfed by the sheer idiocy of its leaders. That confusion is at our peril. But even that seems preachy. Thankfully, the film never makes the same mistake. Truly unforgettable.