Ferdinando Cefalu
Divorce — Italian Style
(1961)
How could you not love a man who longs to kill his wife so that he can shack up with his sultry 16-year-old cousin? Sporting oily hair and a defiantly thin moustache, Marcello Mastroianni is the ultimate rake; an aging charmer who is so beaten down by matrimony that he is willing to accept a light jail sentence in return for a familial piece of ass, provided of course he catches his wife in the act of adultery. Exploiting an obscure Italian law, Ferdinando plots and schemes to literally force his wife into sleeping around so he can break down the door, gun in hand, and end his miserable condition. The beauty of the film is that he succeeds in his quest (no last-minute change of heart for this cad) and even flirts at the funeral! Ferdinando is so delightful and amoral that every gesture — including a facial tick that registers both bemusement and surprise — is an insight into his black, irredeemable heart.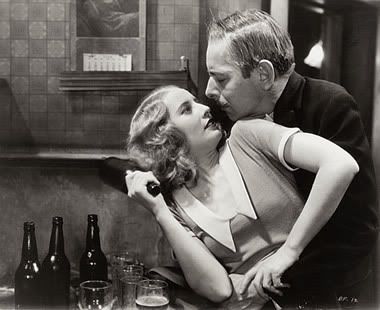 Lily Powers
Baby Face
(1933)
One of cinema's greatest, most unrepentant whores remains one Lily Powers, played with cold, sexy confidence by the legendary Barbara Stanwyck. Starting out as a cheap dame who is able to casually drink a beer after smashing a Senator over the head with a bottle, she becomes an unstoppable sexual machine, sleeping around with such glee that the script can't keep up with her. Fortunately, having seen the recently restored pre-Production Code version, I was able to see Lily as she was intended — taking the advice from her Nietzsche-spouting friend, she learns how to use men, crush sentiment, and exploit the wants and needs of pathetic souls on her way from the mail room to the board room. The film uses a unique device to show her lust-filled ascent; every time a new manager or clerk is taken to the bedroom (or in one case, a ladies' restroom), the camera pans from one office window to the next. Eventually, she becomes the kept woman of the bank's president, who is soon killed in the sort of love triangle that brings about not tears of regret, but rather Lily's indifferent shrug. The conclusion, while a slight compromise that leaves a bad taste in one's mouth, is still far superior to the censored version, which asks us to believe that this dirty tramp would move back to the coal fields while giving up her hard-earned furs, jewels, and suitcases full of cash. I'd rather believe that even though she seems to be in love, she's suffering from temporary insanity and will soon be back to work earning her bread with those magnificent hips. And how can you not love a woman who reduces a pre-Duke John Wayne to a bumbling mess of insecurity?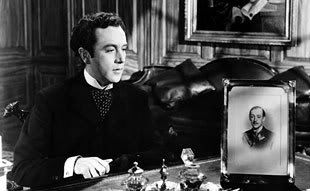 Louis Mazzini
Kind Hearts and Coronets
(1949)
It's Alec Guinness inhabiting eight different roles that most people remember (and who can blame them), but Dennis Price's turn as the unflappable, well-tailored, and utterly charming Louis Mazzini is the role that truly makes this wonderful film so priceless. Cheated out of his rightful claim as Duke (and all the nobility and property that goes with it), Mazzini embarks on a plan to kill the entire D'Ascoyne family, avenging not only his own betrayal, but that of his beloved, deceased mother. With the entire line eliminated, Mazzini would stand to inherit everything. Always the gentleman, Mazzini uses poison, explosives, arrows, and even good fortune to dispatch the ghastly clan, and he's so wonderfully polite that we can't help but root for him. The film itself is a riot from start to finish — and yet always understated in that vintage British style — but the social satire and cannon blasts against class privilege are never too far from the action. Mazzini is eventually convicted of a crime he did not commit and sentenced to hang, but a last minute "deal" saves his neck. Still, this would not be a film from the golden era unless that too had a catch. At the moment when he appears to be in the clear, irony intrudes in a most cruel fashion. And yet, Mazzini would have it no other way. He'd merely smile, tip his hat, and face the music like a good chap.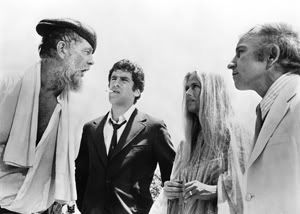 Roger Wade
The Long Goodbye
(1973)
Sterling Hayden usually played the sort of man you'd never want to cross at a church social, let alone a seedy, back alley bar, and he's at his volcanic best in Robert Altman's vastly under-appreciated take on the Philip Marlowe persona. Hayden's contributions are brief and tangential, but whenever he appears, his sweaty, bearded face and fiery voice drown out any other personality in the room. Playing a Hemingwayesque writer with a near-fanatical devotion to liquor, he goes from macho threats ("I'll tear you limb from limb and walk through the walls!") to self-indulgent rambling ("When a writer can't write, it's like being impotent"), but he's always railing against the abyss he knows is just around the corner. He's a man of obvious passions and talent; beaten down by petty jealousy and a cruel streak that keeps him moving from the bottle to quack therapy. Still, it is his two-fisted roar — "Balls, baby! Balls!" — that endears him to us, for few men have captured incredulity with such pithy certainty. Needless to say, he walks into the ocean to end his life; a fitting end for man more likely to dismiss a party guest as an "albino turd" than offer him a drink. Hell, he'd likely do both at the same time.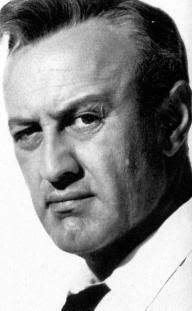 Dock Tobin
Man of the West
(1958)
Lee J. Cobb's brilliance as a character actor is beyond dispute, but nothing he's done will prepare you for his snarling, scraggly Dock Tobin from Anthony Mann's sadly underrated classic Man of the West. While this is essentially Gary Cooper's story of redemption and revenge, Cobb's bellowing, bear-like performance steals every scene he's in. Commanding and awe-inspiring even while slumped in a chair, he's at his nasty best when rubbing his filthy hands through a woman's hair or shouting from the top of a cliff after savagely raping that same woman later in the film (we can see the scratches on her shoulder). Best of all, he screams at his fellow gang members with a George C. Scott-like rage, and usually when they're standing right next to him. Eventually, he's shot down like a dog, but not before whooping it up like a goofy kid with money to burn. But not all of Dock's style emanates from that gaping pie hole; watch his eyes and small gestures for a clue into his psyche. Here's a man who's reached the end of his life — chasing bold dreams of fortune and murder — always knowing what he wants, and never forgetting the low-down sons-a-bitches who stabbed him in the back.