Doyle Hargraves
Sling Blade
(1996)
Slumming as white trash is often an actor's way of returning to his roots, but in the case of country music star Dwight Yoakam, it never feels like he's far from home. At no point do we catch him acting, and I'm still expecting the director's commentary to reveal that Yoakam's home movies were surreptitiously slipped into the final cut. Doyle is the worst of all possible creeps: he's a bigot, a homophobe, a pitiless drunk, and, most disturbingly, an abusive lout who is but a six-pack away from taking an axe to his girlfriend's head. Consider his best scene — and one of the most enjoyable of the decade — where all the resentments of his race, his class, and his no-account self come to bear in a slow-burn explosion of rage. "Get the fuuuuck out!" is more than a command to his worthless, brain-dead friends; it's the primal scream of a man drowning in the excrement of his own self-loathing. Even after he's been leveled by a cascade of beer cans (heaved by his girlfriend's anxious son), he continues to justify, threaten, apologize, and, at last, surrender. There isn't an ounce of real manhood to him, but each and every moment he's reminded of his plight, he lashes out against the weakest members of his social circle. And when he ends up dead — hacked to bits by Billy Bob Thornton's Carl — he surely deserves no pity, but there remains a sadness to his inevitable (and long overdue) passing. A man like Doyle never had a chance.
Oscar Jaffe
Twentieth Century
(1934)
John Barrymore's portrayal of Oscar Jaffe is not, as some would claim, overacting. Rather, it is about overacting; the embodiment of a theatrical ham so delightfully overwrought that there's a touch of genius in it. At bottom, it's one of the greatest performances in the history of the cinema; a riotous, fevered delivery of controlled insanity so illustrative of the craft that it reduces everything in its wake to mere amateurism. And if Twentieth Century were little more than the legendary drunk screeching, wailing, and attacking fellow actors with wide-eyed mania, it would still stand as one of the most entertaining films of the 1930s, perhaps ever. Oh yes, because it's all about our dear Oscar: he'll feign tenderness when the mood strikes, resort to cheap threats whenever necessary, and so manipulate the emotional fragility of his comrades that it's all one can do to keep from striking the heartless bastard. And yet, as cruel, selfish, vain, maddening, and juvenile as he is — often in the same scene — he is always the most electrifying person in the room. He could steal your wallet and, after a tearful plea, you'd still lay down your life for him. Again and again, if necessary. Barrymore was always known as "The Great Profile," as well as a master of the dramatic arts, but here, he proves for all time that it was comedy he did best. A pity he couldn't have done more.
Tom Doniphon
The Man Who Shot Liberty Valance
(1962)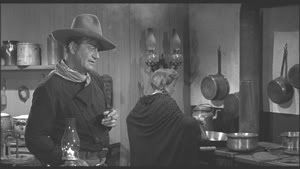 John Wayne spent a lifetime commanding the screen with his rugged, near-suffocating masculinity, but it took a retreat to the background in order to see how good he truly was. Of course, Wayne could never really take second billing to anyone, but consider his quiet, restrained Tom Doniphon, the sort of role Wayne cut his teeth on for decades, but could no longer justify — either to himself or the cinematic world of the Western. As much as the film was John Ford's passing of the torch, it was Wayne's acknowledgement that the gun, at long last, must give way to law, order, and the comforts of civilization. It is Tom, after all, who actually kills Liberty Valance (not Jimmy Stewart's Ransom Stoddard), but rather than secure credit for that heroic deed, he takes his place among myth and shadow, letting modernity and progress chart their course. And that future, much to Tom's dismay, was set to exist in schools, courthouses, and libraries, not lonesome prairies and Main Street at high noon. Through this noble sacrifice — a suicide of sorts (he doesn't even get the girl) — he opens the door for the revisionism to come, where even Tom's righteous gunplay would be reduced to cruelty, racism, and patriarchal genocide. But that time had to arrive, and fittingly, only Wayne, through Tom, had the chops to make it happen.
Gilbert Grape
What's Eating Gilbert Grape
(1993)
Johnny Depp has portrayed a deformed master of the topiary arts, a delusional Don Juan, a cross-dressing B-movie director, and, most obscenely, a swishy pirate, but rarely has he ever stooped to play a real man. As Gilbert, he is pensive, depressed, and distracted, and at no point is he required to affect a funny accent to convey his character. In fact, he all but disappears in every scene with Leonardo DiCaprio (playing his retarded brother, Arnie), forcing the audience to read his emotional state through small gestures and quiet expressions. Despite dialing it down like never before (or since), he is the anchor of the film; the one character we truly care about, and know is best served by the death of his obscenely overweight mother. He's loyal to be sure, and his sense of responsibility runs strong, but too much has been asked of him, and it's killing him as surely as the noose that long ago took his father. In lesser hands, this character would run off the rails and explode into unrealistic realms. Take his affair with Betty Carver (Mary Steenburgen); it transpires exactly as it would, combining need, loneliness, despair, and the simple want of anything better to do. For Depp, it's an opportunity — and a key moment in his career — to move beyond the showy outcasts of youth and hit adulthood as most of us do: with doubt, insecurity, and genuine confusion. Let's hope he returns there soon.
Stephen Glass
Shattered Glass
(2003)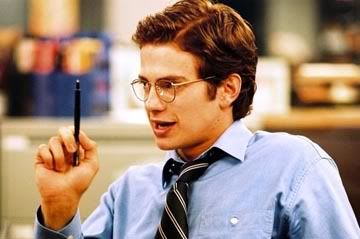 Hayden Christensen is no actor. Watch any random five minutes of Attack of the Clones, or the final, snooze-filled installment involving those fucking Siths, and you'll see a kid way out of his element: wooden, glassy-eyed, and lacking even the basic conviction to wield a light saber. George Lucas' insipid dialogue was partly to blame, of course, but no one seemed to care if he did anything on Planet Earth ever again. Enter Stephen Glass, the part he was born to play, as it was the one role that best exploited his weaknesses and at last transformed them into strengths. Combining a relentless need to please, a pathetic desperation, and the con man's gift for the game, Glass typified the young upstart of his era: where careerism and getting ahead were less about working hard and paying your dues than lying with impunity and substituting charm for any real aptitude. But Glass was in fact a man of enormous ability, and he fooled both reader and editor alike for years at a stretch, if only because they needed to believe that raw talent could be so effortless. But as the glory days ebbed at last and his once proud career exploded in a torrent of deceit, Glass becomes the man in full, groveling so unabashedly that it practically became his second calling. A better, more seasoned actor might not have pulled it off; too much dignity and we wouldn't believe it. Here, the young man is still a boy — naïve, foolish, and pathetic down to his marrow. With just the right performer, we hate him all the more.