THANKSGIVING GAMES RECORD:
DAN K: 1-2
ESPO: 3-0
DICK: 3-0
OVERALL RECORD:
DAN K: 18-15-2
ESPO: 25-11
DICK: 16-16-1
 ESPO:

TAMPA BAY BUCCANEERS +7 AT CAROLINA PANTHERS

Carolina's the hottest team in football, but they almost dropped what you'd assume would be an easy victory over Miami at home. That doesn't necessarily disturb me, though – the fact that they gutted out a comeback win means as much to me as if they blew them out. Any given Sunday, and all that. You're not gonna jump all over teams that should be worse than you every week. Good teams pull out victories like that. Look at Seattle hosting Tampa Bay a few weeks back, for example. They went down 21-0, and eventually pulled out a 24-21 win. Nobody remembers or cares how that game went now. They're 10-1 and that's all that matters. But speaking of Tampa, they've finally cobbled together a semblance of an NFL season, with three straight wins over Miami, Atlanta, and Detroit. Mike Glennon, like I said last week, is actually a pretty good NFL quarterback, and how non-insane does that Greg Cosell quote look now? In case you missed it, this is what he said: "Mike Glennon is so far more advanced than RGIII playing NFL quarterback that it's not even close. They shouldn't even be in the same discussion." Yeah. But you know who's already an awesome NFL quarterback? Cam Newton. The dude is just money, and makes all the other mobile quarterbacks in the NFL look silly with his ability to basically run for first downs at will. It helps that they have the most dynamic running game in the league. I feel like taking Carolina is totally the square play this week – the Bucs are the trendy pick right now, especially since they're still being spotted pretty big point spreads. But something tells me Carolina gets back to their pipe-laying ways this week, especially since they know they can totally still… wait for it… WIN THE NFC SOUTH. If New Orleans loses, and they win, they'll be tied at 9-3, and playing each other twice in the next 3 weeks. Yessss. Fucking awesome. There's been a strangely large amount of mediocre teams this year, but I love the way the threads of the season are coming together now, in the final month. This is why football is awesome. Cats cover.
 
THE PICK: PANTHERS -7


DAN K:
ARIZONA CARDINALS +3 AT PHILADELPHIA EAGLES
Mike Vick's inevitable injury was the best thing to happen to the Eagles this year. I'm a Vick supporter (I was attacked by a dog as a child), but the hard truth is that he's severely limited in where he can take a team. He constantly gets injured,  turns the ball over way too much and just isn't reliable. The ascendency of Napoleon Dynamite lookalike Nick Foles has been fun to watch because it also shows how adaptable Chip Kelly is as a coach. Traditionally his offenses have been associated with a running QB but this incarnation of his spread offense has enabled Foles to absolutely light up teams in the passing game while opening up running lanes for the pride of Central Pennsylvania, Shady McCoy. Admittedly, his 16-0 TD-INT ratio since becoming a starter has been against a string of bad passing defenses and he won't have it as easy against Arizona this week. The Cardinals D is the real deal and Patrick Peterson figures to make things difficult for DeSean Jackson in the passing game. Foles is going to have to spread the ball around to the tight ends and future Tea Party congressional candidate Riley Cooper. The running game will have to factor in strongly, which is not an easy proposition in and of itself because the Arizona run defense is second in the NFL. The Eagles' defense has played well in recent weeks, but again, that was against mediocre-to-bad QBs like Scott Tolzien and Terrelle Pryor. Turnovers are always an issue with Carson Palmer but he's had an 8-2 TD-INT ratio in the last month. I've said this before but Arizona needs to get running back Andre Ellington the ball as much as possible. He's a threat in both the running and passing game and their judicious use of him has been mystifying to say the least.  This is an important game for both teams because it'll be the first real test either have faced in a while. It remains to be seen how Foles will play once finally facing a good defense but I'm going to take the Eagles. They're coming off of a bye, the public is heavy on Arizona and I have no faith in Carson Palmer. Eagles soar (Holy shit, remember John Ashcroft? That guy was such an asshole. I think maybe he's dead but I'm not gonna Google it and be disappointed if he isn't).
 
THE PICK: EAGLES -3
CINCINNATI BENGALS +1 AT SAN DIEGO CHARGERS

I wasn't drunk when I elected to pick the Chargers this week, but I may as well have been. The Chargers are the mythical Siren of sports betting, roping in unsuspecting gamblers by playing well one week, then dashing them on the rock-strewn shores of financial ruin by blowing a 21 point lead with two punts blocked for touchdowns and a Philip Rivers pick-six the next. The aforementioned Rivers has been having a career year and is coming off of a last-second victory over Kansas City last week, but the team is still 5-6. A contributor to their poor record is a defense that is allowing the most yards in the AFC, as well as 29 points per game in the last month, good for 5th-worst in the league. The Bengals are coming off of a blowout win over the woeful Browns, but Andy Dalton has thrown for 8 picks in the last 3 games, which brings me to my problem with the Bengals. The have a great defense and skill position players on offense, but Dalton is so inconsistent you never know which team you're going to get. I think he'll definitely be able to score on a bad Chargers defense, but will he keep turning the ball over? The Bengals defense has been excellent even after losing Geno Atkins for the year, but I don't think it will matter with the way Rivers has been playing. I'm going to go with the home team in this one. My brain is telling me they're the right pick, but there's an equal chance that the Chargers will do their usual Chargers fuckshit and blow the game. I'm taking the Chargers to win, and may God have mercy on my soul.

THE PICK: CHARGERS -1
ST LOUIS RAMS +8 AT SAN FRANCISCO 49ERS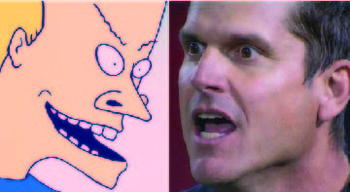 Being a Rams fan means having to put up with the ebbs and flows of a special place in Hell. There's the slight possibility of the team coming back to Los Angeles which produces a sense of optimism and hope that is usually suppressed by long time fans. Speaking of which, fans in St. Louis don't count. The only reason the Rams ever left Los Angeles is because civic leaders in southern California aren't stupid enough to let someone like Georgia Frontiere fleece us to the tune of half a billion dollars. Also, people in St. Louis are a bunch of insular, borderline racist pieces of shit who resent big coastal cities, and allowed an entire half of their city to become a killing field, so go fuck yourselves and enjoy life in your boring white bread collar counties. I know that has nothing to do with this week's games, but I had to get that off of my chest because my childhood team resides in a dome that looks like a concrete barn in a downtown area that is more depressing than Detroit. Now, with the holiday cheer firmly in place and a spring in my step I can say that the Niners are a major disappointment this season. Last year they rode an incredible hot streak into the Super Bowl where they were a fluke power outage away from getting absolutely blown out by the Ravens. They are your hot girlfriend with a crippling drinking problem. They look great when you step out the door, but by the end of the night you're having to talk your way out of three physical altercations and a DUI. Their offense is best when they pound the ball. They have an elite offensive line and Frank Gore is beastly between the tackles. Watching the Niners run the ball is a pure joy if you like bruising games, lower scores, and methodical drives that chew up the clock and demoralize defenses. Unfortunately they have a mongoloid at quarterback and Jim Harbaugh is slowly turning into a combination of Jerry Glanville and Mike Singletary before our eyes. His imagination goes wild when he sees that stud, but it causes him to stray from the shit he knows that works. Colin Kaepernick sure looks pretty doesn't he? He fills out that uniform like a multi-ethnic god and has one of the prettiest skill sets the game has ever seen. He looks like a bigger version of Elway, but unfortunately what looks so good and awesome translates to downright mediocrity when you have to rely on him winning the game for you. He's the quarterbacking equivalent of an old Jaguar. Indy, Seattle, and Carolina all made him look more like Andre Ware or Akili Smith by forcing him to stay in the pocket and putting him on the ground. You know who figured that out first? The Rams. Last season the Rams blitzed and pounded and harassed him all day long first when he took over for Alex Smith when they tied in San Francisco and again under the dome where the Rams won outright by putting consistent pressure on him and forcing him to make decisions in the pocket or just have to use his legs to run for his life instead of gashing the defense for 20 yard runs when they drop eight back in pass defense. Sure, the Niners smoked the Rams earlier this season, but since then the Rams have done a few things to get their shit together: Established a running game behind Zac Stacy (who may be out with a concussion, but is backed up by the equally effective Benny Cunningham), simplified their offensive approach after Sam Bradford went down (he's starting to look expendable now, isn't he?), started to find ways to get Tavon Austin the ball, and stepped up their game on defense – especially against the run. Sure, Crabtree is coming back this week, but that doesn't change the fact that Kaepernick can still be flustered in the pocket. Anyone who says that he's back on track after torching the Dirt Worshippers isn't keeping things in perspective: He threw three touchdowns against the Racist Fucks who have one of the worst defenses in the world. Conversely, considering how brutal the Rams' schedule is this season it's a miracle they have five wins except that the truth is that Jeff Fisher has the youngest roster in football and he is rounding them into a pretty good team. After Sunday they they'll have six wins and you'll be cashing in on both the money line and the point spread. 
THE PICK: RAMS +8

 
NEW ENGLAND PATRIOTS -7.5 AT HOUSTON TEXANS


The general feeling is that when a team makes a 20-plus-point comeback to win against a rival there's going to be marked drop off the next week. Sure, the Pats are as susceptible as any team to mentally checking out. Even with Brady and Bellichick around you have to keep in mind that these guys are human and the motivation to DESTROY HOUSTON AT ALL COSTS AS WE DRIVE TO THE PLAYOFFS is tempered by the fact that games like last week's can take a whole lot out of a team  no matter how professional they are. This is Houston's Super Bowl and one of the last chances this group of guys is going to be playing together before Kubiak gets fired and the team is blown up. Well, at least that's what logic would dictate if you listen to local sports radio in Texas. Anyways, there's nothing like desperation to keep collecting NFL checks to motivate an underachieving team that was supposed to be a contender. Also, you saw that they opened as almost a double-digit dog at home, right? The line will probably have moved down to 7.5 by kickoff, but that doesn't mean that Brady is just going to be able to waltz into Houston and moonwalk his way to a 24 point win. the Pats made a helluva comeback last week, but they also reminded us that their running backs have butter fingers and their defense can be had. Houston has absolutely nothing to lose and are going to throw everything in their playbook on the field. They may not win, but I expect to see their most spirited performance of the season. Pats win, but they won't cover.
THE PICK: TEXANS +7.5
GAME OF THE WEEK: NEW ORLEANS SAINTS +4.5 AT SEATTLE SEAHAWKS
[Ed Note: This week we're lucky enough to have Ruthless contributor and diehard Saints fan L. Ron. Mexico weigh in on the game. Read his stuff on the site, follow him on twitter at @LRonMexico, and check out the rap video he made about jorts at http://www.youtube.com/watch?v=3NyNXnWx4Ck ]

ESPO:Â  It's interesting that this non-divisional matchup is probably the most important of the week, when the 9-2 Broncos are also facing the 9-2 Chiefs for what will likely determine the winner of the AFC West. This game could very well decide who gets home field advantage for the duration of the playoffs – also known as the 1 seed. Seattle's 10-1, and the Saints are 9-2 – a win puts them in a tie with Seattle, but with the tiebreaker. This is huge because these two teams have two of the biggest home field advantages in football. The Saints remaining schedule is a little easier than the Seahawks, who have to play each of their NFC West rivals again. The Saints play Carolina twice, and St. Louis and Tampa. But without the tiebreaker win over Seattle, it's unlikely they'll be able to climb over them for the 1. And so the stage is set. The Saints have the 2nd best passing offense, and 23rd best rushing, which means they are really going to have to lean on Brees to move the chains, as the Seattle defense has been suffocating against the pass. But, Brandon Browner is out and Walter Thurmond has been suspended for violating the substance abuse policy, which is starting to be kind of a concerning trend in Seattle, as he's the sixth guy to be suspended for this reason, not including Richard Sherman, whose suspension was removed on an appeal. It seems likely this is going to be the major offseason scandal this year – especially if they, you know, win the Super Bowl. The Seahawks have a smash mouth rushing attack, spearheaded by BEAST MODE himself, Marshawn Lynch, who is basically the best dude in football. The Saints D is going to have their hands full, as Seattle's gameplan is surely going to be to try to keep the ball on the ground and Brees' ass on the sidelines for as long as possible. I'm sure we'll see some expanded looks for Percy Harvin as well, who was relatively quiet in his debut 2 weeks ago and had a full bye week to get up to speed. I have no idea how to call this game. If anyone can go into Seattle and keep up with them, it's Brees. If they're down by 10 and Brees gets the ball in a 2 minute drill, I don't see how this doesn't at least turn into a field goal game. I'm going Saints.
DAN K: Goddamn. Now this is a matchup. Two of the NFC's preeminent teams. The most high-profile 9/11 conspiracy theorist in sports (Seriously, look it up) Pete Carroll, and his team of Adderall-addled gladiators go up against the once-banished Sean Payton and his squad of bounty-hunting bayou hitmen. I'm actually surprised at the line. I read that Seattle's home advantage is worth 6 points, which is crazy. It doesn't seem like it should factor in so much in professional sports, when every player is used to playing in college stadiums containing upwards of 50K+ hostile fans. But it is what it is. Seattle has been awesome this year in pretty much every facet of the game. We got the news this week that starting corner Brandon Browner is facing a year suspension (although he was injured and wouldn't have played) AND backup corner Walter Thurmond got a ban as well. I'm too lazy to look it up but the Seahawks have had enough players suspended for various performance-enhancing and consciousness-expanding drugs that sanctimonious shithead Roger Goodell may make them the object of his next moral crusade. I'm all for every substance being legalized for everyone, but unfortunately I'm not the commissioner and the Seahawks are going to have one good cornerback playing this week. Luckily, it's the best cornerback in the NFL, Richard Sherman. He'll shut down whoever he's on, be it Marques Colston or Jimmy Graham so Drew Brees will have to dump it off to Darren Sproles, which luckily for him is a very effective thing to do. Look for a heavy dose of Mark Ingram/Pierre Thomas. On the other side, the Seahawks will attack the Saints poor rushing defense with a heavy dose of BEAST MODE. Even though the Saints D is much improved this year, I don't think they'll be able to handle the Seahawks rushing attack. As difficult as it is to go against Drew Brees, I gotta take the Seahawks at home. Pete Carroll may not believe the OFFICIAL NARRATIVE, but I believe in his coaching ability. Hawks roll.


THE PICK: SEAHAWKS -4.5


DICK:Â  The Saints are pretty bad on the road and they are even worse outdoors. Seattle is almost unbeatable at home and it's going to be raining and in the 40's on Monday night. This isn't a wrinkle, this is an impediment to the kind of game New Orleans relies on: Precision passing, misdirection, using speed on the ends, and creating space for their receivers. Seattle is going to slow that shit down by jamming the line of scrimmage and sending blitz packages, not relying on the magically 12th man and a steady drizzle of rain. Sean Payton can argue and disagree all he wants, but the Saints are at a decided disadvantage in these conditions, but not as much as some would believe and it's not about the weather. I hate the whole THEY ARE A DOME TEAM PLAYING OUTDOORS bullshit. It's the sort of retarded shit sports casters and writers spew to make them look like astute observers. Here are two things that actually count: Seattle has won 13 straight games at home by an average of 18 points because their defense is maybe the best in the league. I don't know if it's the high grade steroids and HGH that's keeping these guys healthy and spry or the eloquent bullshit Pete Carroll spews or the hip hop they play at practice, but it's working. Also, about them PED's, if they really are the best team in football thanks to the wonders of medical science that is inexplicably not used above board by every professional athlete on the planet then we need to reexamine our concept of cheating and doing things "naturally." If being clean and doing it naturally means not being able to walk when I am 50 versus "cheating" by using medically administered drugs that are designed to help my body heal, then I would be cheating like a motherfucker. Anyways, I'm figuring the Seahawaks are going to be making Brees make his decisions about a half-second faster than he would like. I also think the Seahawks are going to pound the ball on offense and try to keep Brees off the field. Ball control and defense is the name of their game and they do it like they used to on Bill Parcells teams in the 80s. New Orleans defense is much, much better thanks to Rob Ryan injecting some unpredictability into them, but New Orleans wins games on offense and Payton and company are going to adjust as the game progresses. This is not going to be some high wire act, but a bruising, plodding game in the trenches that is suited more for Seattle than New Orleans. Seattle is a big, physical, and fast team that can push you around. New Orleans is fast, tough, and needs space to play. Seattle will take that last bit away and that's going to be the difference here.
THE PICK: SEAHAWKS -4.5


RON MEXICO: So the Seattle Seahawks, all hyped up on illegal muscle drugs, are favored by 4.5 points here. How many of their players have to be suspended before we can rename the "Legion of Boom" to the "The Boys on Roids?" How much back acne does Richard Sherman have to get before somebody says something? How many windshields does Earl Thomas need to shatter with his head? Come on people, the city's biggest landmark is a giant fucking needle! I heard they just signed Sammy Sosa to play cornerback now that Walter Thurmond got busted last week. So yes, I am terrified that Pete Carroll will unleash these shrunken nut assassins on Breesus and our over-matched offensive line. My biggest concern, other than Brees being pulled apart like saltwater taffy by chemically enhanced testosterone bags, is Marshawn Lynch stiff arming his way to two hundred yards. The Saints defense, however improved, is not great against the run. However, I do feel that not only will we cover the spread, we will win. Here is why: we are a great road team. Yes, you read that correctly. In the last four and a half seasons, the New Orleans Saints have the best road record in the NFL. Look it up. The reason the analysts hate the Saints on the road is because we play so much differently there, and that's because we have to. If it's cold, rainy, or windy, we can't run the Superdome offense, but that doesn't mean we can't be effective. Expect a lot of Pierre Thomas catching screen passes. Expect Colston, Graham, and even Lance Moore to have solid games as Brees will get his possession receivers in the mix early and often. And I can promise that Sproles lines up in the slot and burns a linebacker for a twenty yard pass at least once. The only way Seattle wins is if they jump out to a big lead and Marshawn runs out the clock, but I don't see that happening. The longer we stay in this game, the worse it will be for those anabolically enhanced freaks. With that said, this should be a great game for the top spot in the NFC. Seattle is a fantastic home team with tons of talent, but they don't have Drew Brees and Sean Peyton. I'm really looking forward to this. Monday night can't come fast enough.
THE PICK: SAINTS +4.5