WEEK 8 RECORD:
DAN K: 0-3
ESPO:Â  2-1
DICK:Â Â Â  2-1
SEASON RECORD:
DAN K: 10-14-1
ESPO:Â  10-13-2
DICK:Â Â Â  12-12-1
ESPO
SAN FRANCISCO 49ers +5 AT NEW ORLEANS SAINTS
One of my favorite parts of my Mexican vacation was getting unceremoniously eliminated from my survivor league by my least favorite team, the San Francisco 49ers. See, I never even liked this game. My two rules of thumb are no road teams and NO DIVISIONAL GAMES. See: Skins @ Cowboys the week prior. They're just unpredictable. Guys sell out hard for these games, because most coaches' mantra is always WIN YOUR DIVISION.So, with spotty internet access and a week of beer and mezcal, my survivor team wasn't exactly at the forefront of my mind. I thought a little about how I wanted to save Seattle for this week's matchup with the Gmen instead of using them on Oakland, and how a frisky Jags team scared me playing an inconsistent Cincy. (case in point from this week's Thursday night game). So I happened to wake up at about 6 am Sunday morning and went OH FUCK SURVIVOR. With a pounding headache, I grabbed my laptop and searched for the sweet spot in our villa where the internet worked, sifted through the options quickly and was like, "Ah, fuck it, I'll take SF, the Rams are garbage and this is the one time to use them," and went back to bed. I woke up about six hours later and immediately realized what I had done. I went on FB Chat with my gambling syndicate and immediately started freaking out. GUYS I TOOK THE FUCKING NINERS WHY DID I DO THAT THEY ARE GOING TO LOSE ON THE FIELD I SWEAR TO GOD THIS IS THE FUCKING END OF ME!!!! They wrote this off as my typical run-of-the-mill Bet Panic, and reassured me that St. Louis was bad. But I wasn't convinced. So much so, in fact, that I went on 5dimes and took the Rams moneyline, +450. I swear! I was so sure that they would eliminate me that I thought a nice juicy underdog moneyline might soothe my pain a bit. And if the Niners won, who cares, it was a small risk/reward bet.
So we went to a nearby sports bar to watch our Patriots lay the fucking PIPE to the Broncos BAY-BEE!! But around the end of the 3rd quarter of that glorious game, I had a horrible realization. The Niners were fucking losing 13-10, and the game was almost over. My worst nightmare was about to become reality. I wandered a few feet over to the group of Niners fans watching their game. Mostly middle-aged, sunbaked American tourists with their stupid Kaeperdong shirts. "Okay," I thought. "They have the ball with 2 minutes left. Surely they can at least drive down the field and send this to overtime." For that moment, I believed. Aided by a big PI, they Niners were suddenly on the doorstep with a fresh set of downs. Okay. Breathe. Just punch it in here, and they've got this. No need for overtime! With a TD, a 4 point game with 40 seconds left. Frank Gore 3 times. Do it. Do it. Come on. Nope! First, Crapernick rolls right and hits Craptree at the pylon, but because he's a fucking piece of shit who sucks at life he throws it too low where Crabtree can only fall on it outside the endzone. OK, 2nd down, at the 2 inch line. Surely they will just pound it in. But no! It's the same exact fucking play! Kaeperdong again rolls right, with Gore and fullback Bruce Miller going with him. Gore goes to the pylon and Miller is clearly supposed to pick up a block, but instead James Laurianitis just runs right past him and pressures Fuckernick to throw it away. 3rd down. QB sneak! As a Patriots fan, an unexpected Brady sneak at the goal line is generally cause for celebration. He usually executes it perfectly and it results in Super Saiyan Brady where he gets fired the FUCK up celebrating and spikes the ball and stuff. So now let's try it with a quarterback who spends more time carving lines in his hair than studying NFL game tape. First, the snap barely gets to him, and he's already so fixated on running forward that he never gets the ball secured. Then he basically runs right into his guard's ass, further loosening the ball, and then OH MY GOD JAMES LAURIANITIS COMES OUT OF THE PILE WITH THE FUCKING FOOTBALL. THIS IS NOT HAPPENING NO NO NO NO NO NO NO NO NO. KEEP IN MIND, a failure on this play still lets them kick a chip shot field goal to send it to overtime. Like, cosmically, this is what I deserve. It is such incompetence of the highest magnitude, distilled into the most perfect microcosm of FUCK that I could only scream bloody murder at the television in a Mexican sports bar, with a bunch of 50 year old ladies gawking at me. And it RUINED what was a glorious, glorious Patriot victory in another Brady/Manning rumble.
Oh yeah, I'm supposed to be picking this game. Um. Brees, Superdome, Payton, Cooks, Graham, Ingram, yadda yadda. Saints by ten thousand. FUCK the Niners. They are BAD. Kaepernick sucks, Greg Roman sucks, Jim Harbaugh sucks, THEY ALL FUCKING SUCK. DIE ALL OF YOU JUST DIE

THE PICK: SAINTS -5
PITTSBURGH STEELERS -4 AT NEW YORK JETS
So, the Steelers have been on a bit of a thingamerjibber, eh? 3 weeks ago, this team looked like the definition of .500. Now they are world-beaters. During a 3 game homestand, they eked out a messy win against Houston, took a quick lead against Indy and kept pouring it on, and handled the Ravens with really surprising efficiency. Big Ben is playing at an otherwordly level, and Antonio Brown is basically Superman. I feel vindicated for targeting him highly in all of my fantasy drafts, and as a keeper for what seems like ages ago in my joint fantasy team with Sir Dank.
The Jets, on the other hand, are stuck in a 3-ring circus nightmare that only seems to get worse and worse. An ineffective Mike Vick has replaced a wildly ineffective Geno Smith. The secondary continues to be some kind of sick joke, and the fans bloodthirst is getting more and more ravenous. I mean, fuck the Jets, but I truly feel for this fanbase. Three of my best buds are fans of this sad franchise, and it's becoming a challenge to even make fun of them, as they just look despondent and broken. It's like teasing a three-legged dog. And they have a hair trigger. I go in to work like "Hey, how bout those Jets?" and they are just like "dude stop we are an abomination unto mankind" and it's just like.. jeez, I'm sorry man.
So, the Steelers only giving 4 to this dumpster fire? Easy, right?! Sure! But no, it's never that easy. First of all, the fact that the Steelers are currently the most publicly bet side of the week at 88% should tell you all you need to know. Actually, so are the Broncos, but that's a different story, as they are obvious Super Bowl contenders and the Steelers looked like outsiders 4 weeks ago. But this is just a bet on the Steelers having to come down to Earth at some point. Let's not forget that this majestic three weeks was all at home. I mean… the Jets home field might be more hostile to the Jets than the team they're playing, but still, at least it's crowd noise during the opponent's offensive possessions. The Jets have a respectable run game and a very good front 7. They should be able to limit Le'Veon Bell and keep Ben on the run. If the Jets follow the gameplan they used against the Pats (run run run and manage the clock), they should be able to cover this, if not even (gasp) win on the field. The Steelers are still missing defensive starters and are susceptible to the run. I still really like Chris Ivory and his ability to simply drag guys with him. Chris Johnson showed life against the Chiefs. The Jets are 1-7-1 ATS… but I just can't shake the feeling that they're the right side here.
THE PICK: JETS +4
DENVER BRONCOS -11 AT OAKLAND RAIDERS

Can I just use this space to talk about how glorious that Patriot win was last week? No? Agh, fine. Well, the Raiders continued their streak of showing a lot of life but still losing, by giving Seattle a late scare up in the guts of the 12th man last week, and Seattle continues to look pretty unintimidating.Denver lost soundly to New England, ceding the top seed in the AFC (albeit only because Denver had their bye already) to them. And if we know one thing about Peyton Manning, he fucking hates losing. Well, we know a few things about Peyton Manning, one of which is that, the other is that he's like one of the best quarterbacks of all time or something.
Anyway, the Raiders just don't have a prayer here. Peyton is going to carve them up with no mercy because that's what he does to Mickey Mouse teams like this one. Getting up to 7-2 to continue racing with NE for the AFC is motivation enough. And they don't pull Andy Reid things and let off the gas, they just keep pouring it on. I know, the Raiders are like the definition of "backdoor cover". That's what I was banking on when I took them against Cleveland two weeks ago. I then ignored it in Seattle, much to my chagrin… but I will continue to ignore it this week. First of all, I think Denver is much better than Seattle at the moment. Secondly, there's no way you can convince me this Denver team can't win by 2 touchdowns. Sure, they might not, but it is so completely possible, especially off a loss, that I can't not back it.
THE PICK: BRONCOS -11
DAN K
TENNESSEE TITANS +9.5 AT BALTIMORE RAVENS
So, I read the Titans badly last week. I figured that Zach Mettenberger could keep it close in his first start. Instead, he threw a pick and was sacked twice by JJ Watt, fumbling once and getting clowned by Watt in the postgame presser. About as bad a start as you can have. However, he did throw two TDs and though the game was a blow out, he does appear to be a competent QB. This week his Titans go up against a team who was also de-pantsed last week in the Baltimore Ravens. The most important factor in this game is the Baltimore secondary, which Ben Roethlisberger and the Steelers torched so badly that two cornerbacks were cut after game, on a team that can't really afford to lose anyone on the backend. I'm pretty sure they're just going to line up two of those waving inflatable tube guys they put outside car dealerships back there and hope that they just defend passes by accident. Seriously though, there will be an opportunity for Mettenberger to strike through the air, but the question will be if he can take advantage of it. He definitely has the arm to do so, and will likely have to throw to win considering that the Baltimore rushing defense is actually pretty good – they managed to hold the usually productive Le'Veon Bell to 20 yards last week. The Titans will have to find some way to score, as they have the fourth-worst rushing defense in the NFL and the Ravens have managed to get a decent 1-2 punch going with Lorenzo Taliaferro and Justin Forsett. Flacco should be able to find time to throw – he did so badly last week because of the pressure that otherworldly (at his age) James Harrison and the Steeler front seven was managing to put on him last week. Tennesse's pass rush isn't nearly as good, so they will likely have to keep up.
I changed my mind on this one a couple of times because the line seemed high to me. The Ravens were just blown out and they looked pretty miserable. But I gotta go with them this week. They need this game to stay above water in the competitive AFC North and Baltimore wins the matchup with Tennessee in pretty much every facet except their secondary. Their line puts a hurting on Metterberger and Ravens cover.

THE PICK: RAVENS -9.5ST LOUIS RAMS +7 AT ARIZONA CARDINALS
I gotta say, I am an unabashed Rams homer this year. I like their D-Line, the play of Austin Davis, Tre Mason and so on. Jeff Fisher seems like a massive toolshed that is probably still coasting off of going to one Super Bowl, but whatever. This may be naive on my part since they're only 3-5 ATS this year, but they've come up with big wins in divisional games against San Francisco and Seattle and narrowly lost against good teams like Philly and Dallas. I dunno, I just feel like they're better than their record. Meanwhile, Arizona is obviously one of the best teams in the NFL at 7-1 and finally have two of their best defensive players, Calais Campbell and Tyrann Mathieu back. I just feel like the clock will strike midnight on Carson Palmer and he'll either get injured again or start throwing a shitload of picks. Maybe during the season, maybe in the playoffs…I dunno, it'll happen. Until then though, they are a force to be reckoned with. Fitzgerald/Floyd are one of the best WR duos in the NFL, Andre Ellington is a weapon in both the running and the passing game, top 3 defense, one of the best coaches in the league in Bruce Arians, the list goes on. St. Louis will have their hands full for sure and it will likely require some late game heroics from Austin Davis to cover – I really doubt that they'll get a gift like Harbaugh having money on the Rams and thus refusing to run Frank Gore from the 1-yard line this week. St. Louis' formidable pass rush will have to break through, rattle Palmer and prevent him from going downfield, and at least slow down Ellington to keep it close.
Now, for the pick. Take this with a grain of salt due to my aforementioned Rams Homerism, but I think they cover here. St. Louis plays tough in divisional games and 7 points is pretty high for one, even against a team as good as Arizona. I just feel like their pass rush harries Palmer enough and Davis gets enough for them not to win, but to keep it within 3-5 points. I say Rams cover.

THE PICK: RAMS +7
KANSAS CITY CHIEFS -2 AT BUFFALO BILLS
Are the Chiefs the most underrated team in the NFL? I don't know, I just needed a trite way to start this writeup. They do seem to be a bit under the radar, bouncing back from an 0-2 start to win three straight, while riding boring yet efficient quarterbacking from Alex Smith, the league's best pass defense, good running from Jamaal Charles, and the second most sacks in the NFL. They've quietly been getting shit done and look like they'll be in the playoff mix come December. Meanwhile, the Bills are a great story and could make a Wild Card run of their own – I liked them this year, but admittedly I didn't see them benching EJ Manuel and going with Kyle Orton, but they made the right decision. Buffalo has good enough weapons at the skill positions (even after losing CJ Spiller for the year) and a strong enough defense that they can get by with a game manager at QB. Can they do enough to enough to cover against a sneaky good KC team? It will be tough. Between Tamba Hali and Justin Houston coming off of the ends and monstrous defensive tackle Dontari Poe coming through the middle, I see potential for Orton to be exposed as the mediocre QB he is. Orton will have to get rid of the ball quickly and allow some of his speedy WRs to get the ball in space and make KC's poor tackling secondary miss. Additionally, Kansas City is giving up 5 YPC against the run, so the Bills will need to establish their running game if they want that fearsome pass rush to ease up at all. Suffice to say, Buffalo has their work cut out for them.
So, can Buffalo get it done? I think I have to take KC in this one. I joked about it earlier, but KC is a really underrated team and this line is way too low. I think their pass rush will force Orton into making mistakes fairly quickly and they cover the number easily. Chiefs.

THE PICK: CHIEFS -2
DICK
MIAMI DOLPHINS +2.5 AT DETROIT LIONS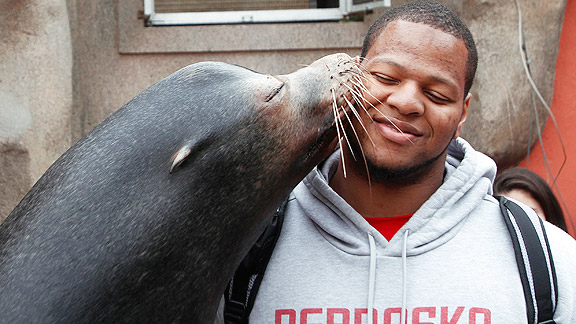 Now that Jim Caldwell has the crazies on his defensive line under control things are really looking up in the town that white people forgot. Donkey Kong Suh is no longer practicing leg whips, choke holds, eye gouging, clotheslines, or any other assorted moves from the days when the helmets were made out of leather. I can't believe I am saying this, but the Lions are rounding into an honest to Yahweh football team and that should scare the fuck out of the rest of the league because they are stacked with talent at every position. The Dolphins have been a gambler's darling this year and are 3-0 straight up against Detroit's 1-2 record the last three weeks. Whatever, Detroit's been missing Megatron and Reggie Bush. Take away both of Miami's best offensive weapons – and the best receiver in football – and see how well they do. Anyways, the tale of the game is going to be which defense does a better job of getting after the other team's quarterback. Now, talent-wise I think it's almost a wash on defense and we still don't know how healthy Megatron is. There's something to think about though: Miami head coach Joe Philbin is more prone to shit his pants under pressure. The man gets queasy in tight games. A lot of the sharps grabbed Miami at +3 and Detroit is becoming a popular public pick, but they are at home and coming off the bye week, so I think there's a slight shift to Detroit. When it comes down to it, the Lions as a one score favorite at home feels right to me and I think their defense makes life for Ryan Tannehill miserable.
THE PICK: DETROIT LIONS -2.5


SAN FRANCISCO 49ers +4.5 AT NEW ORLEANS SAINTS
Last week was so satisfying. Sure, one of my last two survivor picks got eliminated when I went against my gut play to take Cleveland and Kansas City and instead took this bunch of shitheads and the Seahawks, but that was all tempered by seeing Colin Kaepernick fumble about six inches from the goal line against my soon to be back in Los Angeles Rams. Nice biceps, dickhead. How about practicing holding on to the ball instead of doing curls to impress the ladies of South Beach? Anyways, there is something seriously wrong in Ninerville. Kaepernick has always been easy to fluster, but now the Niners have the additional problem of starting 20-year-old Marcus Martin at center with Daniel Kilgore done for the season with an ankle injury. This doesn't bode well for a line that has been deteriorating since Harbaugh hasn't had a consistent game plan or made decent half time adjustments all year. Not even the best offensive lines can get into a rhythm when there's no conceivable plan in place. No one is going to mistake the Saints defense for a crack unit of solid tacklers and superlative coverage guys, but considering how disorganized the Niners are on offense it's as if they are just handing games to the opposition, so expect the Saints to look better than they really are. Remember that early season series of fuckups in the second half? Well, now they have bled into their first half play. Over their last two games the Niners have put up 27 points against the Rams and Broncos. The latter is understandable since Manning and company were sky high for his record breaking party, but against the Rams? At home? Embarrassing. Meanwhile the Saints have been turning their season around. We can chalk up the blowout against the Packers to Rodgers hurting his leg, but Brees is back to picking apart defenses, they have their swagger back, and this one's in the dome. I got the Saints putting another nail in the Niners coffin as they take another step towards hitting the under on their win total.THE PICK: NEW ORLEANS SAINTS -4.5
CHICAGO BEARS +7.5 AT GREEN BAY PACKERS
A rivalry game with one team dealing with locker room discontent, offensive disconnect, and the quarterback getting murdered in the press while some has-been overrated linebacker (I'm looking at you, Urlacher) talks massive amounts of shit proving that he was probably the dick head who established this wonderful locker room culture where everyone just bitches and moans instead of getting back to work. Seriously, fuck you, Urlacher. It's not like you were the second coming of Dick Butkus or Mike Singletary. You were a solid linebacker, but nowhere near as great as you remember yourself in your overactive imagination. No wonder Bears fans cringe whenever your name comes up. Anyways, Green Bay at home is pretty safe, but this feels like an inflated line. Yeah, the Bears are a mess, but they are still ridiculously talented on offense and could go for 31 points out of the blue. Both defenses are tragically terrible, so it's not like the Packers are going to be shutting anyone down. What it comes down to is whether or not Cutler beats himself by trying to beat double coverage to get the ball downfield or if Trestman can put more of the offense on Matt Forte's back. I think they do. The smart play is to let Forte gash the Packers interior and then finish them off with some play up top to their gargantuan receivers. I like the Bears coming into this one being really pissed off and hopefully using that to focus themselves. I like the Bears getting a smidgen of redemption and quieting the critics for at least week. Rodgers will get his, but the Bears are going to take this one.
THE PICK: BEARS +7.5