Blackstar is Bowie's departing masterpiece. I know this will be a shock, but I have never written a music review. I'm probably the least qualified person at Ruthless to do such a review, but I'm giving it a shot, just because it needs to be done. I like music, but am not a music aficionado at all. My serious music collecting consisted of self-indulgent nostalgia, and my collecting lost steam somewhere between Roy Orbison, The Beatles and Wings. I realize that reading this may make some of you wince. What new and interesting insight could I possibly have on the late legend David Bowie?
I have certainly been aware of his presence for decades, have listened to his songs without intention, and was surprised by his death. I didn't even know he was sick. No one did, outside of his immediate family of course, but David Bowie was preparing a legacy that will possibly never be duplicated. Why were so many people like myself so deeply moved and impacted by his death? The album Blackstar is why.
Blackstar is amazing. Even for those out there who were accustomed to the genius of Bowie's craft, Blackstar will blow your mind. The inside story on the brilliant jazz accompaniment in the album can be found here, but the real story is that David Bowie was saying farewell to the universe that he so enriched. Blackstar was released on January 8, 2016, just two days before the death of its brilliant creator. Blackstar consists of 7 songs and two breathtaking and chilling videos. To merely state that David Bowie was writing about his own death is just stating the obvious. What is so mind-blowingly touching about this is just how well he did it. David Bowie stated emphatically that he did not want this to be a Rock and Roll album, so he went with Donnie McCaslin's jazz group and the results were perfection.
"Tis' a Pity She was a Whore" (4:53) showcases the jazz horns and drums and in no uncertain terms reveals why he chose this particular band for his last album. The music builds and builds into a crescendo of wonderful. The jazz drum riffs were amazing and this song is not your daddy's jazz. This song is my favorite and a tough choice over the others. In "Dollar Days" Bowie gives the least subtle clue in a beautiful song and the gateway to his inevitable death. My second favorite? "I Can't Give Everything Away". It is a masterpiece with a subtle message that ties the album together. This final song is the most listenable song on the album and combines his exquisite vocals with the mellow jazz.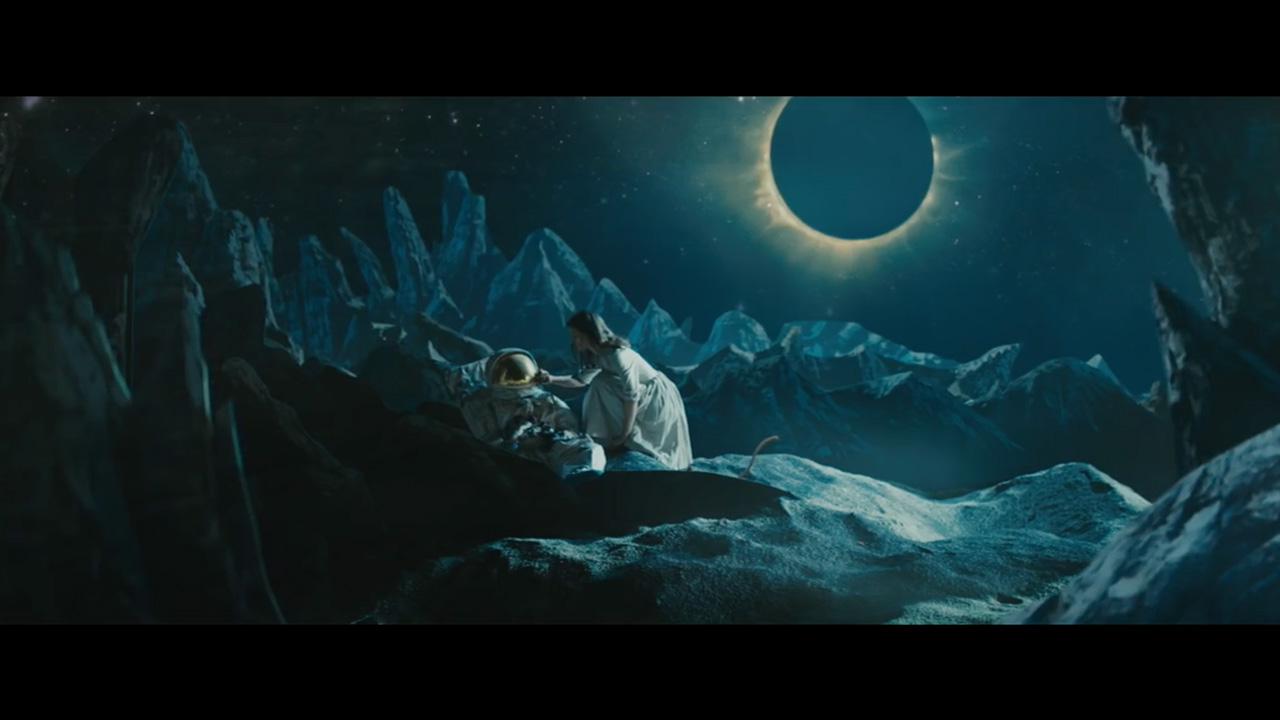 Blackstar Song list
The most talked about and most visually engulfing number, is of course, the headline song Blackstar. Bowie does not hesitate to use rich religious imagery that is shocking and bizarre. Of course, David Bowie and his dark, occult-like style have been at odds with Christianity for decades, and the Evangelicals are quick to either condemn or claim this imagery as their own. DavidBowieVevo generously left everything on the table, for all to view and listen to on YouTube…free of charge. Why not honor him instead, and purchase his CD at amazon, itunes or better still, at davidbowie.com.
All of the songs were great, but I would like to primarily write about Lazarus, the death song. It doesn't take a genius to realize that this song was all about David Bowie's confrontation with his own death. The haunting lyrics and score were particularly meaningful to me because of my own experiences with death. The song and accompanying video began with a shot of a coffin-like armoire and then quickly switched to what is obviously David Bowie's own death bed. In this bed, the dying David Bowie is agonizing over his inevitable and looming death.
Our star is, of course, wearing the same haunting scarecrow mask with button eyes that we saw in the opening song of Blackstar. The Hospice nurse reached up from below, but help was not to come as it was too late to thwart the inevitable mission of The Grim Reaper. As the transposition takes place, Bowie appeared to be looking down upon himself and reaching out. He then sings from the bed, with the lyrics of a lifetime:
"Look up here, I'm in heaven
I've got scars that can't be seen
I've got drama, can't be stolen
Everybody knows me now"
David Bowie was not religious at all; in fact he had throughout his career been accused of all sorts of occult worshiping from the religiously impaired and paranoid. Not religious, but deeply spiritual, Bowie related in Lazarus the inevitable crossover between the realm of the living and the oblivion of the dead. Heaven was not a place but simply the end of life, consciousness, everything.
No one, outside of immediate family, knew that David Bowie was sick with the cancer that would eventually kill him. Now that he is gone, the extent of his suffering may or may not be revealed, but he was a brilliant artist until the end. We now have Blackstar. He went through his death his way, while still privately creating a precious gift for all the world in the form of his last album.
Everyone knows now, for sure, the greatness of David Bowie, especially in his final work of art. Lazarus, in keeping with the Biblical account, indicates that the music of David Bowie will live on, and with a huge assist from Bowie himself, with his musical obituary.
Look up here, man, I'm in danger
I've got nothing left to lose
I'm so high it makes my brain whirl
Dropped my cell phone down below
Ain't that just like me
David Bowie realized that he was dying. The video toggled between two Bowies, the one obviously dying in the hospice bed, and the one that the dying Bowie saw and reminisced about. It is notable that the earthly Bowie is dressed in an outfit that we have seen before, from when he was The Man Who Fell To Earth. Bowie starkly reveals that it is too late, he is in trouble and with nothing else to lose, the ultimate loss, the loss of his life, will be consummated.
David Bowie anguished on his deathbed, between facing this grim reality of death and his reminiscing of the still living David Bowie. Throughout the video, the creative and earthly David Bowie struggled with his counterpart, who had already been partially through the veil of life to death. He became agitated as he furiously tried to put as much as he could in his earthly diary, but this became increasingly difficult as death approached. He was losing communication with the world of living as he "drops his cell phone down below". The end is approaching.
By the time I got to New York
I was living like a king
Then I used up all my money
I was looking for your ass
This way or no way
You know, I'll be free
Just like that bluebird
Now ain't that just like me
Oh I'll be free
Just like that bluebird
Oh I'll be free
Ain't that just like me
David Bowie acknowledged that he had lived life to the fullest and would soon be free. The symbolism of freedom and the bluebird is his unmistakable message in this brilliant song and video. What he accomplished, considering his personal situation is as admirable as it is remarkable.
David Bowie gave the human race this album. He didn't have to. His decades of accomplishment are more than enough. Instead of choosing self-indulgence and self-pity, he chose creativity. David Bowie is Lazarus and will live on. "Ain't that just like me", is exactly like you, David Bowie and we will miss you, but most of all, we thank you.