Here at Ruthless, we take substance abuse seriously. That, of course, does not keep us from enjoying movies, and their characters who happen to be 24 carat alcoholics. This list contains the greatest booze-hounds in the history of cinema, and the great movies in which they showcased their various drinking and acting talents. Of course, as with most Top 10 Lists, narrowing the field to only 10 is a thankless task, so I will mention some very deserving actors and movies that did not make the list for some reason.

We do have one worthy female winner, so we will not include Karen Allen for Marion's feat at the snowy bar in Raiders of the Lost Ark. John Belushi and Mickey Rourke swilled more than ample amounts of adult beverages in Animal House and Barfly, but they just barely don't make the list. How could we forget The Dude in The Big Lebowski, but Jeff Bridges was just too cool to be considered as falling down. These are our mentions and honorable mentions.
A special lifetime achievement also goes to W.C. Fields, just because of that nose. The last guy I'm going to mention was also in a blockbuster movie; he is indisputably the greatest drunk of all time. Yes, I'm referring to Andre The Giant of wrestling and The Princess Bride fame. The Giant averaged about 7,000 calories a day for booze alone and once drank 119 12 oz. beers in one 6 hour sitting. We are not worthy.
10. A League Of Their Own – Tom Hanks as Coach Jimmy Dugan. Coach Dugan was a former baseball All-Star and a current washed-up lush. Times were hard, WW2 was raging, so to fill the void there was girl's baseball! Being the reluctant coach of this gaggle of talented gals did not make Dugan drink any less, as he stumbled, slept and peed his way through most of the season. I surprise myself that this sappy movie made the list, but Hank's early managerial antics were just too awesome to pass up. "There's no crying in baseball!"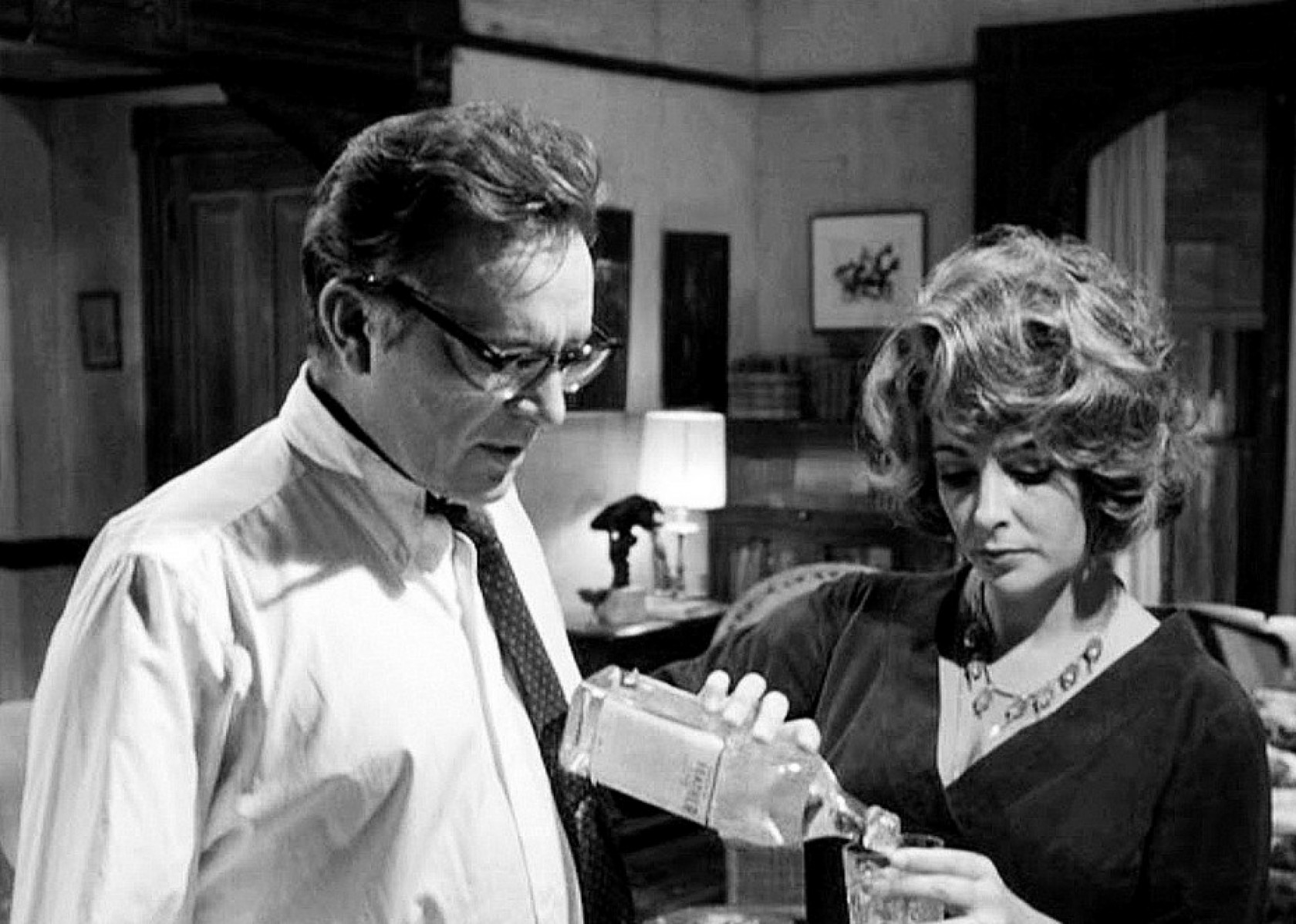 9. Who's Afraid of Virginia Woolf? – Elizabeth Taylor as Martha. In One of the greatest movies about marriage ever (Death by 10,000 cuts -Matt Cale), Martha laughs, bellows, brays, snarks, jabs, flirts, but most of all, eviscerates with an acerbic tongue stoked with alcohol. Martha uses every opportunity to try to get a rise out of her thought to be cuckold husband, but Burton rises to the occasion like Everest as the bottles empty and the clock ticks towards dawn. There are mellow drunks and there are mean drunks, and Martha embraced the latter as if second nature. Either spouse could have landed on this list, but Martha edges out George by just a jigger of gin.
8. The Wolf of Wall Street Leonardo DiCaprio as Gordon Belfort It is hard to imagine anyone mixing booze and pharmaceuticals better than Gordon Belfort [Editor's Note: See Fear & Loathing below], who destroyed himself with hooch and Quaaludes™ as fast as he wrecked his victim's portfolios. His return home after a reunion with a batch of the recently banned 'Ludes was a spectacle to behold, and must be seen to be believed. Never has DiCaprio been better.
7. Fear and Loathing in Las Vegas – Johnny Depp as Raoul Duke Based on the Hunter S. Thompson book, this movie got mixed and even poor reviews (One Star from Ebert). Raoul and his attorney, Dr. Gonzo travel across the desert to Las Vegas with a virtual chemistry lab in their trunk. Mix that with an enormous amount of booze and you have a bender of epic proportions. Hotel rooms are destroyed and hallucinations of giant lizards are vivid as Raoul tries to disrupt his brain chemistry while supposedly covering a motorcycle race in the desert.
6. The Days of Wine and Roses – Jack Lemmon as Joe Clay As we work our way down this list, it is inevitable that alcoholism is serious business and that some of these films are uncomfortable to watch. Wine and Roses vividly shows the total destruction of not only one, but both spouses. Some scenes involving drunks are hilarious and some are devastatingly cringe-worthy (See # 1 and #2 on this list). The scene in the greenhouse, where a drunken Joe desperately looks for a hidden bottle, is one of the most dramatic scenes in cinema history. The collateral damage from unchecked alcoholism can be devastating, and this film shows why. Jack Lemmon won an Oscar for his performance.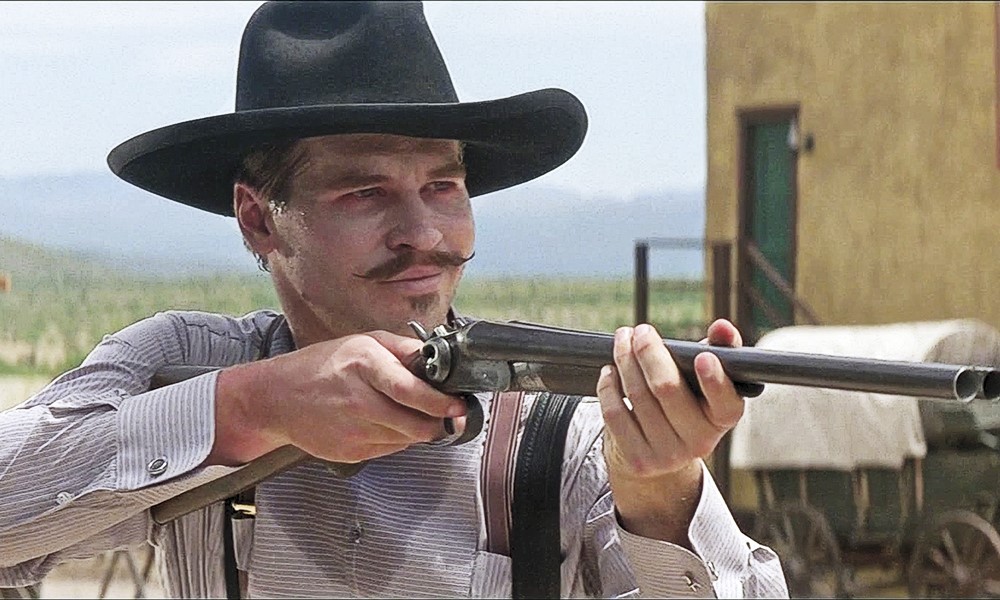 5. Tombstone – Val Kilmer as Doc Holliday Doc was a sweating, pasty and terminally ill character, but there were two things that he could do better than anyone else, drink and shoot. He was also without peer in goading enemies that underestimated him into a showdown. Tombstone was an underrated movie, but Kilmer's tour de force as an alcoholic gunslinger make it one of the most enjoyable Westerns ever made.
4. Withnail & I – Richard E. Grant as Withnail Withnail & I is not just one of the greatest British comedies ever made, it is one of the greatest movies, period. Richard E. Grant pulls off a blistering performance as a nonstop brooding, smoking and drinking unemployed thespian. This is Grant's most memorable performance as one of the greatest drunks ever. What is so amazing is that he is a tee-totaller, which is just another testimony to his acting skills.
3. Bad Santa – Billy Bob Thornton as Willie A Drunken Santa is always hilarious, but no one played one as mean and nihilistic as this one. Willie is a hopelessly depressed, suicidal, profane and a deeply misanthropic alcoholic shell of a human being, and that is Willie on his good days. He cared about nothing in life, except for an endless stream of cigarettes, alcohol and broad-beamed women. There is total disdain for anything and everyone, especially himself.
2. The Lost Weekend – Ray Milland as Don Birnham Ray Milland was magnificent in his Oscar-winning performance. He was a promising writer, but he crawled inside the bottle to numb the reality that he was just not the writer that he aspired to be. No one nailed functional self-loathing better than Milland and his weekend bender was a terrifying and painful thing to watch. The Lost Weekend won 3 Academy awards for Best Actor, Best Director and Best Screenplay.
And the Number One Movie and Drunk is Nicholas Cage as Ben Sanderson in Leaving Las Vegas
I earlier alluded to movies that were difficult to watch. This is not a happy movie and the self-destruction of Ben Sanderson is total. The audience is given a glimmer of hope when something positive enters his life, but it is not to be. The first act, which showcases his pathetic downfall, is an excruciating viewing. The pick-up attempt in the bar is nothing short of heart-breaking. Don't worry, it gets even worse as he is determined to kill himself at the bottom of a bottle.
"Is drinking a way of killing yourself?" Sera asks him, and he replies: "Or, is killing myself a way of drinking?" This is the essence of this movie. There is no hope, only resignation and despair. Cage won an Oscar for his portrayal, and rightfully so, and is my #1 movie drunk of all time.